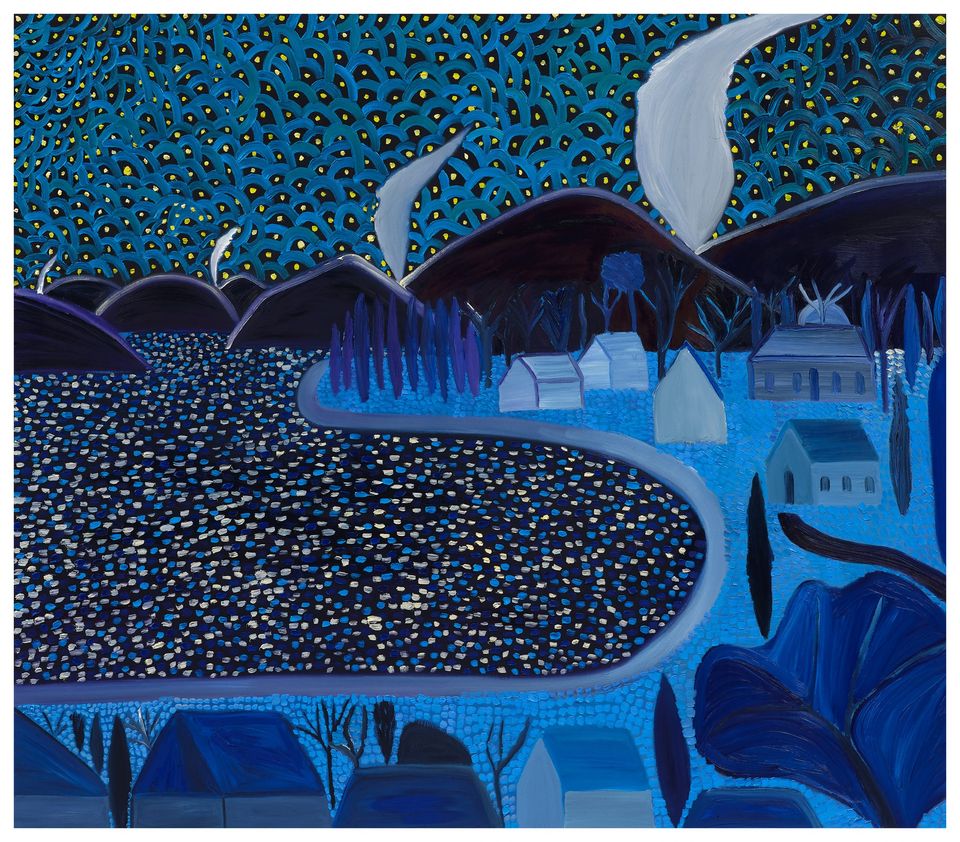 This story contains references to suicide and suicidal ideation. If you or someone you know is considering suicide, help is nearby through the Canada Suicide Prevention Service at 1-833-456-4566, by texting 45645, or calling 9-1-1.
Matthew Wong's mom, Monita, knew that her son struggled with feelings of isolation and depression. In fact, he told her.
"You know, Mom, my mind, I'm fighting with the devil every single day, every waking moment of my life," he said. He also used words like "demons" and "melancholy" to describe life inside his head.
Wong was a "painter on the cusp of fame," according to The New York Times, when he died by suicide on October 2, 2019, at the age of 35. Shortly before his death, Wong was diagnosed with autism. He also lived with Tourette's syndrome, a disorder that made him a target for severe bullying as a child. He was just 14 when he told his mom that he wanted to kill himself — an admission that led to a diagnosis of clinical depression, obsessive compulsive disorder (OCD) and paranoia.
Despite all of this, Wong, was a self-taught painter — called a modern day van Gogh by Forbes, while The New York Times wrote that he was "one of the most talented painters of his generation."
I had the lucky opportunity to see some of Wong's work — Mathew Wong: The Blue View — at Toronto's Art Gallery of Ontario this past week. I was so transfixed by the first piece that caught my eye — Starry Night — with its palpably lonely houses, leafless trees and endlessly twinkly, yet cold, dark night skies, that I missed the small square biography written on the wall behind me that said he had taken his own life just over two years ago.
I didn't need to know that, though, because the vibe of isolation had enveloped the room. Each blue canvas loudly whispered feelings of sadness and aloneness, a struggle between light and darkness and something else that felt akin to fear of possibility. Sort of like that feeling you get on a roller coaster as you teeter slowly on the crest of a tall point, knowing that you are completely powerless in what happens next; breathlessly resigned to the fact that all you can do is wait for the moment that the plunge stills your heart for just a second.
As people mulled around the exhibit, it was easy to tell that they felt it too, voices would drop or fade away completely as both the beauty and despair of each painting washed over them. The colour blue was reflective of Wong's life in Canada — cold, snowy, nighttime blues coming together with telling titles like See You On The Other Side, The Long Way Home, and Solitude. Each exuded loneliness and a sense of not belonging — whether through the pair of glasses that sit alone on a night table beside an empty, untouched bed (Untitled), the white tail of a cat that peeks out from behind a dressing screen (The Cat's Tail), or the tiny, lone hunched shadow of a wandering man who appears in many of Wong's landscapes.
"He must have been pretty sad," a woman in a shiny, silver puffer jacket said to her friend incredulously, as they contemplated a particularly blue canvas (Blue View). She gestured wordlessly, waving a long arm toward all the other blue paintings wordlessly, as if to say, 'Otherwise, why would he have left all of this?"
It's a fair question. But we all know that the meaning of your life, and what you are doing in it — success, fame — isn't necessarily a predictor of happiness, satisfaction, or even your wish to be alive, just as depression and hopelessness are not always indicators of the likelihood of taking one's life. In fact, according to experts, one of the strongest predictors of suicidal ideation is actually "psychache" — a term used to describe the psychological pain experienced by people coping with thoughts of suicide.
It's a feeling that prevents the person from seeing possible solutions to their problems, says clinical psychologist Sally Spencer-Thomas.
"Psychache torments individuals who often do not want to die," she says. "They just cannot escape. Even though a pervasive sense of hopelessness stifles the ability of many to seek help, most struggling with suicidal intensity feel very ambivalent about taking their lives. Another common metaphor people use to describe suicidal pain is feeling trapped in a completely darkened room with no way out."
Don't we all carry around our own 'dark room'?
Certainly, darkened rooms abound in Wong's work. But don't we all carry around some version of our own 'dark room' — often to the complete unawareness of those around us?
In Wong's case, although those closest to him — for one, his friend Brendan Dugan, who is also the owner of the New York gallery (KARMA) that represented Wong — were aware of his mental health, they admit to not understanding the sheer torment that he had been grappling with, and clearly felt the need to escape.
Instead, like the woman with the long arm in the gallery, as witnesses of his incredible success, they equated these achievements with some kind of happiness. In actuality — and sadly — Wong's fame was no match for the demons he described fighting every day.
"That's the thing that has been the hardest to grapple with, is how unrelated all of that success was to how he actually felt…" Dugan told the Globe and Mail. "I think that level of pain that he was in, even though we would talk about it, I guess none of us understood."
Maybe. But according to Dr. Michael Miller, assistant professor of psychiatry at Harvard Medical School, many people contemplating taking their own life don't give clues about what they are planning to do.
"The paradox is that the people who are most intent on committing suicide know that they have to keep their plans to themselves if they are to carry out the act," he says. "Thus, the people most in need of help may be the toughest to save."
Still, there are things that can put some people at risk of taking their own lives, according to Harvard Health, including depression or psychosis, a significant loss, such as the death of a partner, or an illness or medication that triggers a change in mood. And some people knowingly and unknowingly drop hints by talking about suicide (phrases like, "I'd be better off dead"), trying to access things that could be used in a suicide attempt — like a gun or medication, expressing feelings of self-loathing, giving away prized possessions or saying goodbye to family and friends.
We'll probably never know if Wong offered clues about his plans, but it doesn't matter much now. His death not only rocked the art world, but it also serves to remind us of the fragility of life, how we never know the true burdens being carried by those around us, and how we shouldn't wait to check in on those we care about.
After all, you never know when someone needs some light in their dark, blue room.
This story originally appeared in the Healthing Weekender. Subscribe here.
Thank you for your support. If you liked this story, please send it to a friend. Every share counts.