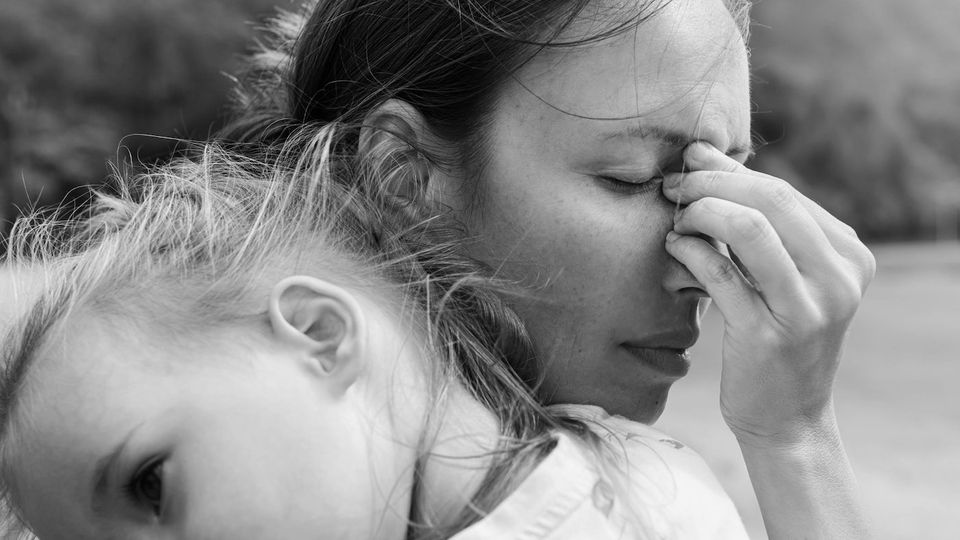 On Thursday, the Healthing team cheered on the Toronto Blue Jays, along with more than 100 ALS advocates. It was Lou Gehrig Day 2022 — Gehrig was a legendary New York Yankees first baseman who died at 36 from the disease.
We spoke to one of Toronto's leading advocates, Taya Jones, a single mom living with ALS since 2018, about her advocacy work, the unacceptable gaps in ALS care and how her children are dealing with this life-ending diagnosis. When she referred to them, Saige, Rhys and Mack, she used the words resilience and strength.
To call ALS — which robs a person of the ability to walk, talk and eventually, breathe — devastating is a massive understatement. Even writing and editing this story, although Taya is hopeful and relentless, was tremendously difficult for all who worked on it. We were sad for her, and worried for her children.
In my time working with people living with cancer, as well as through my own leukemia diagnosis, I have had many discussions about the effect that a serious illness has on family members. Not always, but very often, the pressures of illness breaks relationships, has negative effects on children and ends friendships. For sure, when a family member is seriously ill, the whole family feels it in very significant and long-lasting ways. And if there is loss, well, the emotional impact on everyone is immeasurable and far-reaching.
As someone who grew up with a sibling who had a serious health condition and then watched her father's vicious decline because of early-onset dementia, I know all too well the effects of chronic illness on the onlookers, and it's not pretty. So much time and energy is spent worrying about losing the person you love, advocating, staying positive, buoying others while keeping your own head up — not to mention struggling to find something not depressing to talk about when people ask how you are.
Caregiving — and watching someone you love deteriorate and suffer — changes you at your core. It can make you more resilient, maybe joyous to be alive and well. But it can also be a source of inescapable sadness, anxiety, and hopelessness — emotions that colour the lens through which you see life in the present, and going forward. And no matter where on the spectrum you are, even if you are in the middle somewhere, the tragedy of serious illness has the capacity to tear you apart.
Growing up with my brother, I developed a keen sense of the preciousness of life, but not always in a good way; not always in a live-in-the-present kind of way. Instead, I became anxious about my own health, and the health of the people I cared about. I also had a bit of a pessimistic (maybe realistic?) view of the ability of anyone to escape a scary disease, which made it difficult to enjoy exciting milestones like graduating from university or getting that first awesome "real" job. Even buying my own home came along with the baggage of worrying about becoming seriously ill — even though at the time I was perfectly healthy.
This ramped up a bit as my mom and I cared for my dad — my brother and I buckled underneath the possibility that what my dad had was genetic. He got tested. I didn't because I was afraid that I couldn't handle the anxiety if the answer was bad.
And while many financial advisors would probably applaud the thought process, encouraging preparedness with things like an emergency fund, savings and adequate insurance, my kind of worry had veered away from just-in-case planning to racing towards something-really-bad-is-for-sure-headed-my-way — it was just a question of when. And that's certainly no way to live.
Then the thing I feared most happened.
A leukemia diagnosis that, in the early days, saw me mostly consumed with the uncertainty of whether or not I would make it out alive. And surprisingly, my biggest fear wasn't dying — although it was certainly high on the list of anxieties. What I obsessed over most was avoiding bringing drama, crisis and tragedy into the lives of my kids.
I wanted their biggest worry to be kid stuff like getting permission to stay up late and what Halloween costume to wear and for them to be safe believing in the likelihood that they will live a long life full of joy and good things. I didn't want medical stuff to be the centre of their world and scary health stories the conversation at the dinner table. I didn't want their lives to be filled with worry or for them to know way more about diseases and painful tests than any kid should, or feel pressure to care for and support me.
That's what I told the therapist at my cancer clinic. She said that this was a top concern of most parents grappling with a cancer diagnosis — everyone wants their kids to be OK. We talked a lot about how kids are resilient, and also how hard having someone seriously sick in their family can be. She talked about the importance of always communicating and answering questions honestly, saying that's the best you can do in a situation that's beyond your control.
The impact of having an illness in the family
A study based on data from the 2021 Australian Early Development Census found that teens whose mothers had a chronic illness were more at risk of developing physical, social and cognitive difficulties, underachievement at school and were more likely to internalize and externalize problems. Interestingly, the same developmental issues were not seen in cases where the father was chronically ill, a finding the researchers attributed to the fact that, as primary caregivers, a mother's illness more greatly impacted the family.
Another study found that kids with ill parents are more likely to exhibit problem behaviour, experience headaches, cramps and weakened immune responses due to the stress of worry and perceive their own risk for developing illness higher than those without parents with chronic illnesses — feelings that sometimes persisted into adulthood. And these effects were not limited to a sick parent — the impact of any family member experiencing illness was found to cause stress and depression in young adults.
I had hoped that my kids would learn how to fix a flat tire from my dad and go to the Indy with my brother. Instead, they watched the decline of their papa, right down to seeing me change his diapers, and experienced the sudden death of their uncle, which meant two really difficult funerals in just three years. It really stinks.
And I don't know how all that has happened in our family has affected them, but it's true what the therapist said many years ago — kids are resilient, but it helps if they don't have to be resilient alone. Taya is a great example of this — a fireball of a woman, who is relentless, outspoken and determined in the face of impossible odds, raising kids who say, "This sucks, but OK mom, let's go. We got this."
At the stadium last Thursday, after a video depicting the devastating effects of ALS, the crowd erupted in a loud cheer for the ALS community, and I spotted Taya's son Mack with a wide grin — it was such a sign of hope, but also, yep, resilience. And though no doubt Taya would never have chosen this road for her or her family, that they are on it together, still smiling, offers the rest of us inspiration, hope and for parents, the realization that our kids are stronger than we think.
Lisa Machado is the executive producer of Healthing.
This story originally appeared in Healthing's Weekender newsletter. Subscribe here.
Thank you for your support. If you liked this story, please send it to a friend. Every share counts.