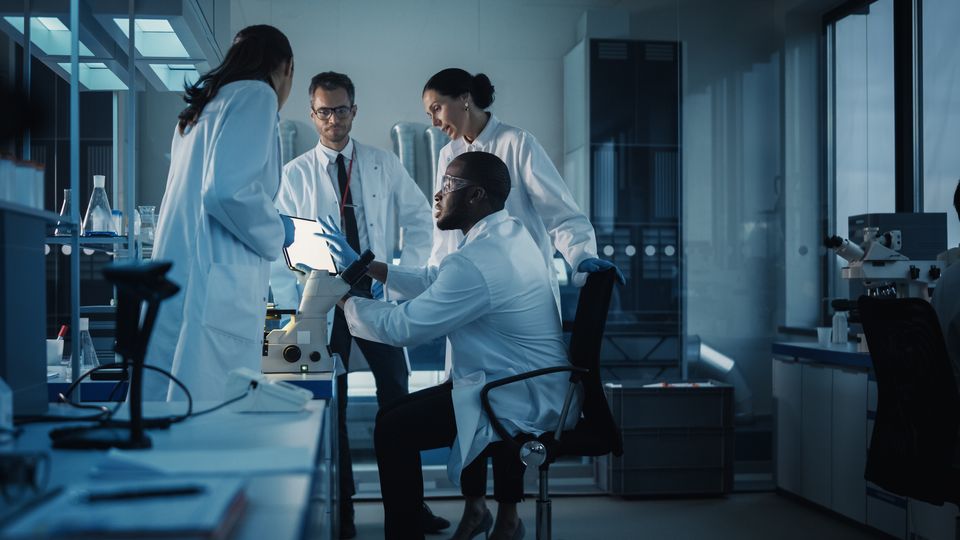 Clinical trial activity in Ontario, and worldwide, has been impacted by the COVID-19 pandemic. Since the onset of the pandemic, clinical trial sites and sponsors have been tasked with the challenge of conducting clinical trials safely in our current reality.
Ontario's clinical trials community has shown incredible resilience and innovation by implementing digital, virtual, and decentralized clinical trial processes in order to keep clinical trials moving forward in a safe and socially distant manner. These decentralized approaches, once seen as an immediate risk mitigation tactic during the pandemic, are now recognized as a highly effective and participant-centric option for conducting clinical trials.
What are decentralized clinical trials?
Decentralized clinical trials allow for trial participants to engage in clinical trials on their own terms through digital and virtual means. Decentralized clinical trials utilize technology to create options for participation beyond a physical presence at research sites. They include practices such as obtaining consent from participants remotely, using telemedicine, and sending the investigational product directly to the participant. These practices reduce barriers and burdens to trial participation and can offer greater access and equity in clinical trials.
Decentralized clinical trials also reduce the physical footprint and cost of trials by decreasing the number of on-site visits from participants and study sponsors. In order to conduct clinical trials, study sponsors must be able to perform monitoring of the trials, which is traditionally done on-site. To limit the number of non-essential visitors within hospitals and ensure social distancing, this monitoring must now be done remotely. Decentralized clinical trials implement remote methods for data monitoring which allow study sponsors to safely access records through technological solutions.
How has Ontario's research community adapted?
Since the onset of the pandemic, sites and sponsors in Ontario have embraced decentralized trial approaches. Hospitals such as the University Health Network (UHN) and Lawson Health Research Institute and sponsors, like Merck Canada, are a few of those working on solutions to allow for safe and effective clinical research in our new reality.
Merck Canada was quick to adapt to the new way of conducting research by implementing participant-centric approaches, such as telemedicine and sending the product being investigated to the patient.
"Very quickly in the pandemic, Merck came up with a motto: no patient left behind. We decided to do anything we could to ensure that no patients are left behind during this pandemic," said Marie-France Goyer, therapeutic area head, Merck Canada. "Decentralized trials are very participant-centric. For that reason, we feel these approaches are here to stay."
One of the biggest challenges, however, was ensuring safety and monitoring during a lockdown, adds Ezla Assam, a senior clinical research associate also with Merck Canada.
Merck created a task force dedicated to working with sites to develop a remote data monitoring process for each specific institution.
"This was a challenge in itself because we could not use a one-size-fits-all approach," she said. "Different sites have different capabilities as to how they can support remote monitoring. So, it was really just working with sites to come up with a plan that best supported them."
Thinking outside of the box with the patient at the centre
"Merck's quality systems were not originally built to allow for remote oversight, remote monitoring or remote reconciliation of clinical supplies," said Emilie Levesque, country clinical quality manager at Merck Canada. "However, we were able to adapt them and develop new ways of working very rapidly. I am proud of how much we were resilient and focused on putting the patient first. We were able to support the sites to the best of our abilities and think outside the box while keeping in mind the patient safety and quality of the data."
Related Tags
Innovative remote monitoring solutions
Prior to the COVID-19 pandemic, trial sites such as UHN and Lawson did not have systems for remote monitoring. However, through collaboration with study sponsors, the sites were quick to adapt.
"At UHN we were eager to implement remote monitoring. Limiting the amount of non-essential visitors to the hospital helped promote the safety of our patients, staff and visitors, while continuing and supporting our important research work," Katie Roposa, UHN's director of research quality integration told Clinical Trials Ontario (CTO).
Through collaboration with study sponsors, UHN established interim remote monitoring access through Microsoft Teams screen sharing. UHN has since established direct remote access using Citrix Systems, which will allow study sponsors direct and secure remote access to electronic medical records.
Remote access opens up opportunities
"The ability to do remote monitoring, remote consent, virtual clinical visits, and direct-to-patient medications will create opportunities to more efficiently conduct clinical research remotely where it is appropriate," said Mike Voth, UHN's manager of research quality integration.
Lawson Health Research Institute (the research institute of London Health Sciences Centre and St. Joseph's Health Care London) has also developed innovative solutions for remote monitoring.
"Clinical research needs to move towards an electronic world, and the COVID-19 pandemic has given us a push to get there. Remote monitoring is opening the door to look into the possibilities of using e-source data, e-consent and e-signatures within clinical research," said Janet Knechtel, senior quality assurance and education officer at Lawson.
"It's been exciting to be part of discussions across Ontario and Canada to see how we can work together to come up with solutions in order to conduct good quality research in our new reality," continued Knechtel.
New technologies provide flexibility for clinical trial participants
While sites and sponsors are working on implementing approaches for decentralized trials, new technologies are being developed to provide flexible ways for potential clinical trial participants to be connected to trials. Sciteline, a Toronto-based company focused on transforming clinical trials through digital software solutions, has developed a platform which includes eConsent, eRecruitment, remote patient monitoring, remote clinical assessments, telemedicine, and access to trial data in real-time. Sciteline's newest project connects patients to clinical trials through the Ontario digital referral network. This means that more patients across Ontario, regardless of location, will now be able to remotely connect with clinical research teams, which will improve access to research and increase the diversity of clinical trial participants.
Harmonizing decentralized clinical trial approaches in Ontario
In keeping with the trend to create tools to help align approaches to clinical trials, CTO's initiative, ACT: Advancing Clinical Trials, is helping to harness pandemic lessons by bringing together representatives from industry, institutions, research ethics boards and trial participants.
ACT recently published the Resource Guide for Decentralized Clinical Trial Approaches which provides best practices and key considerations for conducting decentralized clinical trials.
Decentralized clinical trial approaches are the future of clinical research, and Ontario is ready for it.
Clinical Trials Ontario is a non-profit organization dedicated to strengthening the environment for conducting high-quality clinical trials, working collaboratively with research institutes, patients and the public, industry and other health innovation organizations.
DON'T MISS A THING: SIGN-UP FOR HEALTHING'S NEWSLETTER
Thank you for your support. If you liked this story, please send it to a friend. Every share counts.