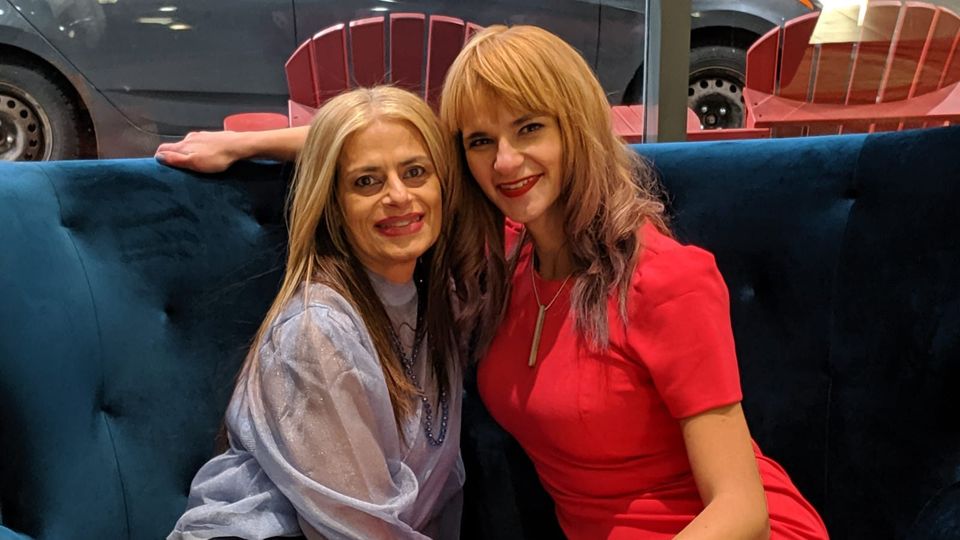 A decade ago, we were two strangers, diagnosed with stomach cancer just six months apart. Teresa was 45 and working for the Canadian Breast Cancer Foundation. Katy was a 21-year-old student at the University of Toronto.  
Most patients with stomach cancer were older than both of us and at much later stages. It was incredibly isolating and lonely. We found so few places to turn for support in our cancer journey that we decided we had to create one ourselves, so that others grappling with stomach cancer wouldn't feel as lost as we did back in 2011.  
"I was 21 at the time with no past medical history," Katy says about her experience being diagnosed with stomach cancer. "I was told that my only chance of cure was to have my entire stomach removed and then have chemo and radiation. Despite this major operation, there was still a good chance that the cancer would come back and at that point there would not be any more options.  
"I felt lost because I had to put my life on hold and choose to have major treatment that would impact every aspect of my life. I went from being a perfectly healthy 21-year-old to imagining a life without a stomach, without any guarantees that I would make it to my 25th birthday. There were no resources for me to turn to at that time, no stories of happy endings, just young me making a life changing decision."  
Teresa's diagnosis came as a result of being tested for colon cancer, which her father had died of, and her mother had also experienced.   
"Being told I had stomach cancer was a complete surprise," Teresa recalls. "I remember that moment when I heard those words, you have stomach cancer. My world stopped."   
Back then, our family and friends had a difficult time understanding how someone could live without a stomach; why we couldn't eat as much food or certain types of food, how something like drinking water could make us sick. There was no patient organization specific to stomach cancer to go to for guidance, even though an estimated 4,200 Canadians are diagnosed with stomach cancer every year and almost 2,000 Canadians die from it annually.  
Our friendship, founded in fear, confusion and frustration, has grown into a partnership which led to the 2016 founding of My Gut Feeling – Stomach Cancer Foundation of Canada. The foundation fulfills our passion to transform something negative into something positive. My Gut Feeling is Canada's first stomach cancer support network for patients, survivors and caregivers, providing peer-to-peer support, education, awareness and advocacy for those whose lives have been touched by stomach cancer.  
We hope that by talking about how we created My Gut Feeling, we can provide inspiration for those who need someone to lean on during their stomach-cancer journey and empower other Canadians who are engaged in the healthcare system to advocate for themselves when they are feeling overlooked.  
The cancer is rarely detected early because the symptoms can disguise themselves as more benign stomach problems, so many people are diagnosed with stomach cancer at later stages and at later ages. There are a variety of risk factors, including diet, genetics and a particular stomach bacteria known as Helicobacter pylori. Today, there are more options available to patients like chemo before surgery and/or after surgery, or a combination of immunotherapy and chemo. The treatment depends on the stage of the cancer. 
In 2011, both Teresa and Katy went through surgery followed by chemotherapy and radiation. Katy ultimately had a total gastrectomy, which meant the removal of her entire stomach; Teresa had 80 per cent of her stomach removed. 
Teresa lost 95 lbs within the first 18 months after her partial gastrectomy.  
"It was very difficult for me with respect to my self-image, as I was shrinking weekly," says Teresa. "Eating was trial and error every day and it can sometimes feel like a full-time job. Now, 10 years later, I have managed to gain back 12 lbs, but there are lifelong issues like chronic vitamin and mineral deficiencies.  
"I suffer from Chronic Fatigue Syndrome. I still can't eat spicy food, I am lactose intolerant and, of all things, I have to really watch how much pasta I eat. Being Italian, this has been a really difficult adjustment." 
Creating an organization from scratch enabled us to tailor our mission to what was most important for us and for the others we know who have been diagnosed with stomach cancer, as well as their families, friends and caregivers. We try to be there through the whole journey so that no one ever feels as alone as we did.  
An incredible volunteer team supports these goals.
Dr. Christine Brezden-Masley, currently the medical director of the cancer program at Sinai Health in Toronto and the oncologist for Teresa's treatment, sits on the board and chairs the organization's medical advisory board. Long-time members/survivors often support or mentor those new to diagnosis; we do our best to pair people who have gone through the same experiences. Teresa, for example, has gone to doctors' appointments with patients who have been scared about their diagnosis, and she has spent hours on the phone providing support.  
My Gut Feeling also has a core group of dedicated volunteers who support the organization by giving their time at our annual Conference and Stomach Cancer Awareness Day. "These education and awareness events could not happen without them," says Teresa.  
The Foundation's work also encompasses addressing gaps in the existing system of care, including helping patients to access the best care (which can often be difficult for those living outside of metropolitan areas.) We also are patient advocates on a number of research projects, where we provide research teams with insights into what patients go through on a day-to-day basis.  
Effective advocacy and support has called for many different channels of engagement. Our work in connection to Stomach Cancer Awareness Day, which we launched in 2016 and is recognized annually on November 30, has helped light up landmarks and city halls from Vancouver to St. John's in periwinkle blue to raise awareness for stomach cancer. My Gut Feeling's annual conference, which this year will be live-streamed on Saturday, November 27, has brought some of the best thinking about improving the lives of patients together in the same room.
Our regular support group meetings provide dependable peer-to-peer support to those who need it. Our guest speaker series, featuring a variety of healthcare professionals who take questions from participants, has increased discussion, compassion and sharing amongst patients, survivors, caregivers, health care professionals and the general public. (Recordings of those talks are available online at our website.)
On the tenth anniversary of our life-saving relationship, we have come so far, not only with My Gut Feeling, but with our own cancer journeys and our own friendship. We went from being diagnosed with a deadly cancer, to navigating the healthcare system and having our stomachs removed to now leading an organization that is changing the lives of so many.  
Although there is a 25-year age difference between us, we are there for each other. We have laughed and cried together, and, when necessary, been silly together. When we went to see the musical Grease, we literally ended up dancing in the theatre together. Moments like these are so important. They all contribute to how we have helped, and continue to help, those on the stomach cancer journey. 
For support and more information on stomach cancer, click here to reach My Gut Feeling – Stomach Cancer Foundation of Canada.