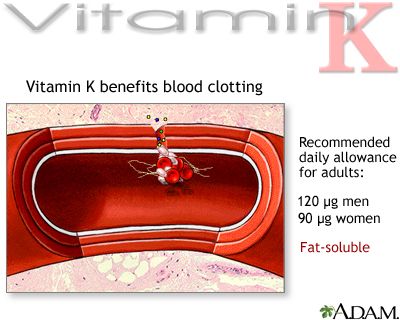 Alternative names: Phylloquinone; K1; Menaquinone; K2; Menadione; K3
Definition: Vitamin K is a fat-soluble vitamin.

Function

Vitamin K is known as the clotting vitamin. Without it, blood would not clot. Some studies suggest that it helps maintain strong bones in the older adults.

Food Sources

The best way to get the daily requirement of vitamin K is by eating food sources. Vitamin K is found in the following foods:
Green leafy vegetables, such as kale, spinach, turnip greens, collards, Swiss chard, mustard greens, parsley, romaine, and green leaf lettuce
Vegetables such as Brussels sprouts, broccoli, cauliflower, and cabbage
Fish, liver, meat, eggs, and cereals (contain smaller amounts)
Vitamin K is also made by the bacteria in the lower intestinal tract.

Side Effects

Vitamin K deficiency is very rare. It occurs when the body can't properly absorb the vitamin from the intestinal tract. Vitamin K deficiency can also occur after long-term treatment with antibiotics.
People with vitamin K deficiency are often more likely to have bruising and bleeding.
Keep in mind that:
If you take certain blood-thinning drugs (anticoagulant/antiplatelet drugs) such as warfarin (Coumadin), you may need to eat less of vitamin K containing foods.
You may also need to eat the same amount of vitamin K-containing foods every day.
You should know that vitamin K or foods containing vitamin K can affect how some of these drugs work. It is important for you to keep vitamin K levels in your blood constant on a day to day basis.
The most commonly used anticoagulants currently are not affected by intake of vitamin K. This precaution pertains to warfarin (Coumadin). Ask your health care provider if you need to monitor your intake of vitamin K containing foods and how much you can eat.

Recommendations

The Recommended Dietary Allowance (RDA) for vitamins reflects how much of each vitamin most people should get each day.
The RDA for vitamins may be used as goals for each person.
How much of each vitamin you need depends on your age and gender.
Other factors, such as pregnancy, breastfeeding, and illness may increase the amount you need.
The Government of Canada's Dietary Reference Intakes' Adequate Intakes (AIs) for vitamin K:
Infants
Zero to six months: 2.0 micrograms per day (mcg/day)
Seven to 12 months: 2.5 mcg/day
Children
One to three years: 30 mcg/day
Four to eight years: 55 mcg/day
Nine to 13 years: 60 mcg/day
Adolescents and adults
Males and females age 14 to 18: 75 mcg/day (including those females who are pregnant and lactating)
Males and females age 19 and older: 90 mcg/day for females (including those who are pregnant and lactating) and 120 mcg/day for males
References
Mason JB. Vitamins, trace minerals, and other micronutrients. In: Goldman L, Schafer AI, eds. Goldman-Cecil Medicine. 25th ed. Philadelphia, PA: Elsevier Saunders; 2016:chap 218.
Salwen MJ. Vitamins and trace elements. In: McPherson RA, Pincus MR, eds. Henry's Clinical Diagnosis and Management by Laboratory Methods. 23rd ed. St Louis, MO: Elsevier; 2017:chap 26.
DISCLAIMER
The information provided herein should not be used during any medical emergency or for the diagnosis or treatment of any medical condition. A licensed physician should be consulted for diagnosis and treatment of any and all medical conditions. Links to other sites are provided for information only -- they do not constitute endorsements of any other sites. Content provided by A.D.A.M and is prepared for the United States of America. Recommended treatments may not be applicable, available, or permissible in Canada or other jurisdictions. A.D.A.M. is accredited by URAC, also known as the American Accreditation HealthCare Commission (www.urac.org). URAC's accreditation program is an independent audit to verify that A.D.A.M. follows rigorous standards of quality and accountability. A.D.A.M. is also a founding member of Hi-Ethics and subscribes to the principles of the Health on the Net Foundation (
www.hon.ch
).