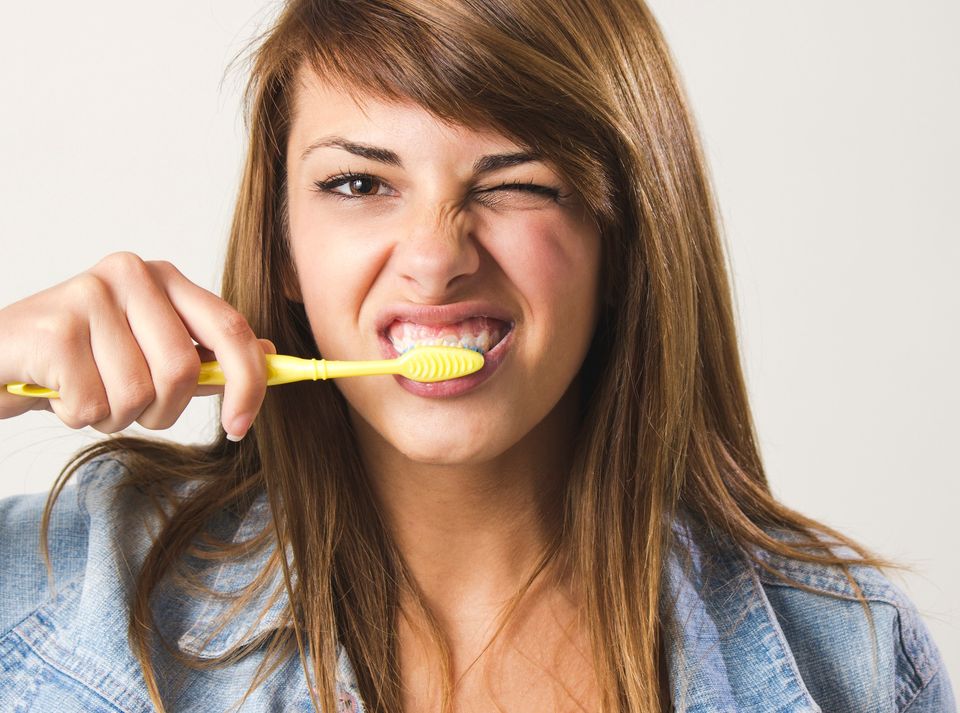 Careful brushers and devoted flossers may wonder why they keep seeing pink in the sink in spite of their devotion to dental hygiene. A new study from the University of Washington suggests that if you're experiencing bleeding gums and it's definitely not gingivitis, you may be lacking in vitamin C.
An analysis of 15 clinical trials published in Nutrition Reviews looked at the health data of 8,210 U.S. residents as well as 1,140 largely healthy participants from other countries. A news release explained that "bleeding of the gums on gentle probing, or gingival bleeding tendency, and also bleeding in the eye, or retinal hemorrhaging, were associated with low vitamin C levels in the bloodstream." Increasing daily vitamin C intake helped reverse the issue.
"When you see your gums bleed, the first thing you should think about is not, 'I should brush more.' You should try to figure out why your gums are bleeding. And vitamin C deficiency is one possible reason," said the study's lead author Philippe Hujoel, a practicing dentist and professor of oral health sciences in the UW School of Dentistry.
Common sources of vitamin C include citrus fruits such as oranges, broccoli, sweet peppers, kale and kiwi. The vitamin helps your body absorb iron, can hasten the healing of wounds and also acts as an antioxidant, according to Health Canada.
Some low-carb diets that focus on protein and eliminating sugars, can exacerbate the issue since they rule out fruits that offer high amounts of the vitamin.
Interstingly, the connection between oral health and vitamin C isn't exactly new. Studies from the 1980s and early 1990s pointed to a link, but the idea became lost in the overall oral health conversation, researchers say.
"There was a time in the past when gingival bleeding was more generally considered to be a potential marker for a lack of vitamin C. But over time, that's been drowned out or marginalized by this overattention to treating the symptom of bleeding with brushing or flossing, rather than treating the cause," Hujoel said.
But the issue may be larger than your mouth and your diet.
The review also found that "retinal hemorrhaging and cerebral strokes are associated with increased gingival bleeding tendency, and that (vitamin C) supplementation reverses the retinal bleeding associated with low (vitamin C) plasma levels."
Gum and retinal bleeding could also be a sign of health issues in the microvascular system and health issues involving the brain, heart or kidneys.
In other words, if your gums are bleeding, it's worth seeing your dentist. But it might also be worth considering if you're getting enough vitamin C.
Related Tags
The amount of recommended daily vitamin C intake
depends on age
: 90 mg is suggested for adult men and 75 g for adult women. Women who are breastfeeding should take 120 mg.
Scurvy not so old-fashioned
A recent McMaster University report found that while scurvy, a disease characterized by a severe lack of the vitamin, might sound old-fashioned, it's still a problem for some Canadians. In a study of nine year's worth of data from two Hamilton-based hospital sysems, researchers found 52 individuals with low vitamin C levels — 13 who could be diagnosed as having scurvy and 39 who tested positive for scurvy but did not have documented symptoms.
The patients' low vitamin C levels were related to a number of different issues including alchohol use disorder and bariatric or weight-loss surgery. The majority were traced to causes of malnutrition including "persistent vomiting, purposeful dietary restrictions, mental illness, social isolation and dependence on others for food." One of the more commonly documented symptoms was gingival bleeding.
John Neary, associate professor of medicine at McMaster and the senior author of the study, said in a news release, "Scurvy is seen as a disease irrelevant to the modern world, but it still exists, and clinicians caring for at-risk patients should be aware of it and know how to diagnose it."
Don't miss the latest health news. Subscribe to Healthing's daily newsletter.