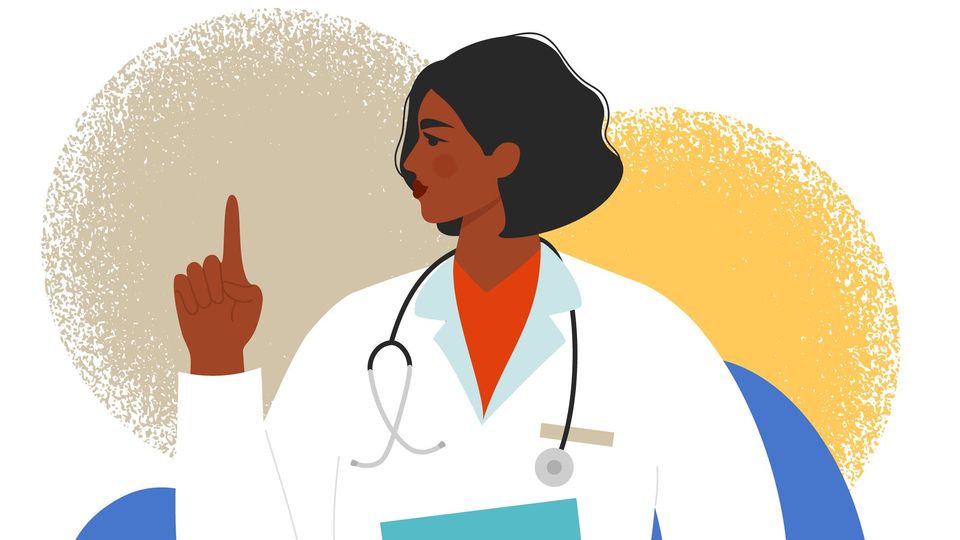 The secret ingredient of family practice isn't a stethoscope or a blood pressure cuff, but the relationships family doctors build with their patients. We build these relationships with people and caregivers over time and many visits, giving us the opportunity to arrive at a shared understanding of a person's medical history, context, values, and goals.
On World Family Doctor Day, let's reflect on the foundational role of family doctors in keeping our communities and health system healthy.
One of my patients, Mrs. K, is an octogenarian and a beloved grandmother. She worried about once again landing in the emergency room as her heart condition progressed. As her family doctor, I listened not only to her heart and lungs, but also to what mattered to her. I worked with her specialists in adjusting her medications, and proactively saw her as often as it took to keep her where she wanted to be — at home near family and community.
Another patient, Mr. B, had suddenly worsened diabetes over several months, increasing his risk for heart disease, stroke, and blindness. He also postponed and missed several visits. As health professionals, we worry just as much about the people who do not or cannot make it into our offices. Mr. B and I built a care relationship over years of health and illness, and he felt comfortable disclosing how difficult his days were since his partner died of cancer. It was clear his grief, mood, and diabetes were all related. Together, we created a plan that connected him to mental health and social support in his community, enabling him to take back control of both physical and mental health.
Care that is higher quality, more kind, and more careful
Just as with Mrs. K and Mr. B, seeing the same family doctor over time has numerous benefits. People with a family doctor get more timely preventive care including cancer screening. They also avoid emergency room visits and hospital stays, and even live longer. Investments in this type of proactive care help keep costs low to governments and taxpayers, affording our health system sustainability for years to come. The evidence is clear: health systems built on a strong foundation of primary care are more equitable and produce better outcomes at lower costs.
Five million Canadians don't have a family doctor
In Canada, eight out of ten health care visits every day are with family doctors. Yet roughly five million Canadians do not have a family doctor, often due to systemic barriers rather than choice. This gap for nearly 15 per cent of Canadians is by far one of our most urgent opportunities for improvement in our health-care system.
Canada's primary care gap is a wicked problem with countless symptoms. When people need care, they are forced to find alternatives. Many end up in urgent care or emergency rooms, which act as an important safety net. For some, heartbreakingly, we miss cancers and other serious conditions, leading to delayed diagnoses, and ultimately more difficult and costly care.
We miss opportunities to build relationships, explore mental health alongside physical health, and lay a foundation for the future. This gap also makes family practices busier, needing to triage the people who are most sick or most in need, with less time to care for others.
Imagine if every Canadian had a family doctor
Imagine a world where we solved this wicked problem. In this world, when you or a loved one need care, you can see a health professional who is familiar to you, understands your values and health history, and is committed to keeping you healthy.
Now, imagine if every Canadian had that in a family doctor, supported by a team interconnected by digital tools and other creative means. Of course, one doctor cannot be everything to everyone needing care at all times, which is why investing in the team, the technology, and the infrastructure to support family practices is so critical. Imagine if you had other important experts all co-located or virtually connected with your family doctor: cross-covering physicians to make sure you had care after-hours and when needed urgently, a primary care nurse to support you with chronic disease, a link worker to connect people with social prescriptions, a systems navigator to help people have better experiences with our health system, mobile health professionals to extend the reach of primary care to your home when you need it most, or mental health professionals, pharmacists, and other specialists all working together on your care.
As Canadians age, health care grows in complexity and cost. To keep our health system sustainable, meaningfully connecting people to well-supported family practices could be the most important goal we set.
Join Dr. Nowak on June 21, along with advocate Teri Price, in a discussion about the important role of communication in patient/healthcare provider relationships, how to make the most of time with your doctor, and the value of including patients and caregivers as part of the healthcare team. This is Part 1 in the "Health Talk" series. Part 2 will explore the importance of caregivers, and Part 3 will take a look at how to protect mental health while living through crisis. Register by clicking here.
Dr. Dominik Nowak is a family doctor and health systems leader. As Chief Medical Advisor at TELUS, Dr. Nowak bridges disciplines with health, community, and business leaders toward health innovation based in science and compassion. He is also a faculty member in the Dalla Lana School of Public Health and the Department of Family and Community Medicine at the University of Toronto.
Thank you for your support. If you liked this story, please send it to a friend. Every share counts.