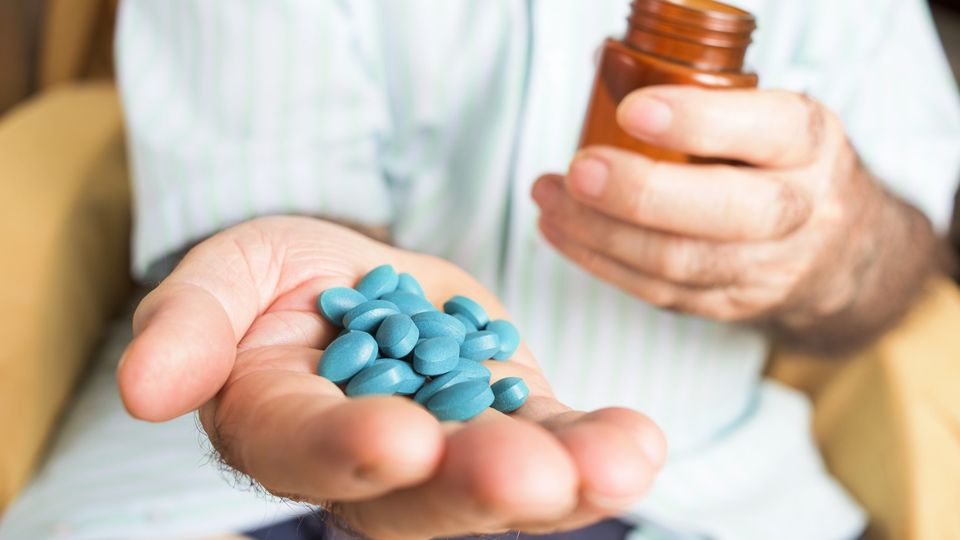 Viagra, the little blue pill known for treating erectile dysfunction has another, potentially life saving, use. 
Researchers from the Cleveland Clinic in Ohio have found a link between the drug and treating Alzheimer's disease. Their research was published in the medical journal Nature Aging earlier this week. 
Although tests are still in early stages, scientists looked at a database of more than seven million people for the study. They found that sildenafil, the generic name for Viagra, is associated with a 69 per cent reduced risk of Alzheimer's. 
"This paper is an example of a growing area of research in precision medicine where big data is key to connecting the dots between existing drugs and a complex disease like Alzheimer's," Dr. Jean Yaun, program director of  Translational Bioinformatics and Drug Development at the National Institute on Aging, which funded the research, said in a release. "This is one of many efforts we are supporting to find existing drugs or available safe compounds for other conditions that would be good candidates for Alzheimer's disease clinical trials."
Slidenfil was originally invented in 1989 by Pfizer as a treatment for chest pain, being approved for medical use in the United States and European Union in 1998. Of course, one of the effects of the drug is that it dilates the heart's blood vessels, which increases blood flow and can give men an erection, which is what it is best known for. 
Researchers looked into the effects of two proteins, tau and amyloid, of which the remnants are typically found in Alzheimer's patients' brains. Separately, each protein can cause its own issues in the body such as organ inflammation or shortness of breath. Amyloid can build up on the walls of arteries and increase the chance of stroke, the U.S. government website MedlinePlus says, while tau can accumulate in the brain and potentially aid in developing Alzheimer's, according to the Alzheimer's Association.
There are currently no Alzheimer's disease-specific medicines on the market. The Cleveland-based researchers looked into more than 1,600 FDA-approved drugs to check if there were any treatments for other uses that could reduce the effects of Alzheimer's.
"Recent studies show that the interplay between amyloid and tau is a greater contributor to Alzheimer's than either by itself," said Dr. Feixiong Cheng, the lead researcher on the study. "Therefore, we hypothesized that drugs targeting the molecular network intersection of amyloid and tau endophenotypes should have the greatest potential for success."
The scientists found that people who took Viagra — or sildenafil — were almost 70 per cent less likely to develop Alzheimer's than those who did not take the drug after a six year follow up. This, compared to other drugs such as the type 2 diabetes drugs metformin and glimepiride, or the blood pressure medicine diltiazem.
Researchers developed a model of an Alzheimer's patient's brain using stem cells, and observed sildenafil promoting brain cell growth and simultaneously slowing the spread of tau proteins. 
"Because our findings only establish an association between sildenafil use and reduced incidence of Alzheimer's disease, we are now planning a mechanistic trial and a phase II randomized clinical trial to test causality and confirm sildenafil's clinical benefits for Alzheimer's patients," Cheng said. "We also foresee our approach being applied to other neurodegenerative diseases, including Parkinson's disease and amyotrophic lateral sclerosis, to accelerate the drug discovery process."  
Almost 750,000 people in Canada have Alzheimer's or another form of dementia, according to the Alzheimer's Association.
Chris Arnold is a Toronto-based freelance writer. He can be reached here. 
Thank you for your support. If you liked this story, please send it to a friend. Every share counts.