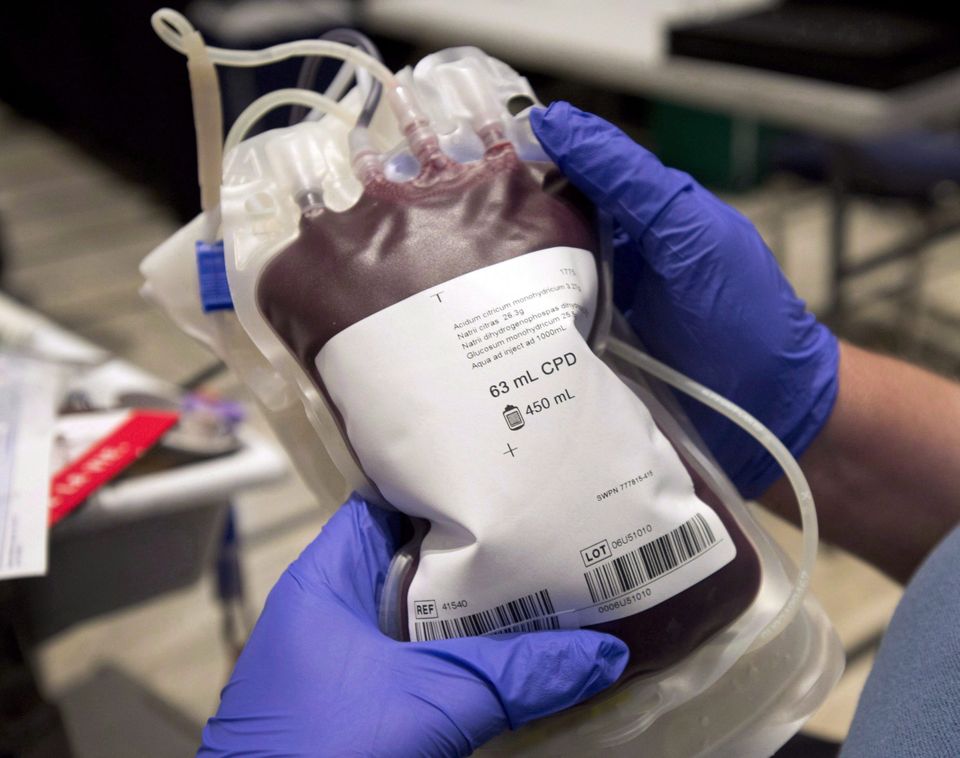 It's hard to believe that, in 2021, a ban on gay and bisexual men donating blood is still being upheld – not only due to its discriminatory practice, but with widespread blood shortages brought on by the COVID-19 pandemic. After promising he would make a change way back in 2015, Prime Minister Justin Trudeau is expected to overturn the ban any week now once Canadian Blood Services (CBS) submits its application requesting changes to Health Canada.
But to understand what that change will look like and why it's so significant, it's worth taking a look back at how the ban came to be instated in the first place.
It all began in the 1980s, just after HIV and AIDS emerged in Canada and when the most that was known about the virus was that it disproportionately affected gay men. In 1985, the Tainted Blood Scandal happened, and saw 2,000 Canadians infected with HIV from tainted blood products, and 30,000 with hepatitis C. This was due to the Canadian Red Cross — which supplied the products — inadequately testing and screening donors for viruses. As a result, and in a move that was far too late, the Canadian Red Cross Society had the country's blood donation system begin to screen for HIV and other viruses in 1985.
But that was deemed insufficient, and so a lifetime ban on blood donations from gay men was introduced in 1992 and was upheld until 2013, by which time CBS and Héma-Québec took over administering blood donations. A slight change finally came in 2013, when both altered the policy from a lifetime ban to one that allowed gay men to donate if they had been abstinent for five years. In 2016, those five years became one year, and in 2019, one year became three months. For the record, straight men are permitted to donate blood — no matter how many sexual partners they've had.
Needless to say, these changes have not been enough, and continue to be a stark reminder of the discrimination the LGBT community faces in the healthcare system.
"The mandate for CBS was patient safety and accountability to the patients, but there was no mandate for equality, diversity and inclusion," says Dr. Warren Fingrut, the founder of Canada's Stem Cell Club, a donor recruitment organization. "It was not built into the building blocks of the organization at the time. CBS has made efforts in recent years to try and adopt policies or chart a path forward to become an organization that increasingly values these things, but I don't think that's how it was designed to be. … It was an afterthought."
Canadian Blood Services and Héma-Québec have long cited needing more research to disprove the restrictions, but despite there having been much of that over the years, the ban has remained firm. But what is the research? To begin with, 33.4 per cent of Canadians living with HIV acquired it through heterosexual sex. We also now have the technology to detect HIV within 12 days after infection, while CBS currently estimates the risk of undetected HIV-positive blood being introduced into the blood supply at one in eight million.
In addition, in documents obtained from Health Canada, Canadian Blood Services, and Héma-Québec that span from 2016 to 2018 by Vice News in 2020, it was revealed that when the ban was shifted from a lifetime to five years to one year, it had "no substantial effect whatsoever" and that Health Canada knew these changes would impact only a "small minority" of the ineligible population. Of those who donated along these rules, none tested positive for HIV.
Simply put, it all suggests the ban is based more on stereotypes — which are only being perpetuated — than science. Particularly when you also consider that, in 2016, CBS added an additional screening criteria for trans donors. It dictates that donors who have had lower gender affirming surgery will be deferred from donating blood for three months after their surgery, after which they will be screened in their affirmed gender, while donors who have not had lower gender affirming surgery will be asked questions based on their sex assigned at birth and will be eligible to donate based on that. It's an egregious level of judgment, as not all trans people choose surgery for myriad personal reasons, and such interrogation can cause harm during the evaluation process, but also perpetuate transphobia.
An alternative approach, one that was successfully adopted by the U.K. just this June, is to opt for behaviour-based criteria. For example, instead of focusing questions on a donor's sexuality, it asks about their sexual activity (i.e. whether they've been monogamous, practice safe sex). The National Health Service made the change after a review by the FAIR (For the Assessment of Individualised Risk) steering group, which determined an individualized, gender-neutral approach to deciding who can donate blood, platelets, and plasma is fairer and still maintains the safety of the U.K.'s blood supply. In Italy, Mexico, Poland, Latvia, and Spain, criteria is also behaviour-based, and is the same for all donors regardless of sexuality.
Organizations like Stem Cell Club and All Blood Is Equal are dedicated to developing the culture around donation and ending the blood ban, respectively. Part of that involves changing the messaging, spreading the facts, but also raising awareness that not all avenues have barriers and that speaks well for a brighter future.
For instance, Stem Cell Club's new Save Lives With Pride campaign, which took place this past summer, worked to inform Canadians that gay men are eligible to donate stem cells. Fingrut says many of those who have applied to be donors through Stem Cell Club have expressed "relief" at discovering they can and that, in some cases, even make for perfect candidates based on their ancestry.
That's a key part of making this change, which isn't as simple as just changing the donation criteria.
"There's a whole history of barriers with respect to men who have sex with men not being invited, not being included, not being welcomed in the healthcare system, and so there's going to be a lot of trauma there, there's going to be a lot of barriers to overcome," explains Fingrut. "It can't just end with 'okay, now we've changed the rules.' Great job, but there's more work to be done, we have to work with those communities, educate about eligibility, showcase the heroism of the donors in those communities because that is something that's really never been done before."
According to CBRC's 2018 Sex Now Survey, 92 per cent of gay men said they would donate if the country changed its policy. That's considerable — especially at a time when blood has never been needed more — triggering this recent push for change. Still, it will take time for Health Canada to review and approve CBS's application for a change in criteria, and could take anywhere from one to three years for the changes to go into effect.
"The burden of evidence required for certain kinds of change are so high that when you have an equity crisis, it's very hard to overcome using that more traditional evidence-based form," says Fingrut. "You can see that through what's happening right now with CBS and Health Canada essentially arguing with each other about who is the real barrier here. Well, it's both of them. It's a systemic problem. The changes coming are great, but it's something that's not going to happen overnight. However, it will happen and is no longer a question of 'if' anymore. Finally."
Sadaf Ahsan is a Toronto-based culture writer, editor and stereotypical middle child. She can be reached here.
Thank you for your support. If you liked this story, please send it to a friend. Every share counts.