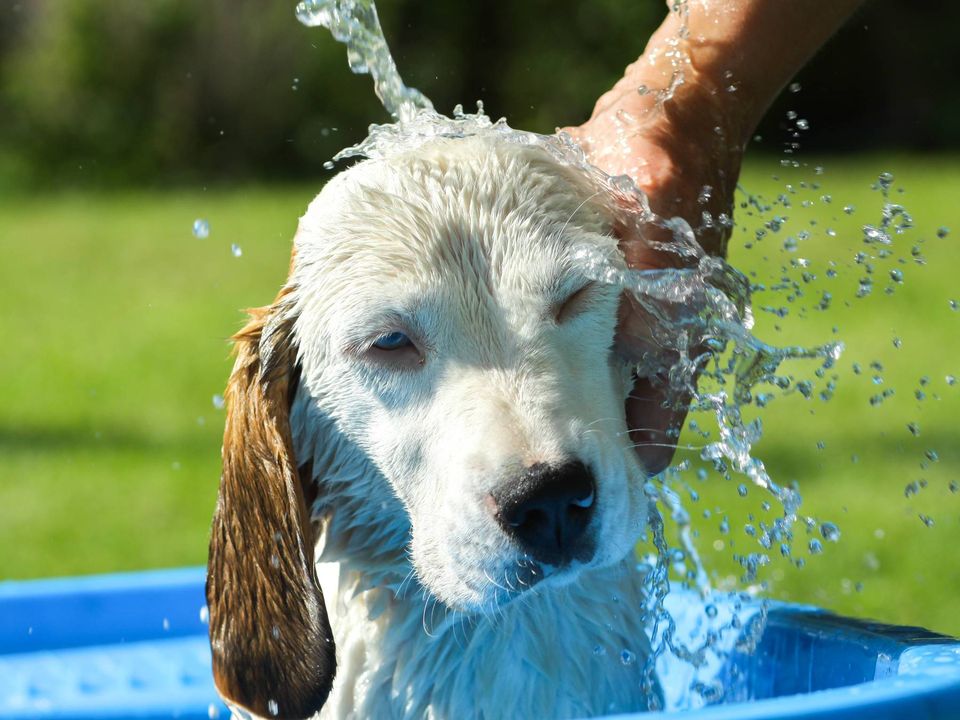 Scorching summer weather can be dangerous for both humans and their animal companions alike. As much of Canada swelters in a heat wave, some vets are reporting treating animals for severe heat stroke, which can be deadly.
Here's a look at how to keep your pets cool in the summer and how to recognize the signs of heat stroke in dogs and cats. Always be sure to consult with a veterinarian if you are concerned about your pet's condition.
Is my pet too hot?
If you're unsure whether your animal is overheating, the Ontario Society for the Prevention of Cruelty to Animals and Humane Society has an easy to remember message: "if it's too hot for you, it's too hot for your pet!" That means you need to take the similar precautions to keep your animal cool and comfortable that you would for yourself. If temperatures are soaring, try to limit your pet's outdoor time to cooler parts of the day such as early morning or the evening, give them plenty of water to stay hydrated and don't leave them inside vehicles. Pavement and asphalt can heat up quickly and the organization recommends testing the sidewalk with the back of your hand or wrist on sunny days to see if it's safe for dogs' paws.
Cooling down
While some dogs might enjoy a dip in a tub or a kiddie pool, getting cats to cool down can be a challenge. Blue Cross U.K. suggests freezing tuna brine or low-salt chicken stock as a cool treat for them. Petting cats with wet hands may also help, as well as sticking an ice pack or even a pack of frozen veggies under their favourite blanket or cushion.
Pet supply stores also offer a number of cooling devices, including mats, pads and even jackets.
Both dogs and cats pant to cool down. "Animals pant to evaporate moisture from their lungs, which takes heat away from their body," explains Dr. Barry Kellogg of the Humane Society Veterinary Medical Association in the U.S. "If the humidity is too high, they are unable to cool themselves and their temperature will skyrocket to dangerous levels — very quickly."
Heat stroke signs
Some types of dogs and cats are more susceptible to heat stroke than others. The American Society for the Prevention of Cruelty to Animals notes that breeds with short muzzles and flat faces, such as pugs and bulldogs, or even Persian cats, can have a harder time in the heat as it's harder for them to pant to cool themselves down. Heat can also be dangerous to pets with existing health conditions, as well as aging animals.
According to the Ontario SPCA and Humane Society, signs of heat stroke in dogs include excessive panting and drooling, an increased heart rate, bright red gums, listlessness, vomiting or diarrhea and collapse.
Symptoms of heat stroke in cats is similar to dogs though cats may also show signs of anxiety, pacing around trying to find a cool spot to settle, as well as muscle tremors or bleeding from the nose.
Though it might seem like a quick way to cool down your pet, many experts say to avoid soaking them with ice-cold water. The Royal Veterinary College of London explains that frigid water can reduce blood flow to the skin, reducing your pet's ability to cool down. Offering them sips of water to drink, running small amounts of cool or lukewarm water over them and regularly applying a damp towel may help. Applying ice packs to the head, neck and chest may also help.
The OSPCA warns that "some medical problems caused by heatstroke may not show up right away" so it's important to have your pets see a vet as soon as possible if you are concerned.
Related Tags