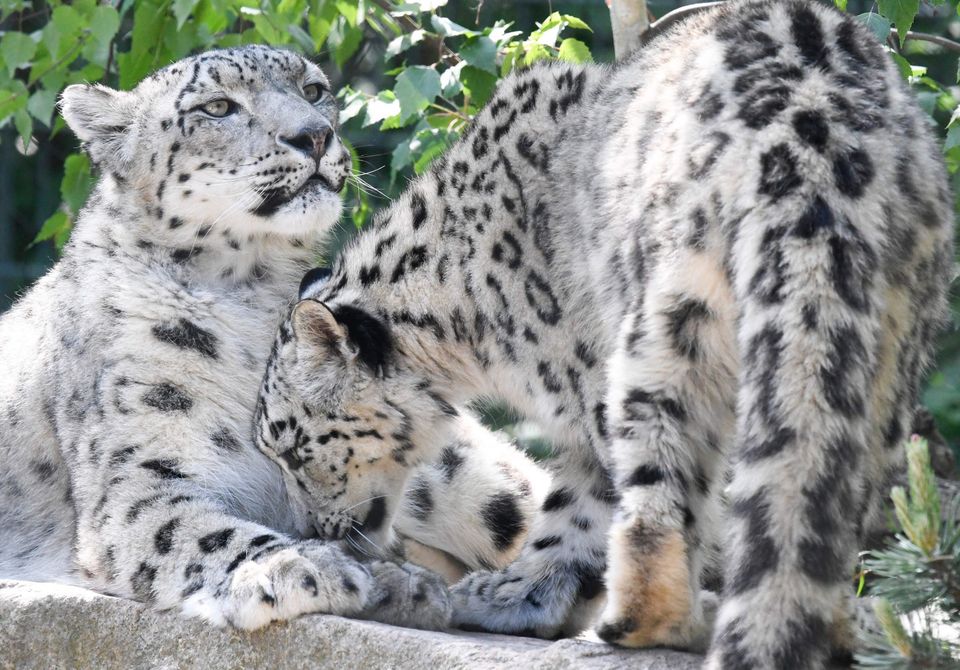 The pandemic hasn't just been damaging to humans. Rilu, a snow leopard at a zoo in Illinois whose image was one of several projected on New York's Empire State Building in 2015 to raise awareness for endangered species, died after contracting COVID-19. He had been "struggling with COVID-induced pneumonia," the Miller Park Zoo in Bloomington, Ill. said in a statement posted to social media.
Rilu, who was only 11, tested positive for the virus in early December after showing symptoms, HuffPost reported. The zoo said three other snow leopards and a Sumatran tiger who also tested positive are in good condition. Snow leopards in captivity can live up to 22 years.
https://www.instagram.com/p/CYZ28pKMhPz/
In November, three other snow leopards died at a zoo in Nebraska from complications related to COVID. Ranney, Everest and Makalu "were beloved by our entire community inside and outside of the zoo," the Lincoln Children's Zoo wrote in a Facebook post at the time. Two Sumatran tigers had also tested positive, but recovered.
Very few animals can transmit the virus to humans, but humans can transmit COVID to animals, the U.S. Center for Disease Control and Prevention says.
Joel Sartore, the photographer who took the photo of Rilu that was projected onto the Empire State Building, posted video footage to Instagram in a post memorializing the leopard.
"Snow leopards are proving extremely susceptible to the disease, and it's often fatal," he wrote. "If you haven't received a vaccination and booster yet, please do so. It's more than just human lives that are at stake."
https://www.instagram.com/p/CYcqgjNIDtv/
The prevailing theory that COVID came from an animal means it's not surprising that it can spread from humans to other animals, Jonathan Runstadler, professor in the department of infectious disease and global health at the Tufts University Cummings School of Veterinary Medicine, told NBC News. "That would lead one to think that the virus has retained the capability of replication and infection in other animal hosts as well."
It isn't totally understood why some animals appear to be more susceptible to the virus than others. Cats in general seem to contract the virus at high rates, both domestic cats and big cats like lions, tigers and cougars. The CDC says dogs, mink, hyenas, ferrets, otters, primates, and white-tailed deer are all vulnerable, too.
There are other animals who have also contracted COVID either in their natural habitats or in experiments, according to Health Canada, including rabbits, bats, voles, hamsters and several kinds of rodents. A few pigs and cows were infected during experiments, but very rarely.
Most of these animals can spread the virus to other animals of the same type — ferrets can spread it to other ferrets, in other words, and tigers can spread it to other tigers or big cats. Dogs, though, don't seem to spread COVID. There's no expert consensus yet about otters, tree shrews, or rabbits.
But unlike those other animals, minks, for some reason, are able to spread COVID to people. In late 2020, officials in Denmark said they believed that after mink farmers had unknowingly transmitted the virus to minks, the virus then mutated and was transmitted to other humans.
Minks are a "good match" for the virus, Ontario Veterinary College professor Scott Weese told NBC News. "We have viruses that are just human viruses or dog viruses or cat viruses," he explained. "This virus attaches well to mink."
They also live in conditions that facilitate COVID transmission: they're farmed for their fur, and are often packed in close quarters.
In Denmark, where outbreaks were reported at over 200 mink farms, the threat of a mutated mink-to-human virus was so significant that the government ordered a cull of every mink in the country, sick or not. After 17 million minks were killed and buried, a gas emitted by their decomposing bodies pushed the dead minks up from their two-metre deep graves, and back up to ground level.
The veterinary pharmaceutical company Zoetis, meanwhile, has developed an experimental COVID vaccine for animals, which was first tested on mink. Over the summer it donated 11,000 doses to about 70 American zoos and wildlife sanctuaries. In late November, the Ottawa Citizen reported that Zoetis would also donate 900 doses to six zoos in Canada.
Nathalie Santerre, director of Parc Safari in Hemmingford, Que., said that whenever she got access to the animal vaccine, she planned to start the vaccines with the felines and hyenas.
Readers interested in learning more about how to keep their pets safe from COVID can read the guidelines on Health Canada's website.
---
Thank you for your support. If you liked this story, please send it to a friend. Every share counts.