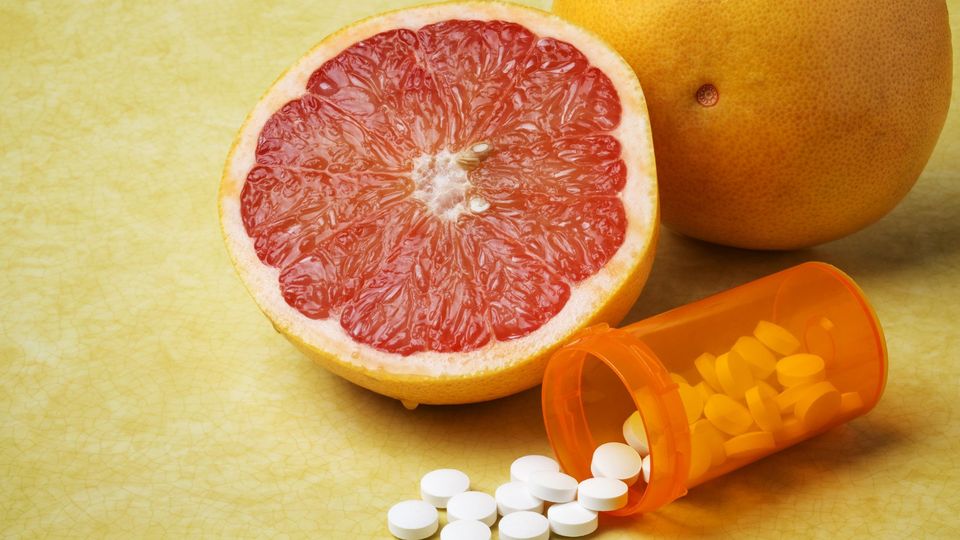 Dear Asking For a Friend,
I am noticing that many prescription drugs share one food interaction — grapefruit. What is it about this bitter fruit that affects medication?
Signed, Love Citrus
Dear Love Citrus,
Tangy and delicious grapefruit contains natural chemicals called furanocoumarins that can impact your digestion. These compounds have health-promoting anti-oxidative and anti-inflammatory properties, but they also interact with an enzyme in our gut known as CYP3A4, which helps to metabolize — or break down — medications that are taken orally for all kinds of conditions. CYP3A4 is actually an evolutionary mechanism developed in our ancestors to guard against toxins in plants that were once part of our foraging diet.
Making side effects more serious
Here's the danger: eating a grapefruit or consuming its juices with your prescription pills can mean that instead of being metabolized, more of the drug enters your bloodstream and stays in your body longer, making potential side effects far more serious. In fact, the interaction between the bitter fruit and certain medications could lead to gastrointestinal bleeding, kidney failure, breathing difficulty and sudden death, according to a paper in the Canadian Medical Association Journal.
The problem is compounded by the fact that many patients — and even doctors and pharmacists — aren't aware of the risks and the number of drugs with this interaction keeps rising, says David Bailey, a pharmacologist and scientist at the Lawson Health Research Institute in London, Ontario, and lead author of the paper.
"There are a lot of people out there who love their grapefruit, especially people 45 and older, and these are the individuals who are commonly prescribed drugs," he says. "The interaction is very drug-specific, so it's important to create awareness and let people know there are alternatives you can take."
Bailey was the first researcher to discover that grapefruit causes potentially harmful interactions with some medications, and he now consults with the Canadian Pharmacists Association to track and update the list of drugs that share the grapefruit interaction.
There are now 128 drugs on the list — which is available to all healthcare professionals in Canada — and includes treatments for heart conditions, anti-cancer agents and central-nervous-system drugs used to treat pain and schizophrenia.

Yes, even a little bit can cause a big problem
For the widely prescribed high-blood pressure drug, felodipine, (also known by several other brand names, including cabren, cardioplen XL and felendil XL) for example, "if people take one tablet with a glass of grapefruit juice, it's like they're taking five tablets," Bailey says.
Other examples include commonly prescribed statins like Lipitor, which is used to treat high cholesterol, and Plavix (also known as clopidogrel) used to reduce the risk of heart attack and stroke in people with angina.
Even over-the-counter drugs are on the list, like Domperidone (also called Motilium) which is used for nausea, and medications containing the cough suppressant dextromethorphan. Take these with grapefruit and it can cause severe anxiety and hallucinations. It's always a good idea to check with your doctor or pharmacist if you are concerned about possible interactions with grapefruit, or anything else.
Bailey says he has been asked whether grapefruit interacts with antidepressants and antibiotics. "There's nothing to worry about," he says.
How much is too much?
One whole grapefruit or a 200 millilitre glass of grapefruit juice consumed at any point in the day is sufficient enough to cause adverse effects, so it's best to avoid any amount, Bailey advises, whether it's one piece in a salad or some juice in a dressing.
An added note of caution for citrus lovers: there are other citrus fruits that produce this interaction, such as Seville oranges, which are often used in marmalades, as well as limes and pomelos — the largest of the citrus fruits.
Is there something about health that you (or a friend, wink, wink) have always wondered about but are too embarrassed to ask? Send a note to info@healthing.ca. We promise your 'friend's' secret — and identity — is safe with us!
DON'T MISS A THING: SIGN-UP FOR HEALTHING'S NEWSLETTER
Thank you for your support. If you liked this story, please send it to a friend. Every share counts.