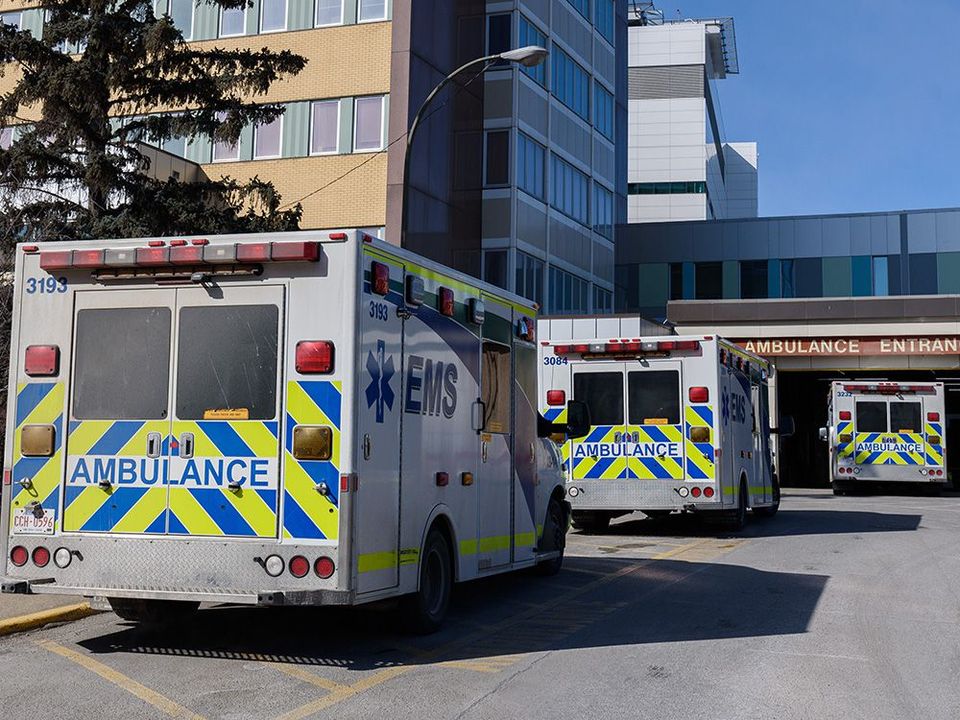 The death of an 86-year-old woman attacked by dogs is horrible. It's natural to blame those responsible. But we can't fault the paramedics.
AHS now says the first call to 911 was categorized as a police matter. Once police arrived and saw the serious injuries, EMS was called and an ambulance arrived in nine minutes.
This finding must be a relief to AHS. But it does not in any way mask the crisis in EMS and the whole emergency system.
More than five per cent of ambulance responses now take 30 minutes or longer. The standard in the big cities is supposed to be less than 10 minutes.
EMS is desperately short of staff, says Mike Parker, president of the Health Sciences Association of Alberta, which represents ambulance workers.
"We have this week alone 400 vacant shifts in the province. That's 400 vacant chairs, empty seats in the ambulances — the equivalent of 200 ambulances this week."
The ambulance shortfall collides with overcrowding in emergency wards, creating absurd scenarios that would almost be funny if lives weren't at stake.
Sometimes, patients waiting in hospital hallways for emergency treatment make desperate phone calls. To 911.
"Yes, it has gotten to the point where it is not unheard of for patients on EMS stretchers to call 911 asking for help because they've been on that stretcher for hours and hours," says Dr. Paul Parks, president of the Alberta Medical Association's Emergency Medicine section.
Mike Parker confirms that EMS crews on the road sometimes see a call flagged — from a hospital.
Resources are so short that in many places, ambulances aren't available for inter-hospital transfers.
This is the crucial work of taking patients from one treatment centre to another, or from hospital back to their senior care centres.
"Last night, we had four in my emergency, elderly frail patients, waiting to be transferred back to their nursing homes, but they waited hours and hours because no crews were available to transport them," says Parks, an emergency doctor at Medicine Hat Regional Hospital.
This has reached the stage where doctors do something that makes them very uncomfortable, he says.
They will tell patients not to wait for a transfer ambulance but drive themselves, because they'll be seen faster that way.
"That's something we should never say," says Parks. "But that's what the system has come to."
The chain reaction from ER logjams and EMS shortage backs patients right out the hospital door.
When a patient can't be transferred out of hospital, nobody waiting in emergency can be moved into that space, and an ambulance can't turn its patient over to the hospital.  
Soon enough, ambulances are sometimes lined up 10 deep at big-city hospitals.
AHS now has a "mandatory off-load" policy, meaning that crews can transfer a patient to the hospital rather than waiting for the ER to take charge of the person. In theory, the crew can then get back on the road.
"But it's a meaningless policy because usually we simply cannot off-load patients, there's no place for them to go," says Parks.
"There might be 50 or 60 people already in the waiting room, some of them sicker."
A part of the EMS load is taken up by Paramedic Response Units — full-sized SUVs complete with medical equipment but no capacity to transport patients.
Parker says in one case, a single paramedic was sent to the scene of what became a multiple traffic fatality without backup or transport for a long period.
Referring to the case of the Calgary woman, Parker says: "Regardless of how it played out this is an absolute tragic loss for the family, the friends and for the paramedics who responded to this call."
EMS was called late in this case, and so arrived late, the health authority says.
But how could this scene — an elderly woman with mortal injuries — be categorized as a non-medical matter in the first place?
In the U.S., officials would release a recording of the dispatch call. There is zero chance of that happening here.
Don Braid's column appears regularly in the Herald
Twitter: @DonBraid