Ontario took drastic measures to contain the COVID-19 pandemic on Wednesday by issuing a month-long "stay at home" order, as hospitals in hotspots including Toronto exceed capacity and intensive care cases increase faster than the predicted worst-case scenario.
"Things are extremely, extremely serious right now," Ontario Premier Doug Ford said in a news conference. "The situation is evolving rapidly, hour by hour… To boil it down, folks, please, unless it's for an essential reason, please stay home."
Ford also outlined changes to vaccine distribution strategy, prioritizing high-risk hotspot neighbourhoods and education workers.
This two-pronged strategy of lockdown and vaccine rollout followed similarly stark actions taken the day before in Alberta, which imposed its strictest set of lockdown restrictions, while also fencing up a church that had repeatedly violated public health orders.
"We cannot stop now. We must defeat these variants," Alberta Premier Jason Kenney said, saying the capacity of Alberta hospitals to accommodate the expected surge in serious COVID cases was on track to be exceeded in May.
He ordered the province back to the first step in its four-step re-opening plan, with 15 per cent capacity for retail settings and no in-person indoor dining at restaurants, saying these strictest measures are meant to buy time until enough people can be vaccinated.
Related Tags
Both announcements contributed to a chaotic moment in Canada's pandemic, now in its third and worst wave. Variants of the virus that spread more efficiently than the sort that drove infections over the last year are powering the current spike in numbers, with most of the country still unvaccinated.
New concern also rose this week about whether the Atlantic provinces will be able to go ahead with their plan to recreate the "Atlantic bubble" starting April 19. Under that plan, designed to support tourism and the hospitality industry, regional travel would be freely allowed, even though travellers from outside are required to immediately isolate for two weeks. Medical officers of health are due to advise Atlantic premiers next week.
Ontario's "stay at home" order, which Ford said is similar to the one imposed earlier this year, takes effect at midnight tonight
"The risks are greater and the stakes are higher," Ford said about this third wave. "Our hospitals are reaching capacity."
He said patients are already being transported out of hotspots in Toronto and neighbouring Peel, and that hospital executives have been expressing grave worries about system-wide failure.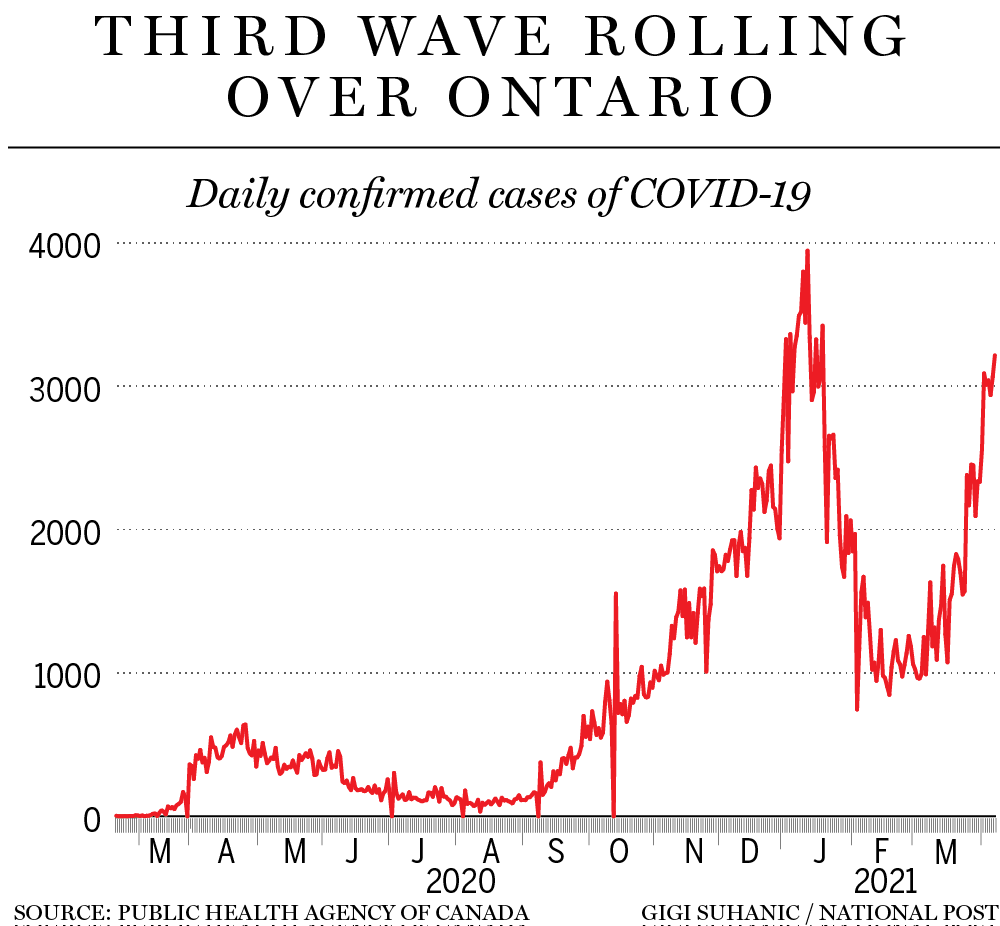 Mobile vaccination teams are to be deployed to higher risk neighbourhoods and hotspot workplaces, and the criteria adjusted to allow all adults over 18 years in certain high-risk neighbourhoods or workplaces to be vaccinated. All education workers in high-risk neighbourhoods will be eligible for vaccines, Ford said, and all education workers will later be prioritized to ensure schools can re-open to in-person learning.
"This will be critical to getting this third wave under control," Ford said.
The overall goal will be to make the available vaccine supply have the greatest impact as quickly as possible. Non-essential stores in Ontario will be closed but allowed to offer curbside pickup, while big box stores will be allowed to sell essential items only. Evictions are to be suspended.
The announcements came soon after some Ontario regions abruptly closed schools and sent students and teachers online for the last few days before this weekend's spring break, postponed since March.
Ontario schools that had not already been closed due to COVID outbreaks re-opened for a single day after the Easter long weekend, during which provincial daily case counts were around 3,000. Classes are now online only.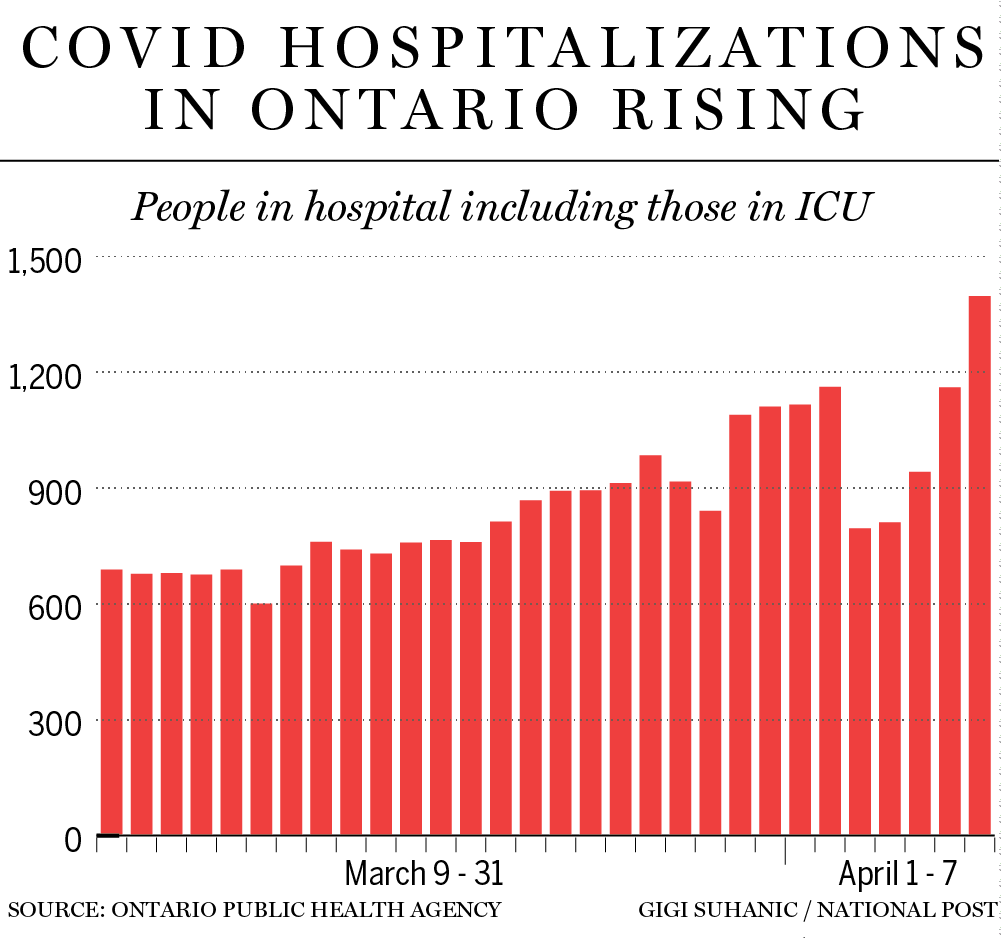 The outcry from parents at the short notice mirrored recent concerns from restaurant owners after a similarly abrupt change in lockdown restrictions. As warm weather returned, restaurants in Toronto and other areas already under lockdown were allowed to open patios, only for that to be cancelled less than two weeks later.
That cancellation cost Ontario restaurants more than $100-million in the costs of reopening and stocking up in anticipation of patio service, according to an open letter from Restaurants Canada and the Ontario Restaurant Hotel & Motel Association.
"Unfortunately, we are not all in this together. In a year when so many others have continued to receive their full pay, and some industries thrived during the pandemic, those in the restaurant sector have never worked harder and lost so much through no fault of their own," reads the letter signed by the presidents of those groups, Todd Barclay and Tony Elenis.