As children ages five to 11 get set to start receiving COVID-19 vaccines this week, Ottawa elementary schools are experiencing an increasing number of outbreaks of the virus.
Across the city, 19 elementary and one secondary school have ongoing outbreaks, Ottawa Public Health says.
Chapel Hill Catholic school in Orléans closed Wednesday after seven students tested positive. Students at Chapel Hill have shifted to online learning at home, and Ottawa Public Health officials will visit the school Friday to distribute take-home COVID-19 test kits.
Most of the outbreaks this year have been in elementary schools, where the majority of children are not vaccinated.
That's also reflected in the number of children under 12 who have contracted COVID-19 compared to other age groups.
Kids from five to 11 have the highest rate of new cases of COVID-19 of any age group.
In Ottawa, children in that age category had a weekly COVID-19 rate of 58.9 per 100,000 population as of Nov. 14, Ottawa Public Health says. The next highest rate was found among children from zero to four years old with a rate of 32.5.
The rates among people over 12, who are eligible to be vaccinated, are dramatically lower. Youth from 12 to 17 had a rate of 19.6, while the rate for people over age 18 was 13.7.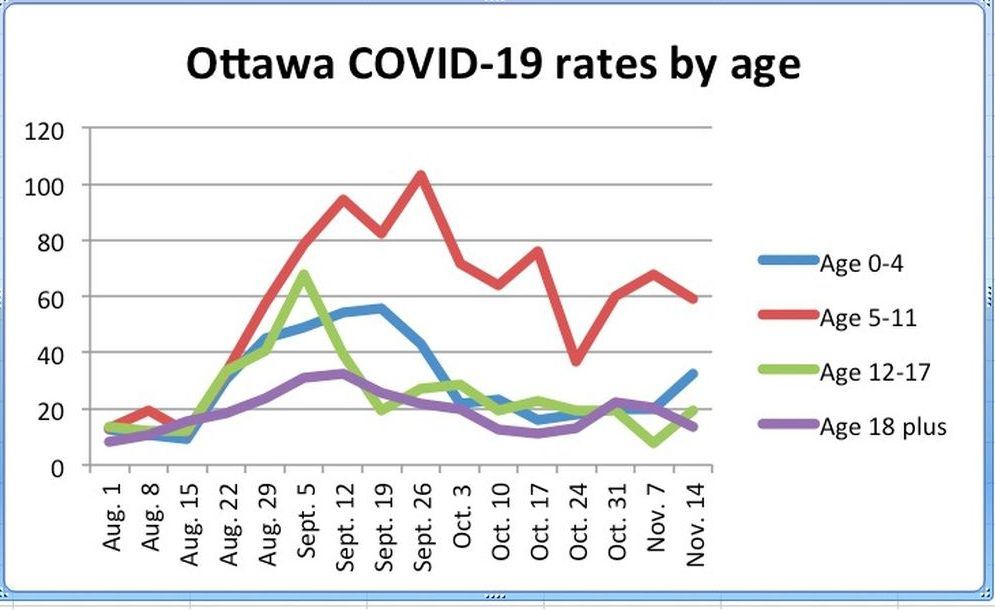 In another comparison, children under age nine have the highest total number of both new and active cases of COVID-19 reported in Ottawa of any age group, OPH says.
Of 303 active cases of COVID-19 in Ottawa reported Wednesday, 78 were in children age nine and under.
At a media conference, Ottawa Medical Officer of Health Dr. Vera Etches urged parents and guardians to get their children vaccinated.
Etches attributed much of the recent increase of COVID outbreaks at schools to students from larger families spreading the disease to their siblings, who subsequently carry it to different cohorts and classrooms.
"I would encourage everyone, if your child has symptoms, to get a test to ensure it's not COVID, and stay home until we know that isn't COVID," Etches said.
Vaccination bookings for children ages five to 11 opened Tuesday, and the first shots in Ottawa are scheduled to be delivered on Friday.
More than 60,000 appointments are initially available for the estimated 77,000 Ottawa children in that age category.
There is an eight-week gap between the two doses, and children aren't considered fully protected until two weeks after the second dose.
That means many children will have some protection with one dose of the vaccine before the December holidays, but won't be fully immunized until February.
Meanwhile, parents in Niagara and Peterborough are being warned about disinformation being spread about COVID-19 vaccination clinics for children.
The District School Board of Niagara, in a social media message, said it had learned of "misinformation being shared that children will be vaccinated at school without family consent. This is not true and will not happen."
In the Peterborough area, a school board has warned parents about misinformation circulating about school vaccination clinics, including false dates and times.
School clinics will be held after school and on weekends, not during school hours, administration of vaccines is voluntary and shots are not given without parental consent, said a note on Twitter from the Peterborough Victoria Northumberland and Clarington Catholic District School Board.
jmiller@postmedia.com