An antiviral drug to treat COVID-19 infections will be available in Alberta beginning next week.
Health Minister Jason Copping announced Tuesday an initial shipment of Pfizer's COVID-19 therapeutic Paxlovid was arriving in the province, with 3,200 courses of treatment available to eligible Albertans beginning Jan. 31.
The oral, at-home antiviral treatment is designed for use in mild and moderate cases of COVID-19 to prevent severe outcomes, with Pfizer's clinical trials showing a nearly 90 per cent reduction in hospitalizations or deaths when taken within five days of infection. Health Canada approved the pill for adults last week.
"The use of therapeutic drugs is a promising next step in our efforts to fight more serious outcomes such as hospitalizations due to COVID-19," Copping said.
The limited supply of Paxlovid means the drug will only be accessible to a narrow portion of the population. It will be available only for those with a prescription and a COVID-19 infection confirmed by a positive PCR test; access to testing is currently limited to high-risk individuals and settings.
Only a select number of pharmacies will receive the drug, and Copping asked Albertans not to call pharmacies or physicians' offices directly to seek the drug. Those who are eligible are asked to call Health Link 811 to arrange for treatment if appropriate.
The pill will only be available to immunocompromised individuals, including cancer patients who have received chemotherapy since December 2020, transplant recipients and those with rheumatoid arthritis, or lupus or inflammatory bowel disease. All unvaccinated Albertans age 65 or older are eligible, as well as unvaccinated adults who have diabetes, obesity, congestive heart failure and COPD with moderate to severe asthma.
Chief medical officer of health Dr. Deena Hinshaw stressed Paxlovid is not a substitute for immunization against COVID-19.
"Vaccination is the most effective way to prevent severe cases of COVID-19 and reduce the risks that come with being infected," Hinshaw said.
"Unfortunately, we cannot yet perfectly predict whether any individual will have COVID-19 and have only a week-long experience with mild symptoms, or if there is long COVID or severe symptoms that result. What we do know is that vaccines can protect us from the worst impacts of COVID-19."
Hinshaw said Alberta data show vaccines have been effective in preventing severe COVID-19 illness. She said children in households where no adults had been immunized against the virus are 1½ times more likely to be hospitalized with COVID-19 than those in households where the adults are fully vaccinated.
Canada has purchased one million courses of Paxlovid, with the first batch of 30,000 courses now distributed to the provinces. Copping said more doses are expected in February, though exact numbers and timelines are not known.
Alberta's COVID-19 hospitalizations continue to climb
The number of Albertans hospitalized with a COVID-19 infection continues to climb, with a peak in admissions expected in the coming weeks.
As of Tuesday, there are 1,377 Albertans in hospital with the virus, up from 1,304 Monday and a 30 per cent increase from the previous week. Of those patients, 111 are in intensive-care units.
About 58 per cent of new hospital admissions with COVID-19 are directly due to the virus, Copping said, with the remaining admissions representing patients where COVID-19 infection is considered incidental or where its role is unknown.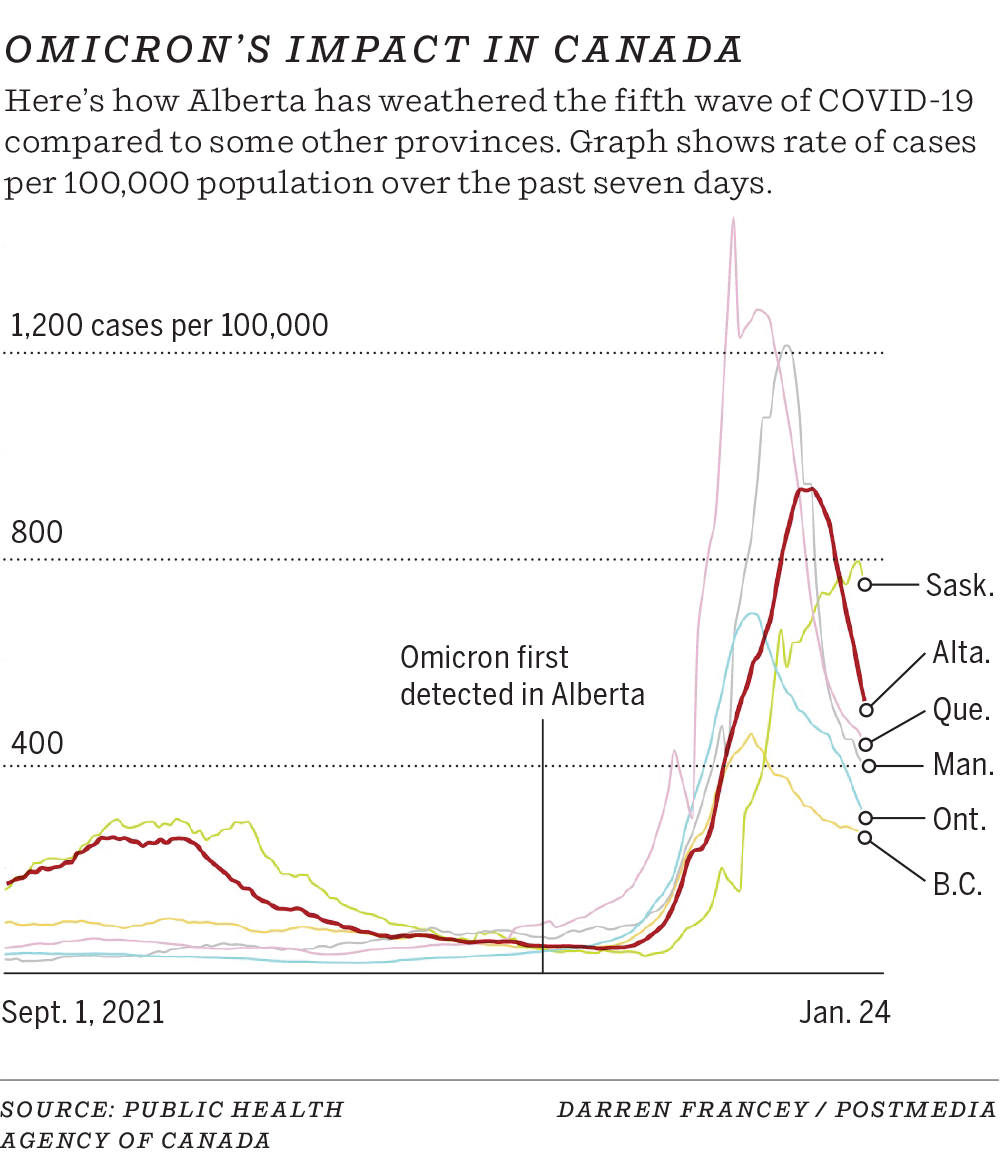 Copping said a rise in hospitalizations is anticipated to continue over the next several weeks, but added early indications of the Omicron variant's slowing spread will hopefully soon be reflected in hospital data.
"We're at a turning point in the current wave and we're starting to see the end of it," he said. "But make no mistake: the coming weeks are going to be the toughest yet for many Albertans and for the people working in core in-patient units in our hospitals."
Alberta has cancelled some surgeries to cope with the current wave of the virus, but Copping said the province continues to complete about 90 per cent of its usual surgical load. Further surgical cancellations are possible if required to preserve hospital capacity, he said.
The province reported 13 new deaths from COVID-19 Tuesday, bringing the pandemic's toll in Alberta to 3,483. This follows 41 deaths reported over the weekend, including a man in his 20s.
As well, an additional 2,722 cases of COVID-19 were reported Tuesday from 6,718 PCR tests, representing a 43 per cent test positivity rate. Given limited PCR testing, Hinshaw has said the true number of COVID-19 infections in Alberta is thought to be at least 10 times the reported totals.
Elsewhere, Hinshaw addressed government delays in posting COVID-19 data Monday, when the province's usual update was not released until past 9 p.m.
She said technical difficulties were behind the delay, adding the reporting process is complex, pulling data from 10 different systems.
"Just like any other system, sometimes one of the components has a technical issue. That has a ripple effect through the whole system," she said.
Twitter: @jasonfherring