The number of confirmed cases of the Omicron COVID-19 variant in Alberta more than doubled over the weekend.
Dr. Deena Hinshaw, the province's chief medical officer of health, said on Twitter Monday morning that health officials confirmed eight more cases of the emerging variant since Friday, in addition to the four identified last week.
Of those cases, 11 are returning travellers and one is a household contact of one of those infections.
Hinshaw later explained on Twitter that one of the new cases was determined to be in an out-of-province resident, so Alberta has detected a total 11 Omicron cases.
"These individuals are isolating, and all appropriate public health follow-up is underway. To date, only mild symptoms have been reported and these individuals are recovering at home," Hinshaw said.
"As with the other cases, these individuals have done nothing wrong and should not be stigmatized."
Alberta's Omicron case count has the potential to rise further in the coming hours, as Hinshaw said some close contacts of the confirmed travellers have tested positive for COVID-19, but confirmation of the strain hasn't been completed.
Among those close contacts who have tested positive for COVID-19 but not yet Omicron are two students, one of whom attended an elementary school and one of whom attended a high school in the Alberta Health Services North zone. Those schools have been notified "out of an abundance of caution," Hinshaw said, with testing recommended for those identified as having been potentially exposed to the virus.
The schools are also being given rapid COVID-19 tests for student use at home, with students required to isolate if one of those tests returns positive. Hinshaw said unvaccinated children in the scenario may continue to attend school and child-care settings but "should avoid crowded public places for 14 days after the last exposure," while fully vaccinated children can continue as normal but should monitor for symptoms.
Answering media questions at an unrelated news conference Monday morning, Alberta Health Minister Jason Copping said the province is watching developments around Omicron closely and will introduce additional public health measures if needed.
"We've seen some spread, but then again it's all international travellers who have brought it back home to Alberta with the exception of one, which was a close contact," Copping said.
"We are being cautious. We don't know what the impact of this new variant will be. Again, it appears to be more transmissible. Perhaps it's less severe. We don't know yet how effective the vaccines will work but that research is being done."
On Twitter, Hinshaw lauded Alberta's testing system for finding the cases.
"Finding additional cases is not unexpected, and identifying these cases early is a testament to the work of our public health lab and front-line public health teams," she said.
Hinshaw and Copping are expected to hold a news conference on COVID-19 Tuesday afternoon.
The World Health Organization identified Omicron as a variant of concern in late November, with the strain raising alarm due to its high number of mutations.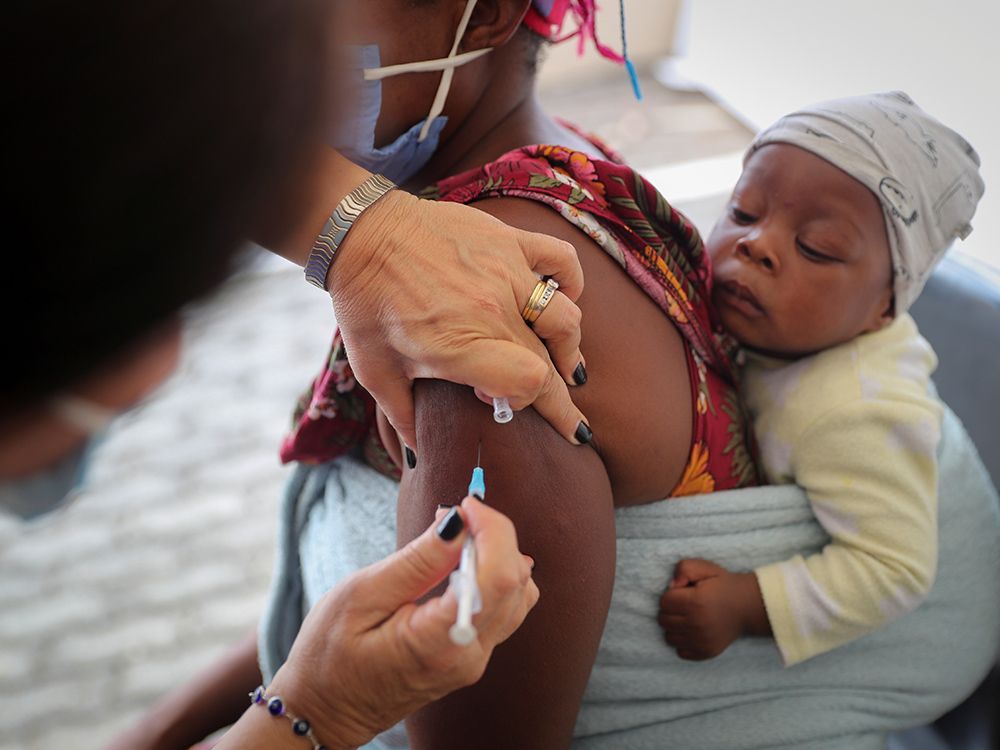 Alberta reported a total 788 cases of COVID-19 over the last three days, with 349 new cases confirmed on Friday, 252 on Saturday and 187 on Sunday.
There are 366 COVID patients in hospital, including 72 in intensive-care units. An additional five COVID deaths were reported over the weekend as well, bringing Alberta's death toll to 3,263.
Of the 72 patients in ICU, 76.4 per cent are unvaccinated or partially vaccinated, while 64.3 per cent of the other 294 patients in hospital are also unvaccinated or partially vaccinated.
More than 63,000 Alberta children aged five to 11 received a first shot of COVID-19 vaccine since pediatric doses were first offered on Nov. 26. This represents 16.1 per cent of the population of kids this age in the province.
Copping said on Twitter about 23,000 bookings are scheduled for children over the next seven days.
Meanwhile, 89 per cent of the population aged 12 and over have received at least one dose and 84.4 per cent are fully vaccinated.
Addressing city council Monday, Calgary Emergency Management Agency Chief Sue Henry stressed that Calgarians need to keep taking COVID seriously.
She noted that it's still mandatory to wear a mask in Calgary's public indoor spaces, and under the vaccine passport bylaw, any business eligible to implement the provincial "restrictions exemption program" must do so.
The city's latest state of local emergency ended last week after three months — the third time Calgary has been in and out of an emergency declaration since March 2020.
"There is a misconception in the community that the expiry of the state of local emergency is signalling a letting up of our COVID activities. This is not the case," Henry said, adding it's time to "stay the course" on precautions for now while the world waits for more research on the Omicron variant.
About 40 per cent of the 4,374 active cases in Alberta are located in the Calgary zone.
— With files from Madeline Smith
Twitter: @jasonfherring
Twitter: @BabychStephanie