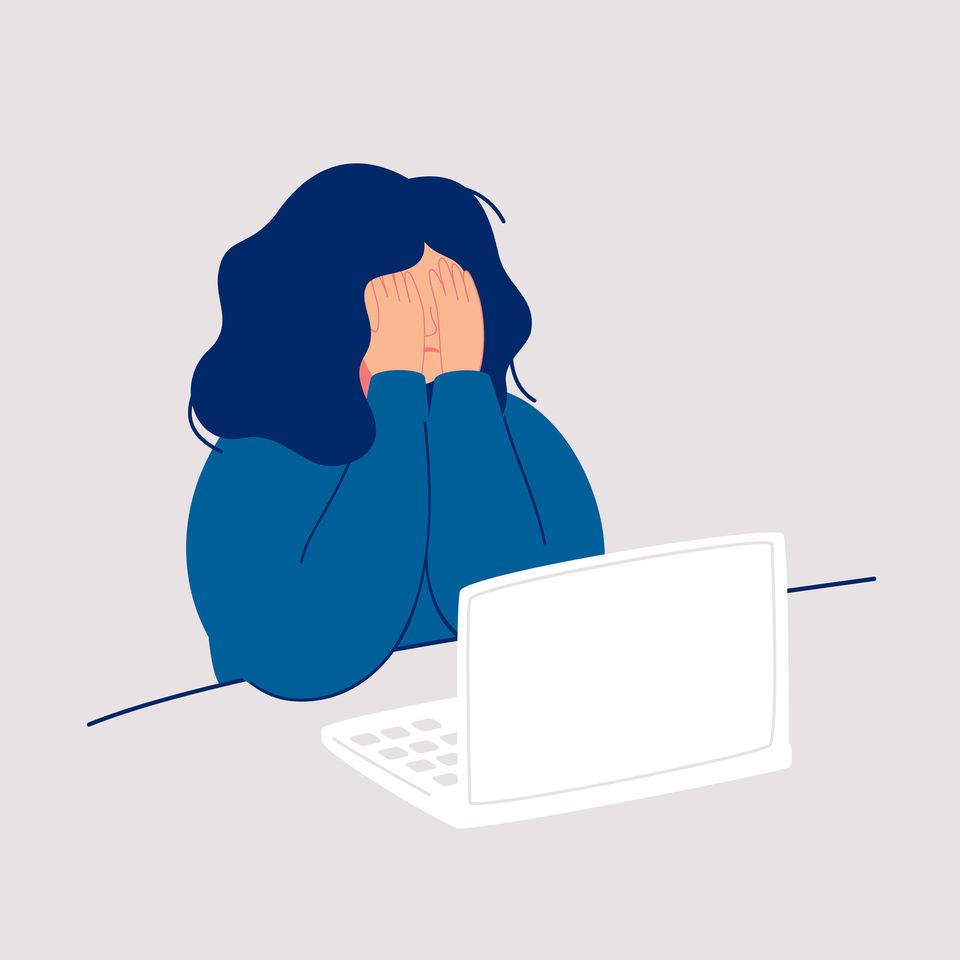 Even writing this right now is hard. As the numbers of COVID-19 cases continues to climb with no sign of slowing and our anxious stateside neighbour faces the possible re-election of a president who has deliberately downplayed the pandemic and allowed American citizens to face the world's highest death toll — staying calm very much feels like a Sisyphean challenge right now.
If you've done everything you already can and you're still feeling stressed, here are some tips for tonight's election and the long weeks ahead of us.
Related Tags
Set boundaries
Whether it's enforcing a time limit on certain social media apps on your phone or scheduling a "blockout" of a few hours to stay away from the news, make sure the time and energy you're investing in this election is a conscious choice. It's easy to get sucked into the rabbit hole of our screens. But as journalist Karen K. Ho, who coined the term "doomscrolling," frequently says: It's okay to log out, unplug, and put your phone away for a few hours.
Instead of constantly catching up with the 24-hours news cycle, watch a comforting or uplifting movie for a few hours instead — the news will still be there when you are done.
Boundaries are important in personal relationships too. Psychology professor Steve Joordens has provided tips for having calm political conversations with friends and family members. But if you find your conversations are becoming unproductive and stressful, he recommends setting limits for conversation topics and simply moving on rather than fighting with those you love.
Have a support network
You're not alone. There are 328.2 million Americans going through the same election and countless other Canadians — not to mention those around the world — who are feeling the reverberations of it. It's more important than ever to reach out to others —another reason why it helps not to burn bridges with your friends and family because of political disagreements.
Nothing is more comforting than a hearty meal on a cold night when the fate of democracy is in limbo
Talk to your loved ones about your concerns. Whether it's a group chat with friends, talking with a therapist, your neighbours, coworkers, or family members, it's important to have a network to lean on. More perspective can help you feel more hopeful, especially if you feeling yourself spiralling into despair.
Nourish yourself
When I asked a coworker recently what she was eating tonight, she replied: "My hair."
There are, of course, more nutritious and less self-destructive things you can put in your mouth. Never mind the long night on November 3rd, the post-election period is going to feel even longer this fall, and nothing is more comforting than a hearty meal on a cold night when the fate of democracy is in limbo.
Iron, magnesium, and vitamins B and C get depleted when we're stressed, reports Laura Brehaut in the National Post. Prepare meals that have proteins, nuts, seeds, legumes, and leafy green or cruciferous vegetables, like cauliflower and broccoli. Dietitians recommend a hearty stew, rather than high-carb foods, such as sweets, chips, or baked goods.
And as always, remember to hydrate. Alcohol and caffeine are, of course, diuretics, which will cause you to urinate more frequently. Make sure to drink equal amounts of water for your coffee or glass of wine to avoid dehydration — and a foggy head in the morning.
Stay active
Get off your phone and get outside, if it's safe to do so in your area (some areas of the U.S. are expecting riots after the election.) You can also use your break from election coverage to cross things off of your to-do list, like shopping for groceries or planning meals for the rest of the week. Doing good also helps us feel better, so consider running errands for a neighbour or checking up on a loved one or a close friend. And if all the political hype has you feeling a little powerless, consider the ways you can make a difference.
dduong@postmedia.com | @dianaduo
Don't miss the latest on COVID-19, reopening and life. Subscribe to Healthing's daily newsletter COVID Life.