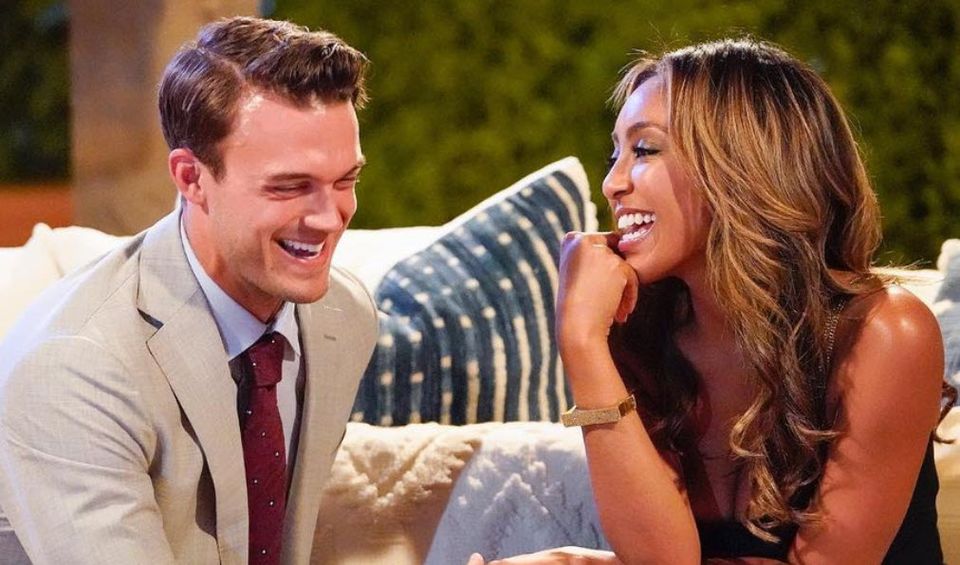 If you are struggling with mental health or thoughts about suicide, the Canada Suicide Prevention Service is available at 1-833-456-4566 or 45645 by text.
A reality TV dating show may not be the first place you'd think would be breaking barriers around mental health, but Tuesday's episode of The Bachelorette did just that.
A contestant on the show, Ben Smith, opened up to the season's bachelorette, Tayshia Adams, about his two suicide attempts during a date. The 30-year-old army vet and personal trainer told Adams that he struggled with his mental health in the past, and tried to end his life in 2018 and 2019.
"I didn't want to burden anybody with my problems. And I thought that the easiest way was to just not be around. Luckily, it didn't work," Smith said.
He told Adams that his relationship with his sister and getting professional help led him to a better place, and that he hadn't opened up about his mental health to many people in the past.
"Through being very intentional and very aggressive with my therapy, the person you see before you today isn't that person," he said. "I was very scared about sharing all of those things, and I'm OK. That's pretty cool."
Smith's honesty sparked a larger conversation online about men's mental health and the importance of breaking the stigma around speaking about it. Many viewers thanked Smith for having such a candid conversation on national TV, while others said men like him are "catalysts for change for the future."
Talking about men's mental health — both with friends and on a public stage — is critical in order to prevent suicide and normalize vulnerability and hard conversations, Todd Minerson, country director for Movember Canada, tells Healthing.
In Canada, the suicide rate for males is three times higher than the rate for females, according to Stats Canada, with a similar rate for men and women in the U.S.  Suicide deaths affect almost all age groups, Stats Can says, but people aged 40 to 59 had the highest rates.
The agency also says that the data on deaths by suicide "reflect only a small percentage of suicide attempts" as it is estimated that for every suicide there are as many as 20 attempts.
"Men's mental health and suicide prevention has been an important cause area for Movember for over eight years now, however, every year we still get people who are shocked to hear that the 75 per cent of suicides in Canada are by men, and that globally we lose one man every minute to suicide," Minerson says.
"These stats hit home."
Minerson says there's different factors behind higher suicide rates for men, both socially and culturally. He says men are generally speaking less likely to reach out to a friend when they're struggling, or are less confident in their ability to receive help.
"Men have been conditioned to align themselves to certain societal stereotypes – they've grown up with the 'man up' mentality, 'don't show weakness,' and 'boys don't cry' messages ingrained since birth," he says.
"A lot of men feel as though they don't have the same permissions to be open and vulnerable, which is the first step towards getting better."
Stigma around mental health and mental illness is still an obstacle many people face. Research shows that stigma can act as barrier in healthcare, and a lack of knowledge and education on mental health conditions can also prevent seeking help.
Helping people understand mental illness, and normalizing conversations about it, encourage men to open up when they are struggling. Smith recently shared a post on his Instagram account of text that reads "the world is better with you in it" and the number for the U.S.'s National Suicide Hotline.
Related Tags
When men in the Movemeber community share their stories and challenges with mental health, Minerson says, it encourages others to speak out.
"If any of those inspire or give confidence to another person to do the same, we are making progress," he says.
"And it's not only us. Every athlete that shares about their anxiety or depression, every artist, every public figure helps to recast that dialogue."
If you are struggling with mental health or thoughts about suicide, there is help. Here is a list of resources.

Other resources include:
9-1-1
Kids Help Phone: 1-800-668-6868. Text CONNECT to 686868 or visit www.kidshelpphone.ca
Trans Lifeline: 1-877-330-6366
Hope for Wellness Help Line: 1-855-242-3310. Online chat: www.hopeforwellness.ca
Indian Residential Schools Crisis Line: 1-866-925-4419
Canada Suicide Prevention Service: 1-833-456-4566 
For Quebec residents: 1-866-APPELLE
www.suicideprevention.ca/need-help
For more information on men's mental health and suicide prevention or the programs Movember offers in this space, visit Movember.com. 
Laura Hensley is a writer with Healthing.ca.
Don't miss the latest on COVID-19, reopening and life. Subscribe to Healthing's daily newsletter COVID Life.