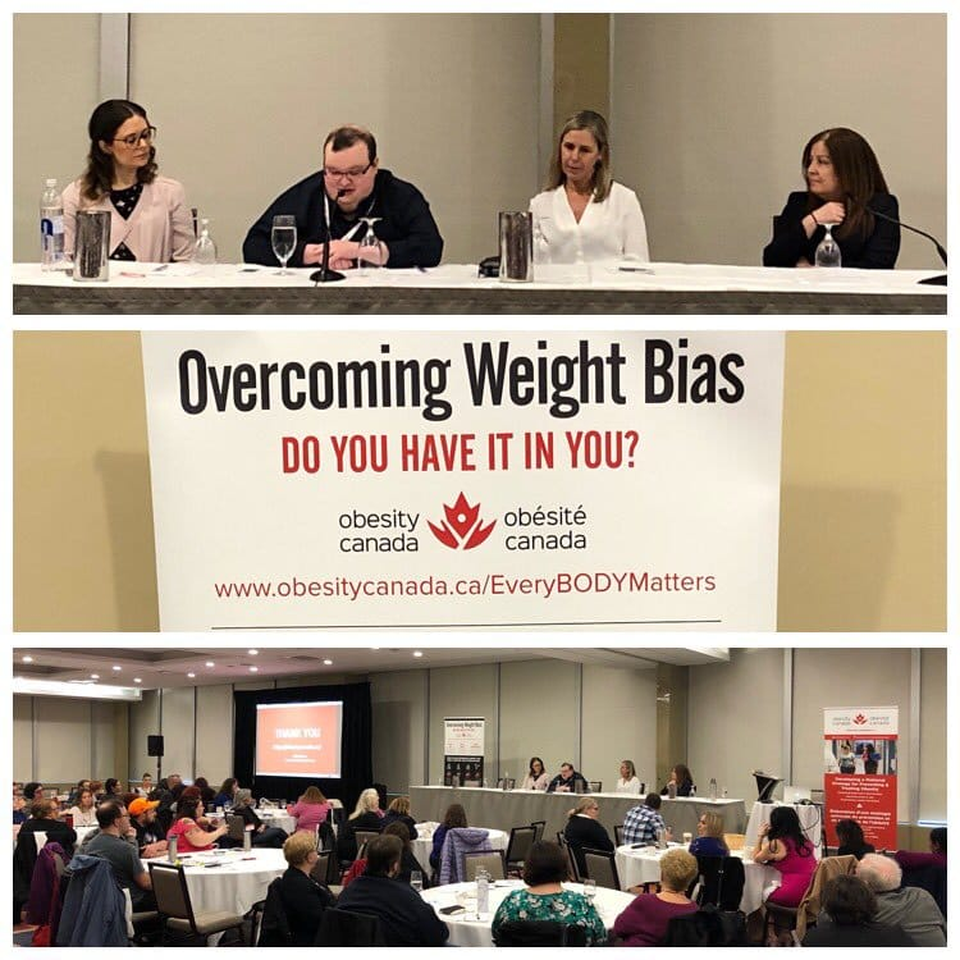 "Thank you, thank you, thank you! I am so inspired and and so happy to have been able to see this conference (Obesity Canada's Connected 2020).  My entire life I have lived with the shame of obesity and kept my head down and suffered in silence. Having listened to the speakers at this conference I now know that this is so much more than just me being a failure.  I feel so empowered to have learned about the science of obesity and to know I am not alone! I feel like I can finally make a difference in my life when it comes to this disease and how I feel about myself! Thank you again!"
This is a quote from an attendee who joined Obesity Canada last fall for our annual public conference "Connected", and is really the reason that I do the work I do.
Having people say that our content is valued like this has such an impact on me personally simply because I get it.  I have been that person that has suffered in silence.  I am that person that has felt shame most of my life about my obesity.  I am also that person that was lucky enough to be awakened to the truth about this disease through Obesity Canada and I am passionate about sharing that with as many people who will hear it.
Learning about obesity and recognizing that it is a chronic disease saved my life in more than one way.  Aside from the fact that I was able to seek out and access evidence based treatment and management that actually made a difference, I also drastically changed my feelings about myself.  I was able to love myself more than ever before and understand that the shame I was living with was not justified.  I was able to better understand how to approach my obesity management and in doing so improved my mental health along with my physical health.
So as fall is here and it is that time of year again when our Connected conference is taking place, I thought it would be helpful to list my top three reasons YOU should join us for this FREE virtual event on October 24, 2021!
Trusted Information: Obesity Canada is the country's leading organization on the topic of obesity. We are a national health charity and are dedicated to evidence-based research, education, and advocacy. We are in a unique position to connect you with the leading obesity experts from Canada and around the world providing you with an unmatched opportunity to learn from the best! And it is free to register!
Community: Our Connected 2021 virtual conference is one of the ways we aim to serve Canadians living with obesity, but it does not end there.  The conference is the flagship event for our community, but the real value is in the community itself.  By joining us at Connected 2021 you will find there are lots of people like you and me, eager to learn more and support each other. So while you are enjoying a great talk during the conference, you can also sign up to join OC-Connect, our private, online community for individuals living with obesity, by individuals with obesity as a place for peer support, education and empowerment. (It is also free to join!)
Lived Experience: Simply put, the most empowering thing we can do is listen to people who get it because they lived it.  As a patient advocate, I have been inspired and motivated most by hearing others share their experience and how they managed it.  Finally recognizing that you are not alone, you are worthy, you are important and you deserve better, can be life-changing.  What better way to do that, then by hearing others share their stories.  Oh and it is free to attend!
Obesity Canada is in a very unique position of being able to join together the experts in the areas of obesity science and management and the experts with lived experience. Connected 2021 is a place to experience this.  This is an opportunity to learn about effective obesity management from Dr. Sean Wharton, lead author on the Canadian Obesity Clinical Practice Guidelines and renowned obesity specialist as well as Dr. Dayna Lee-Baggley, author of  Healthy Habits Suck: How to get off the couch & live a healthy life…even if you don't want to. You will also have the opportunity to hear from Sarah Le Brocq, Patty Nece and Louise Binder – all globally recognized patient advocates with powerful stories and insights. And there is much more!
So join us on October 24, 2021 for a great event! Don't worry if you cannot make it for all or some of the conferences, there is also a premium registration which will allow you to see the recordings on-demand.
Check out www.obesitycanada.ca/connected/ for the full schedule and registration.