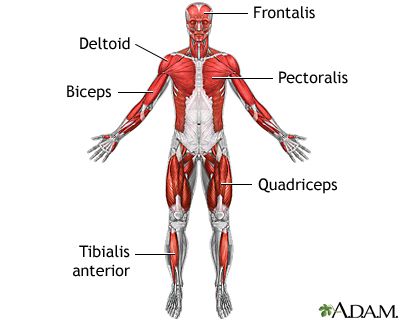 Muscular dystrophy – limb-girdle type (LGMD)
Limb-girdle muscular dystrophies include at least 18 different inherited disorders. (There are 16 known genetic forms.) These disorders first affect the muscles around the shoulder girdle and hips. These diseases get worse. Eventually, it may involve other muscles.
Limb-girdle muscular dystrophies are a large group of genetic diseases in which there is muscle weakness and wasting (muscular dystrophy).
In most cases, both parents must pass on the non-working (defective) gene for a child to have the disease (autosomal recessive inheritance). In some rare types, only one parent needs to pass on the non-working gene to affect the child. This is called autosomal dominant inheritance. For 16 of these conditions, the defective gene has been discovered. For others, the gene is not yet known.
An important risk factor is having a family member with muscular dystrophy.

Symptoms

Most often, the first sign is pelvic muscle weakness. Examples of this include trouble standing from a sitting position without using the arms, or difficulty climbing stairs. The weakness starts in childhood to young adulthood.
Other symptoms include:
Abnormal, sometimes waddling, walk
Joints that are fixed in a contracted position (late in the disease)
Large and muscular-looking calves (pseudohypertrophy), which are not actually strong
Loss of muscle mass, thinning of certain body parts
Low back pain
Palpitations or passing-out spells
Shoulder weakness
Weakness of the muscles in the face (later in the disease)
Weakness in the muscles of the lower legs, feet, lower arms, and hands (later in the disease)
Tests may include:

Treatment

There are no known treatments that reverse the muscle weakness. Gene therapy may become available in the future. Supportive treatment can decrease the complications of the disease.
The condition is managed based on the person's symptoms. It includes:
Heart monitoring
Mobility aids
Physical therapy
Respiratory care
Weight control
Surgery is sometimes needed for any bone or joint problems.
The Muscular Dystrophy Association is an excellent resource: www.mda.org
In general, people tend to have weakness that slowly gets worse in affected muscles and spreads.
The disease causes loss of movement. The person may be dependent on a wheelchair within 20 to 30 years.
Heart muscle weakness and abnormal electrical activity of the heart can increase the risk for palpitations, fainting, and sudden death. Most people with this group of diseases live into adulthood, but do not reach their full life expectancy.
People with limb-girdle muscular dystrophies may experience complications such as:
Abnormal heart rhythms
Contractures of the joints
Difficulties with activities of daily living due to shoulder weakness
Progressive weakness, which may lead to needing a wheelchair

When to Contact a Medical Professional

Call your health care provider if you or your child feels weak while rising from a squatting position. Call a geneticist if you or a family member has been diagnosed with muscular dystrophy and you are planning a pregnancy.
Genetic counseling is now offered to affected individuals and their families. Soon molecular testing will involve whole genome sequencing on patients and their relatives to better establish the diagnosis. Genetic counseling may help some couples and families learn about the risks and help with family planning. It also allows connecting patients with diseases registries and patient organizations.
Some of the complications can be prevented with appropriate treatment. For example, a cardiac pacemaker or defibrillator can greatly reduce the risk for sudden death due to an abnormal heart rhythm. Physical therapy may be able to prevent or delay contractures and improve quality of life.
Affected people may want to do DNA banking. DNA testing is recommended for those who are affected. This helps to identify the family gene mutation. Once the mutation is found, prenatal DNA testing, testing for carriers, and pre-implantation genetic diagnosis are possible.
References
Mohassel P, Bonnemann CG. Limb-girdle muscular dystrophies. In: Darras BT, Jones HR, Ryan MM, DeVivo DC, eds. Neuromuscular Disorders Of Infancy, Childhood, And Adolescence. 2nd ed. Waltham, MA: Elsevier Academic Press; 2015:chap 34.
Sarnat HB. Muscular dystrophies — limb-girdle muscular dystrophies. In: Kliegman RM, Stanton BF, St. Geme JW, Schor NF, eds. Nelson Textbook of Pediatrics. 20th ed. Philadelphia, PA: Elsevier; 2016:chap 609.
DISCLAIMER
The information provided herein should not be used during any medical emergency or for the diagnosis or treatment of any medical condition. A licensed physician should be consulted for diagnosis and treatment of any and all medical conditions. Links to other sites are provided for information only -- they do not constitute endorsements of any other sites. Content provided by A.D.A.M and is prepared for the United States of America. Recommended treatments may not be applicable, available, or permissible in Canada or other jurisdictions. A.D.A.M. is accredited by URAC, also known as the American Accreditation HealthCare Commission (www.urac.org). URAC's accreditation program is an independent audit to verify that A.D.A.M. follows rigorous standards of quality and accountability. A.D.A.M. is also a founding member of Hi-Ethics and subscribes to the principles of the Health on the Net Foundation (
www.hon.ch
).