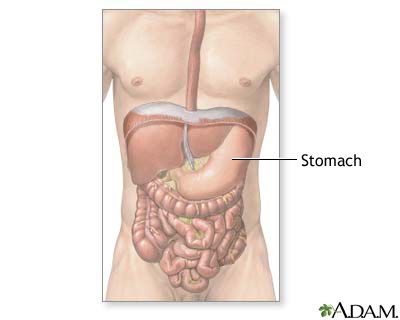 Digestive diseases are disorders of the digestive tract, which is sometimes called the gastrointestinal (GI) tract.
In digestion, food and drink are broken down into small parts (called nutrients) that the body can absorb and use as energy and building blocks for cells.
The digestive tract is made up of the esophagus (food tube), stomach, large and small intestines, liver, pancreas and the gallbladder.
Information
The first sign of problems in the digestive tract often includes one or more of the following symptoms:
Bleeding
Bloating
Constipation
Diarrhea
Heartburn
Incontinence
Nausea and vomiting
Pain in the belly
Swallowing problems
Weight gain or loss
A digestive disease is any health problem that occurs in the digestive tract. Conditions may range from mild to serious. Some common problems include cancer, irritable bowel syndrome and lactose intolerance.
Other digestive diseases include:
Gallstones, cholecystitis and cholangitis
Rectal problems, such as anal fissure, hemorrhoids, proctitis and rectal prolapse
Esophagus problems, such as stricture (narrowing) and achalasia and esophagitis
Stomach problems, including gastritis, gastric ulcers usually caused by Helicobacter pylori infection and cancer
Liver problems, such as hepatitis B or hepatitis C, cirrhosis, liver failure, and autoimmune and alcoholic hepatitis
Pancreatitis and pancreatic pseudocyst
Intestinal problems, such as polyps and cancer, infections, celiac disease, Crohn disease, ulcerative colitis, diverticulitis, malabsorption, short bowel syndrome and intestinal ischemia
Gastroesophageal reflux disease (GERD), peptic ulcer disease, and hiatal hernia
Tests for digestive problems can include colonoscopy, upper GI endoscopy, capsule endoscopy, endoscopic retrograde cholangiopancreatography (ERCP), and endoscopic ultrasound.
Many surgical procedures are performed on the digestive tract. These include procedures done using endoscopy, laparoscopy, and open surgery. Organ transplants can be performed on the liver, pancreas and small intestine.
Many health care providers can help diagnose and treat digestive problems. A gastroenterologist is a physician specialist who has received extra training in the diagnosis and treatment of the digestive disorders. Other providers involved in the treatment of digestive diseases include:
Nurse practitioners (NPs) or physician assistants (PAs)
Nutritionists or dietitians
Primary care doctors
Radiologists
Surgeons
References
Bope ET, Kellerman RD. The digestive system. In: Bope ET, Kellerman RD, eds. Conn's Current Therapy 2017. Philadelphia, PA: Elsevier; 2017:chap 4.
Maheshwari A, Carlo WA. Digestive system disorders. In: Kliegman RM, Stanton BF, St. Geme JW, Schor NF, eds. Nelson Textbook of Pediatrics. 20th ed. Philadelphia, PA: Elsevier; 2016:chap 102.
Mayer EA. Functional gastrointestinal disorders: irritable bowel syndrome, dyspepsia, chest pain of presumed esophageal origin, and heartburn. In: Goldman L, Schafer AI, eds. Goldman-Cecil Medicine. 25th ed. Philadelphia, PA: Elsevier Saunders; 2016:chap 137.
DISCLAIMER
The information provided herein should not be used during any medical emergency or for the diagnosis or treatment of any medical condition. A licensed physician should be consulted for diagnosis and treatment of any and all medical conditions. Links to other sites are provided for information only -- they do not constitute endorsements of any other sites. Content provided by A.D.A.M and is prepared for the United States of America. Recommended treatments may not be applicable, available, or permissible in Canada or other jurisdictions. A.D.A.M. is accredited by URAC, also known as the American Accreditation HealthCare Commission (www.urac.org). URAC's accreditation program is an independent audit to verify that A.D.A.M. follows rigorous standards of quality and accountability. A.D.A.M. is also a founding member of Hi-Ethics and subscribes to the principles of the Health on the Net Foundation (
www.hon.ch
).