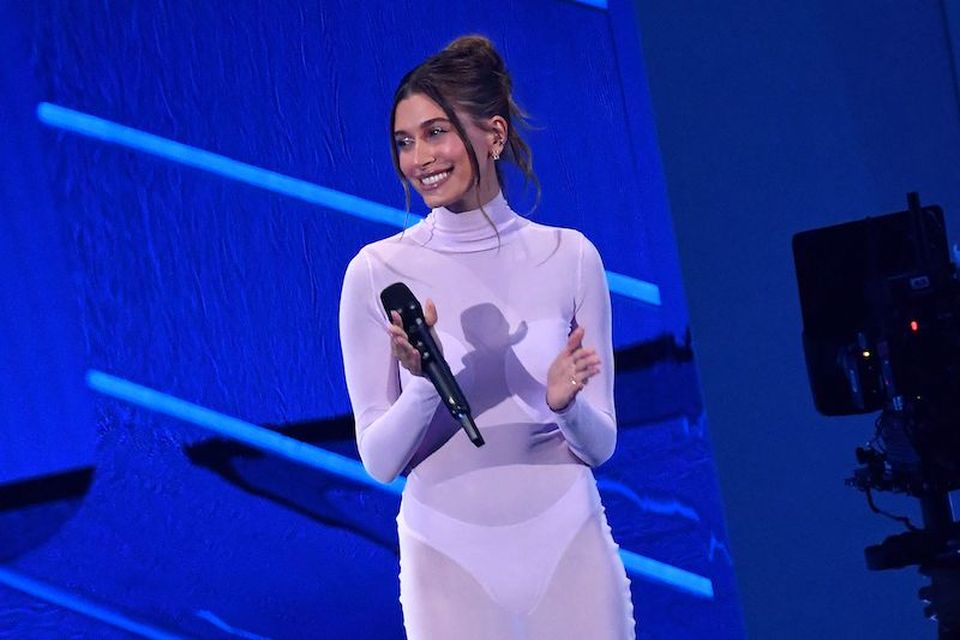 A blood clot to Hailey Bieber's brain caused "stroke-like symptoms," prompting the model to rush to the hospital, according to a post on the her Instagram page.
The model posted to her Instagram stories explaining that she was taken to the hospital last week, according to CNN. (Instagram stories are temporary unless the author chooses to save them to their page.)
"On Thursday morning, I was sitting at breakfast with my husband when I started having stroke-like symptoms and was taken to the hospital," wrote Bieber. "They found I had suffered a very small blood clot to my brain, which caused a small lack of oxygen, but my body had passed it on its own and I recovered completely within a few hours."
Calling it one of the "scariest moments I've ever been through," Bieber assured fans she was home recovering and expressed gratitude to the doctors and nurses who assisted her.
Related Tags
Blood clots and "mini strokes"
Although Bieber did not disclose a diagnosis, Dr. Shazam Hussain, director of the Cerebrovascular Center at Cleveland Clinic, told People magazine that these events are often classified as a transient ischemic attack (TIA), also known as a mini stroke.
TIA is a temporary blockage of blood flow to the brain, according to the Heart and Stroke Foundation. The blockage is usually caused by a blood clot or plaque buildup in the arteries and passes in less than an hour. Although the effects of TIA are temporary, it is usually a sign that the patient is at a much higher risk of having a full stroke, so medical intervention is usually necessary to manage these risks.
"It's important to know your health and any potential risk factors you might have for strokes, like high blood pressure, high cholesterol, difficulty with sugars," Hussain told People magazine. "… When we have younger people having a stroke, we will look for things that would cause their blood to have a tendency to clot — it could be hereditary and run in their families."
Healthy diet, exercise, medications and diagnosis of any underlying medical disorders — for example, high blood pressure, irregular heart rhythms, diabetes or high cholesterol — are all things that should be explored to manage the risks of a stroke. Having contracted COVID-19 is also linked to an increased risk of developing blood clots.
Act FAST: Recognizing the signs of a stroke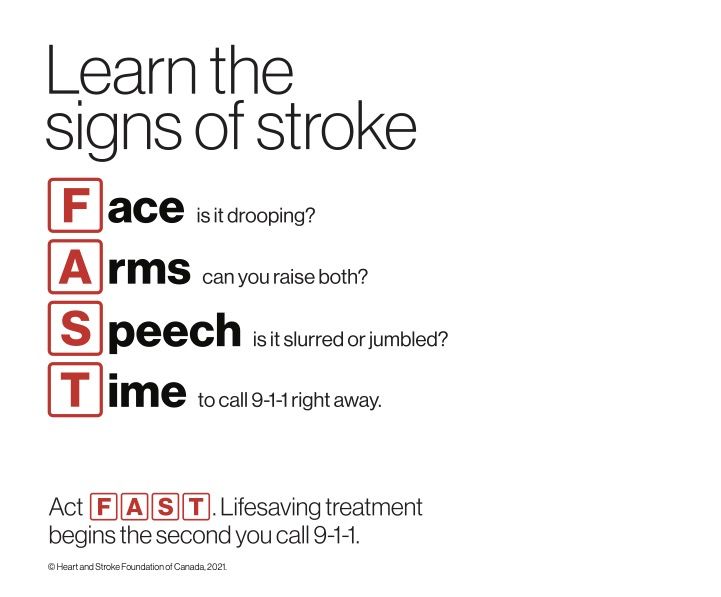 Strokes are the leading cause of disability in Canada and the third leading cause of death, according to the Ontario Stroke Network. Every year, about 50,000 many people have a stroke in Canada, amounting to roughly one every 10 minutes.
While strokes disproportionately affect those over the age of 65, young adults are not immune. From 2012 to 2013, 960 Canadians between the ages of 20- and 24- years-old (0.04 per cent of all Canadians in this age bracket) and 2,790 Canadians between the ages of 25-29 (0.1 per cent of all Canadians in this age bracket) experienced a stroke, according to the Canadian Chronic Disease Surveillance System data.
When stroke-like symptoms develop, it is imperative that the person is checked out by a health-care provider as soon as possible. Waiting to see if the symptoms resolve on their own could result in permanent brain damage or death.
Stroke symptoms can be spotted using the mnemonic FAST, according to the Heart and Stroke Foundation. (Remember it by the moniker "If you see stroke symptoms, act FAST.") F stands for face: the muscles on one side may be drooping and the individual may be unable to smile with their entire mouth. A stands for arms: the individual may not be able to raise one or both arms fully. S stands for speech, which may be jumbled or slurred. T stands for time: act quickly — call 911.
If stroke symptoms occur, the Heart and Stroke Foundation recommends calling 911 immediately rather than trying to drive yourself to the hospital.
Emma Jones is a multimedia editor with Healthing. You can reach her at emjones@postmedia.com or on Twitter @jonesyjourn.
DON'T MISS A THING: SIGN-UP FOR HEALTHING'S NEWSLETTER
Thank you for your support. If you liked this story, please send it to a friend. Every share counts.