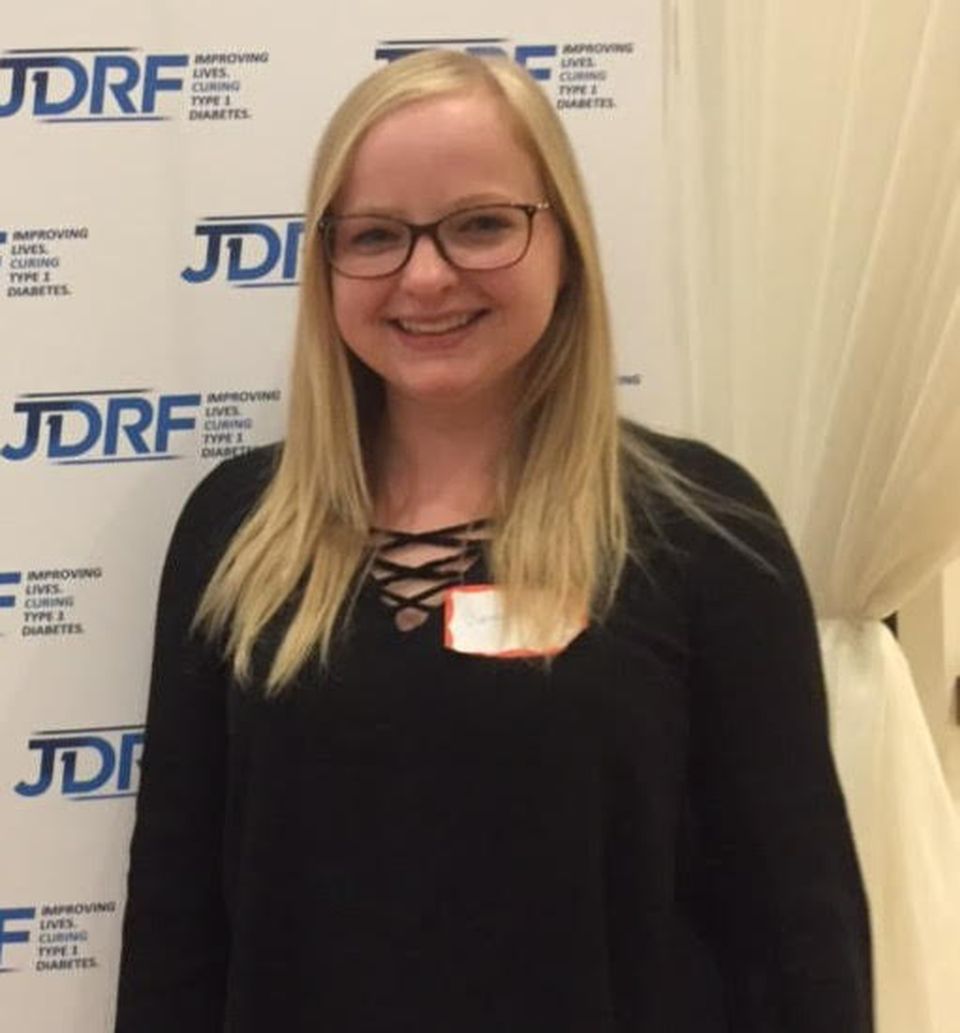 Healthing is updating this story to include petition information led by the Juvenile Diabetes Research Foundation so that people with diabetes, like Samantha Graham, don't have to go without the devices they need to stay alive.
Lesley Graham is confident her daughter's death could have been prevented.
Samantha Graham was diagnosed with Type 1 diabetes when she was 18 years old and, for a long time, would test her blood sugar levels by pricking her finger. Once she started working, private insurance covered a continuous glucose monitor (CGM) which made her disease much easier to manage — instead of a finger prick, a small sensor is attached to the skin on the abdomen or upper buttock.
But when Samantha decided to leave her job and return to school, she had to give up using the CGM — the device's sensor and transmitter need to be replaced which costs roughly $4000 a year. The province of Ontario doesn't cover this cost, and Samantha couldn't afford it.
On the night of July 20, 2020, in Cambridge, Ont., Samantha went to sleep and never woke up. She was rushed to hospital because of complications from diabetes and was taken off life support less than three weeks later at the age of 27.
CGM devices have a sensor which sits under the skin to check blood sugar levels every few minutes. The device sounds an alarm if levels are too high or too low, both of which can mean life or death for a person living with diabetes. Friends and family can also monitor levels and receive alerts through an app, which Lesley used back when Samantha had a CGM.
"If she would have had the CGM she would have gotten help because someone would have received an alert," says Lesley. "We were told if she had been found earlier it most likely would have made a big difference, but she wasn't found for over 12 hours, and it was too late."
Several provinces and territories have recently started to cover the cost of CGM devices including British Columbia, the Yukon and Quebec. And while Ontario covers the cost of other devices and supplies for people living with diabetes such as insulin pumps, they have yet to fund CGMs.
In a written statement, the Ontario Ministry of Health said, "The Ministry of Health does not currently fund continuous glucose monitors. New types of devices, such as CGMs, are reviewed for ministry funding based on factors such as device safety and durability, approval by Health Canada, cost, availability of funding and alignment with government priorities."
Toronto endocrinologist Dr. Ilana Halperin sees CGMs as the gold standard of care for people living with Type 1 diabetes. She says these devices should be covered under provincial healthcare plans as the $4000 annual price tag means many people can't afford them unless they have good private insurance.
"We know there are people who would benefit from using these devices who aren't because it's just not a cost they can bear on their own," says Halperin. "These [CGM] devices truly reduce burden and give people back some sense of control, because managing diabetes is like a full-time job."
Halperin says CGMs have become even more important during the pandemic when many practitioners switched to virtual care. By simply sharing a code through an app, physicians can access CGM data, making it easy to deliver care virtually and providing a fuller picture of the patient's blood sugar levels over time.
"It really enables a seamless sort of care that's very efficient and allows me to feel like I'm giving really useful advice," says Halperin. "When I see a patient who isn't able to afford these devices, I have a smattering of finger pokes — maybe a couple blood sugars before breakfast and a couple before lunch — and I can't really identify the trends and the patterns nearly as easily as I can from people [who use] a CGM."
John Whitehead was finally able to purchase a CGM device through private insurance after battling with his employer for years. He struggled with managing Type 1 diabetes for most of his life and says having a CGM greatly improved his health. Over the last five years Whitehead has done things he never would have thought possible, like hike from Canmore to B.C. and simply get a good night's sleep.
"Before my CGM, I used to come home from work and watch TV until I was completely and utterly exhausted because I was scared to go to sleep," says Whitehead. "After the first time the CGM alarm work me up to low blood sugar, I suddenly didn't have that fear anymore, and now I have the freedom to sleep."
Advocates across Canada say there is a long-term financial benefit to funding these devices. According to Kimberley Hanson of Diabetes Canada, the cost of having a lower limb amputation — a common complication of diabetes — costs the healthcare system about $120,000, which pales in comparison to the price of a CGM device.
"CGMs give a couple hundred readings per day, which gives a much better understanding of how exercise or certain types of food or stress or illness impact blood sugar, which allows people to make better decisions about dosing insulin," she says. "All of this improves the amount of time a person spends in their ideal blood glucose range, and we know from many years of research that the more time someone spends with their blood sugar in the ideal range, the less likely they are to develop debilitating complications like heart attack, stroke, amputation and blindness."
In Lesley Graham's experience, the decision for provincial governments to not fund CGMs can mean the difference between life and death.
"For any parents of children with diabetes, I don't want them to have to go through the hell I went through of having to make the decision to take my child off life support," she says. "This is a lifesaving technology that needs to be funded by the government."
The petition to support the Juvenile Diabetes Research Foundation's (JDRF) goal of getting funding for the devices Canadians with diabetes need to live with their disease can be found here.
For more information on diabetes, support or to connect with other patients, visit Diabetes Canada, and the Juvenile Diabetes Research Foundation (JDRF).