If you read to your children, chances are there's a Robert Munsch book in your house.
Munsch, 76, one of Canada's most beloved storytellers — behind The Paper Bag Princess, Love You Forever, Mortimer and Thomas' Snowsuit — did an in-depth interview last week revealing that he is struggling with dementia.
Social media lit up with an outpouring of love for the author, with this tweet from Bob Rae typical of the response: "Robert Munsch brings such sheer joy into our lives #LoveYouForever Robert."
It is characteristic of the author to go public with his dementia. Munsch has struggled with mental health and addiction issues most of his adult life and has been upfront about it all, stating on his website that he was diagnosed as obsessive-compulsive and manic-depressive.
Munsch and his wife have three children. One of his best-known books is Love You Forever, a story that grew out of a song he had composed for two children he had lost.
He says on his website: "Along the way I became Canada's best-selling author, but I was not selling much in the U.S.A. Then Love You Forever came out as a Canadian book in 1986. I had written it as a memorial for two stillborn babies we had in 1979 and 1980. The story actually started out as a song."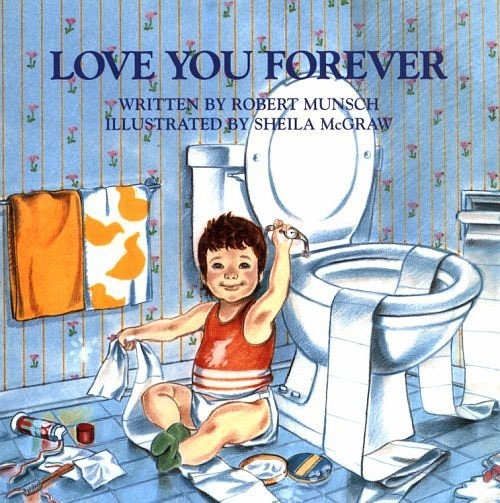 (The account continues with news that Munsch had been the best-selling author in the U.S. too, unbeknownst to anyone, until the New York Times reported it in the mid-'90s.)
Munsch was born in Pittsburgh in a family of nine children and has lived in Guelph, Ont. since 1975.
As a young man, he spent seven years studying to be a Jesuit priest — working in a an orphanage as part of his theological training made him aware that he liked working with kids.
He left the seminary and began working in daycare, which is where he met his wife. Making up stories became Munsch's way of settling the children for nap time at daycare.
He did that for years without considering writing the stories down.
The move to Guelph, where he and his wife worked at a preschool at the university, turned out to be serendipitous — his new boss was married to a children's librarian.
Urged to write down his stories, Munsch submitted the book Mud Puddle to 10 publishers. Nine rejected it, but Annick Press published it in 1979. He has since published more than 60 books (often with illustrator Michael Martchenko) in over 30 languages.
He has sold 100 million books worldwide, and Love You Forever alone has sold more than 30 million copies.
Munsch, who became a Canadian in 1983, has been honoured on Canada's Walk of Fame and is a Member of the Order of Canada. His work has been transformed into plays, TV shows and musicals. There are two schools named after him in Ontario.
He said Saturday that this is what he hoped would be the take-away from his books:
"Kids, love your parents and parents, love your kids. It's a complicated world and try to make the best of it."