By: Jesse Feith
Premier François Legault says he understands Quebecers may be frustrated by how often pandemic restrictions are changing in the province, but feels the government is adjusting as needed.
During a news conference Thursday, Legault announced the province is moving the curfew in Montreal and Laval back to 8 p.m. and extending emergency measures recently added in other regions.
The changes to the measures are necessary, Legault said, as COVID-19 cases continue to rise across the province due to the more transmissible coronavirus variants.
"We've had no choice but to lock down, reopen, lock down, reopen," Legault said, noting he can feel people becoming fed up. "The idea is to try to find a balance. When we lock down, it's to protect people's physical health; when we reopen, it's to help their mental health."
Although he's been making all pandemic-related decisions based on recommendations from the province's public health department, Legault said he takes full responsibility.
"If someone isn't happy in Quebec, there is one person to blame, and that's me," he said. "Some people think there are too many restrictions, others say they aren't enough. I would like to please everyone, but that's not possible."
The 8 p.m. curfew will be in effect in Montreal and Laval as of Sunday and will remain "until further notice." It had been moved to 9:30 p.m. in Montreal three weeks ago.
Last week, the provincial government imposed "special emergency measures" on Quebec City, Lévis and Gatineau until April 12. Parts of the Beauce region have also had those measures imposed.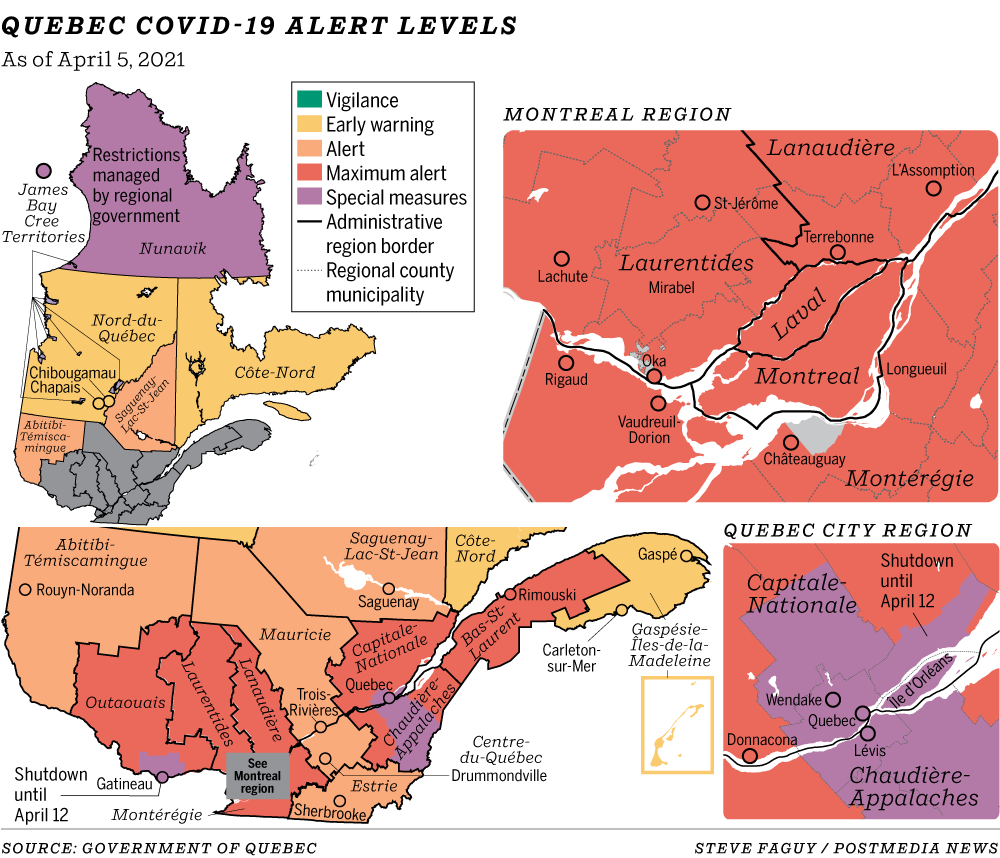 The measures included moving the curfew back to 8 p.m.; closing elementary and high schools, with students moving to remote learning; and closing non-essential businesses. They will now be in effect until at least April 18.
"The next few weeks will be crucial," Legault said. "We're not sheltered from an explosion in new cases. We need to be aware there's a danger and we're dealing with a more transmissible and vicious variant than ever."
The premier described the new curfew in Montreal and Laval as a preventive measure since cases are expected to soon increase in both cities, in part due to how densely populated they are.
But Legault said he's not considering closing schools in either city at the moment. Asked why not, he mentioned it could happen soon but reiterated that he sees doing so as a last resort.
"You can't shovel the snow before it falls," he said. "When we look at Montreal, we don't see a big increase. It's stable. Before closing schools, it needs to be severe.
"If we can save our schools for even one or two weeks, it's so important for our children."
The hardest-hit areas in the province reported their largest increases in new cases Thursday since the beginning of the third wave.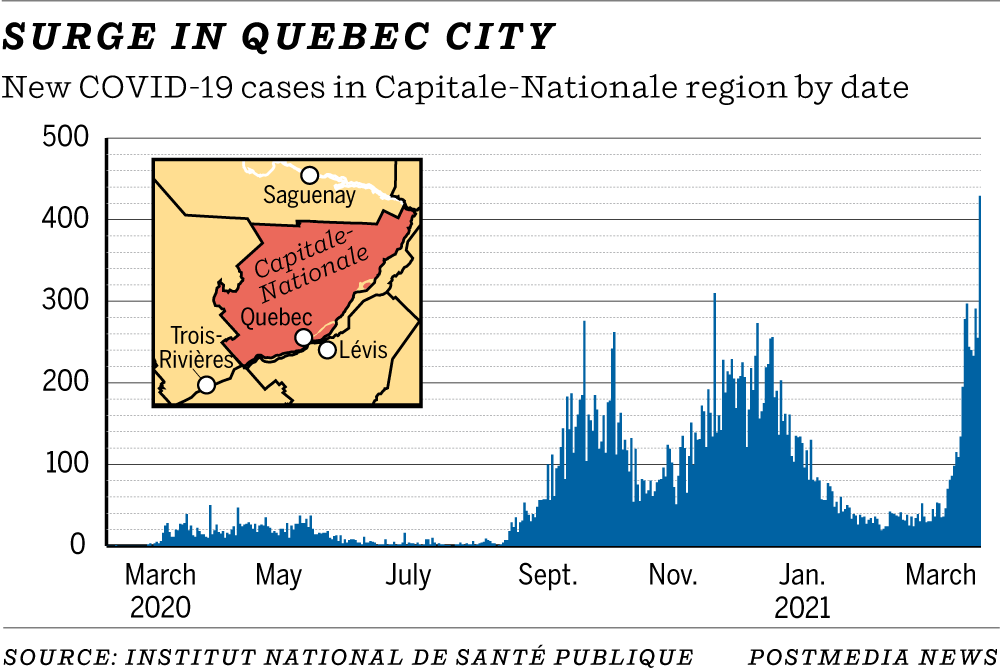 The Quebec City region, known as Capitale-Nationale, reported 436 new infections (of which 429 dated from Wednesday). Chaudière-Appalaches, a region south of Quebec City that includes Lévis, reported 179 cases.
Quebec public health director Dr. Horacio Arruda said the virus is spreading in the areas mainly because of the variants and certain super-spreader events, including a recent outbreak at a gym now linked to more than 400 cases.
"There was a lot of people coming from different places and then infecting other people in their community at work or at schools," Arruda said. "It's led to a big explosion in cases."
The province is also keeping a close eye on the Laurentians, Lanaudière and Montérégie regions, and has put the Eastern Townships under "high surveillance" given a recent rise in cases.
As for the vaccination campaign in Quebec, both Legault and Quebec Health Minister Christian Dubé said they were pleased to see how many people lined up for the AstraZeneca vaccine on Thursday.
The province also announced more details on its plan to have businesses open vaccination sites. Quebec aims to vaccinate at least 500,000 people through the effort between May and August.
The companies will help vaccinate their own employees and their families, as well as workers and family members of people who work in nearby businesses.
Among the participating companies announced Thursday were National Bank, Bell, Couche-Tard, Groupe CH, Aéroports de Montréal and the Société des alcools du Québec (SAQ).
Quebec reported nine deaths and 1,609 new COVID-19 cases on Thursday, the biggest one-day increase since Jan. 23. Hospitalizations continued to rise and are now at their highest point in a month.
Related Tags
All our coronavirus-related news can always be found at montrealgazette.com/tag/coronavirus.
Sign up for our email newsletter dedicated to local COVID-19 coverage at montrealgazette.com/coronavirusnews.
Help support our local journalism by subscribing to the Montreal Gazette here.