Can Danielle Smith ever not be interesting?
Can Smith not say things that will get her supporters cheering loudly while inducing spittle and froth from the mouths of her opponents?
I don't think so.
Smith has a unique combination of being open to new ideas, passionately embracing positions, speaking her mind and being a strong communicator.
She relentlessly draws the spotlight. This weekend, for example, she ignited the first big fire of the United Conservative leadership campaign, making headlines across Canada with her forceful push for Alberta to openly defy the federal government on issues where Ottawa adopts policy deemed to be in conflict with the interests of Albertans.
Her critique of Alberta Health Services' management of the pandemic is equally incendiary.
AHS failed to provide enough ICU beds, Smith told me in an interview.
This shortage drove Premier Jason Kenney to bring in numerous restrictions on freedom to control COVID's spread.
When COVID first hit in March 2020, AHS promised that if things got bad enough, the province would be able to create and staff 1,081 intensive care beds to treat grievously ill patients. But the most Alberta ever got was around 370 beds.
"I'd like to know why Alberta Health Services defied the premier," Smith said. "He gave them direct instructions to increase ICU beds by (up to 1,081) … I thought they were working on that. And instead they decreased the number of ICU beds."
Related Tags
And then Smith let fly with a rhetorical bomb blast at AHS: "I don't know if that's incompetence or if they were deliberately sabotaging the government, but it's unacceptable."
The lack of ICU beds also pushed Kenney to bring in vaccine passports, a measure Smith said she would never have introduced. "I'm pro-choice and I'm pro-choice in all things, which also means medical choice."
Of course some will return fire on Smith for her implicit suggestion it would have been reasonable to have far more COVID patients in ICU. It's crucial to remember that the pandemic presented a balancing act between two evils. Numerous health experts, such as Edmonton physician Ari Joffe, have pointed out the brutal cost to human health and well-being caused by lockdown isolation, family breakdown, learning loss and inflationary spending.
Lockdown harms must now be carefully measured so we better know how to deal with future pandemics, Smith said.
As for her promise to bring in an Alberta Sovereignty Act as her first act as premier, Smith said there's precedent for this in Canada, with Indigenous people, Quebec and other provinces pushing to be nations within a nation. "We have that kind of flexibility in Confederation and we just have to assert it," Smith said of Alberta.
Better that Alberta force Ottawa back in its own lane than to have more of an explosion of Alberta separatism, Smith said.
"I think Eastern Canada is living in a bit of a dream world if they think that somehow we're going to continue essentially having them dictate to us how our economy is going to develop, kiboshing our resource development and stymieing us, that that's not going to have some sort of a reaction. It's going to have a reaction."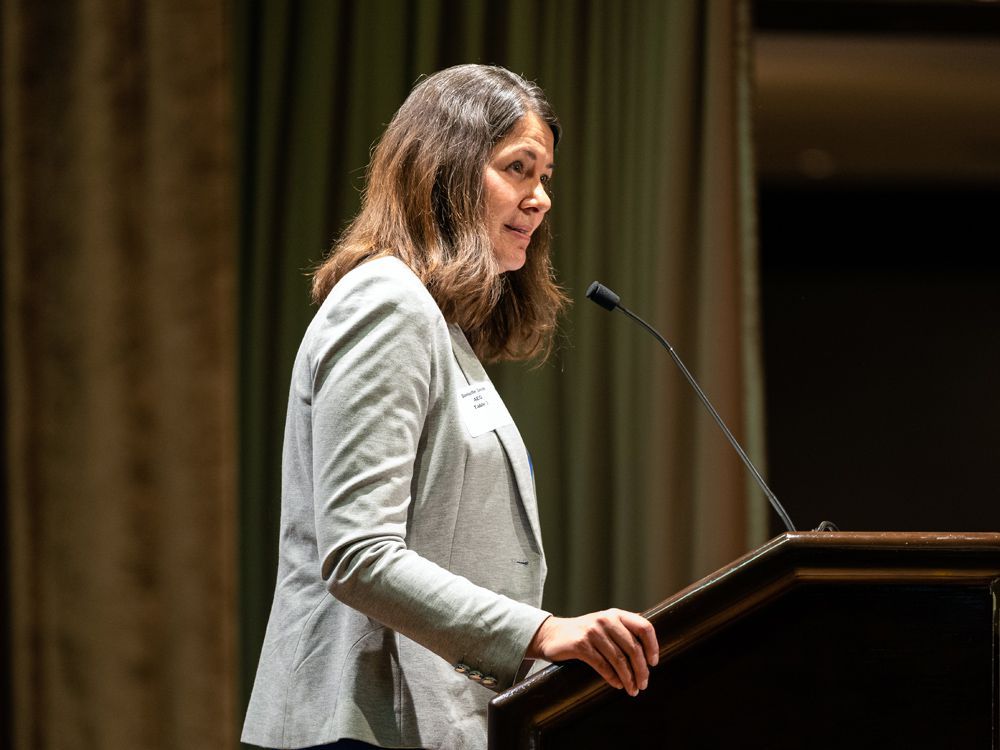 On the energy file, more Albertan sovereignty would see the province — which Smith noted will soon be Canada's second-largest economy — follow the European Union's lead and define natural gas and nuclear as renewable energy, and thus qualifying for green financing.
Alberta can find a range of financial mechanisms to fund and insure its own projects. "I doubt very much that Quebec is sitting back intimidated and cowering, wondering if the federal government is going to come in and kibosh any of their projects," Smith said. "So why should we be? We should assert ourselves in a similar way."
I dealt with Smith for years when she led the Wildrose Party, but it's evident that her near-six years hosting her own province-wide radio show has changed her. Still firm in her own ideas, she comes across as more open to a wider variety of perspectives.
As a host, she got wired into Alberta's collective consciousness like few others have been in recent times.
"I don't think there's a single Albertan with an interesting policy idea that I have not talked to," she said.
Does all this make for Smith becoming a strong leader for the United Conservatives?
There's no doubt that Smith as Alberta premier would be a compelling high-wire act.
She would shake up Canada, a complacent and inefficient nation in need of some shaking. But we'll see if that's what folks here are looking for in a leader.