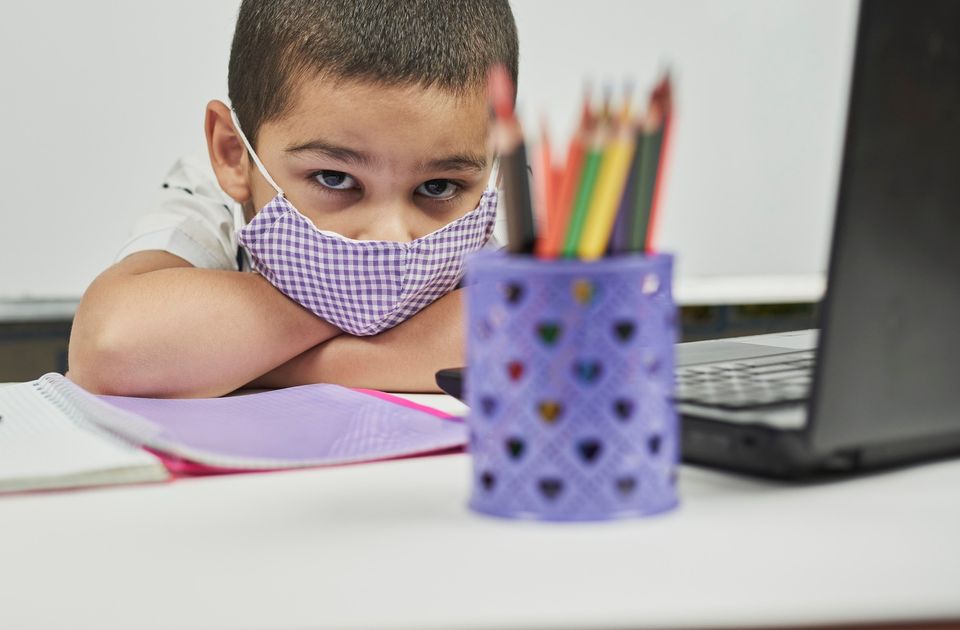 How children spread and experience symptoms of COVID-19 has been closely watched since the start of the pandemic, and a new study found that more than one-third of kids with the disease are asymptomatic.
According to the study from the University of Alberta, children diagnosed with COVID-19 may represent just a fraction of those infected. Researchers analyzed data of more than 2,460 children who were tested for the novel coronavirus between April to September, and found that nearly 1,990 children tested positive.
"The concern from a public health perspective is that there is probably a lot of COVID-19 circulating in the community that people don't even realize
Out of the kids who had COVID-19, nearly 36 per cent reported being asymptomatic, researchers found.
"The concern from a public health perspective is that there is probably a lot of COVID-19 circulating in the community that people don't even realize," Finlay McAlister, a professor of medicine in the Faculty of Medicine & Dentistry, said in a press statement.
"When we see reports of 1,200 new cases per day in Alberta, that's likely just the tip of the iceberg — there are likely many people who don't know they have the disease and are potentially spreading it."
McAlister and his colleagues found that two symptoms were the most common in kids with COVID-19: cough (24.5 per cent), and runny nose (19.3 per cent). These symptoms, however, were also common among children who tested negative for the disease, and "were not predictive of a positive test."
"Of course, kids are at risk of contracting many different viruses, so the COVID-specific symptoms are actually more things like loss of taste and smell, headache, fever, and nausea and vomiting, not runny nose, a cough and sore throat," he said in the statement.
Health Canada says that if your child does test positive for COVID-19, or is believed to have contracted the virus, they should stay at home and not go to school or play with friends until they have recovered. The government agency advises family members to keep two metres distance, if possible, and not to share personal items like toothbrushes or towels, with sick kids.
"As far as we know, kids are less likely to spread disease than adults, but the risk is not zero," McAlister said. "Presumably asymptomatic spreaders are less contagious than the person sitting nearby who is sneezing all over you, but we don't know that for sure."
A recent article in science journal Nature reported that evidence suggests about one in five people infected with COVID-19 will experience no symptoms, and will spread the virus "to significantly fewer people than someone with symptoms." Still, the report points out that researchers remain divided about the role of asymptomatic carriers, and if they "are acting as a 'silent driver' of the pandemic."
As case counts continue to rise across Canada, both government leaders and health experts are encouraging everyone to avoid unnecessary travel and outings. Chief Public Health Officer of Canada Dr. Theresa Tam said that this holiday season will not be normal, and is encouraging people to avoid crowds and celebrate with their immediate households.
Doctors and medical experts across the country have warned that Canada's climbing COVID-19 infections are dangerous, and many have called on the government to enact a "#COVIDzero" plan. The goal of the strategy is to get case counts as close to zero as possible, ramp up infection control measures, like testing and contract tracing, and close non-essential businesses and services.
Many proponents of #COVIDzero say schools should remain open as long as possible.
Dr. Josh Ng-Kamstra, an Alberta-based general surgeon and intensivist, previously told Healthing that investing in smaller class sizes and better ventilation can help lessen transmission in schools.
"Schools are tough, we know that closing schools has a significant effect on virus transmission, so in the worst-affected areas school closures are an emergency brake," Ng-Kamstra said.
"But closing them will have immediate negative consequences for the wellbeing of children, and the potential for major long-term effects to their educational trajectory."
Related Tags
Laura Hensley is a writer with Healthing.ca.
Don't miss the latest health news. Subscribe to Healthing's daily newsletter.