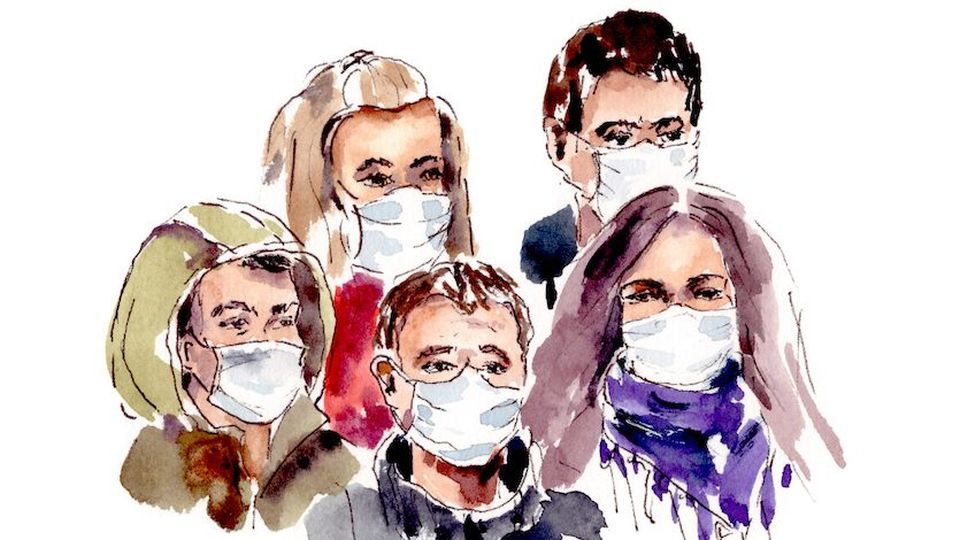 When you're reading the news, it can feel like everyone wants to ditch masks and distancing to get one step closer to our pre-2020 life. But a new Angus Reid poll suggests the opposite: actually, most Canadians want to maintain pandemic restrictions.
73% support keeping masks
Across the country, nearly three quarters of Canadians — 73 per cent — said they would support the idea of keeping masking requirements in public spaces. And 64 per cent agreed with restaurants, movie theatres, and other indoor spaces requiring proof of vaccination for entry.
Masking was most popular in B.C. and the Atlantic provinces, where 81 per cent of people said they would keep wearing masks in public spaces. Seventy-five per cent of Ontarians, 72 per cent of Quebecers, 70 per cent of Manitobans and 67 per cent of people from Saskatchewan said the same. Masking is the least popular in Alberta, where only 60 per cent of residents said they planned to keep wearing masks.
Albertans were also the least likely to support vaccine passports: less than half of people from that province (49 per cent) agreed with indoor spaces asking for proof of vaccination. That was considerably lower than any other province: 60 per cent of people from Manitoba support vaccine passports, 61 per cent in Saskatchewan, 62 per cent in Quebec, and 67 per cent in Ontario. The highest support for vaccine passports were in B.C. and the Atlantic provinces, with 71 per cent.
Related Tags
Who thinks provincial restrictions lifted too soon?
Of all the provinces, people in Manitoba, which is set to lift all pandemic restrictions on March 15, were most likely to say they felt that provincial restrictions were phased out too quickly: 44 per cent of Manitoba residents feel that way, while 28 per cent felt the restrictions were phased out at the right time, while another 28 per cent felt they should have been phased out sooner. In both Alberta and Saskatchewan — which both lifted restrictions in early March — 40 per cent of people felt restrictions were removed too quickly.
Overall, though, many Canadians felt restrictions were removed at the right time: that was the majority view in B.C. (49 per cent felt that way) and Quebec and the Atlantic provinces (42 per cent). There were no areas where the majority thought restrictions were removed too slowly, but the provinces with the most people holding that view were Alberta (31 per cent) and Quebec (30 per cent).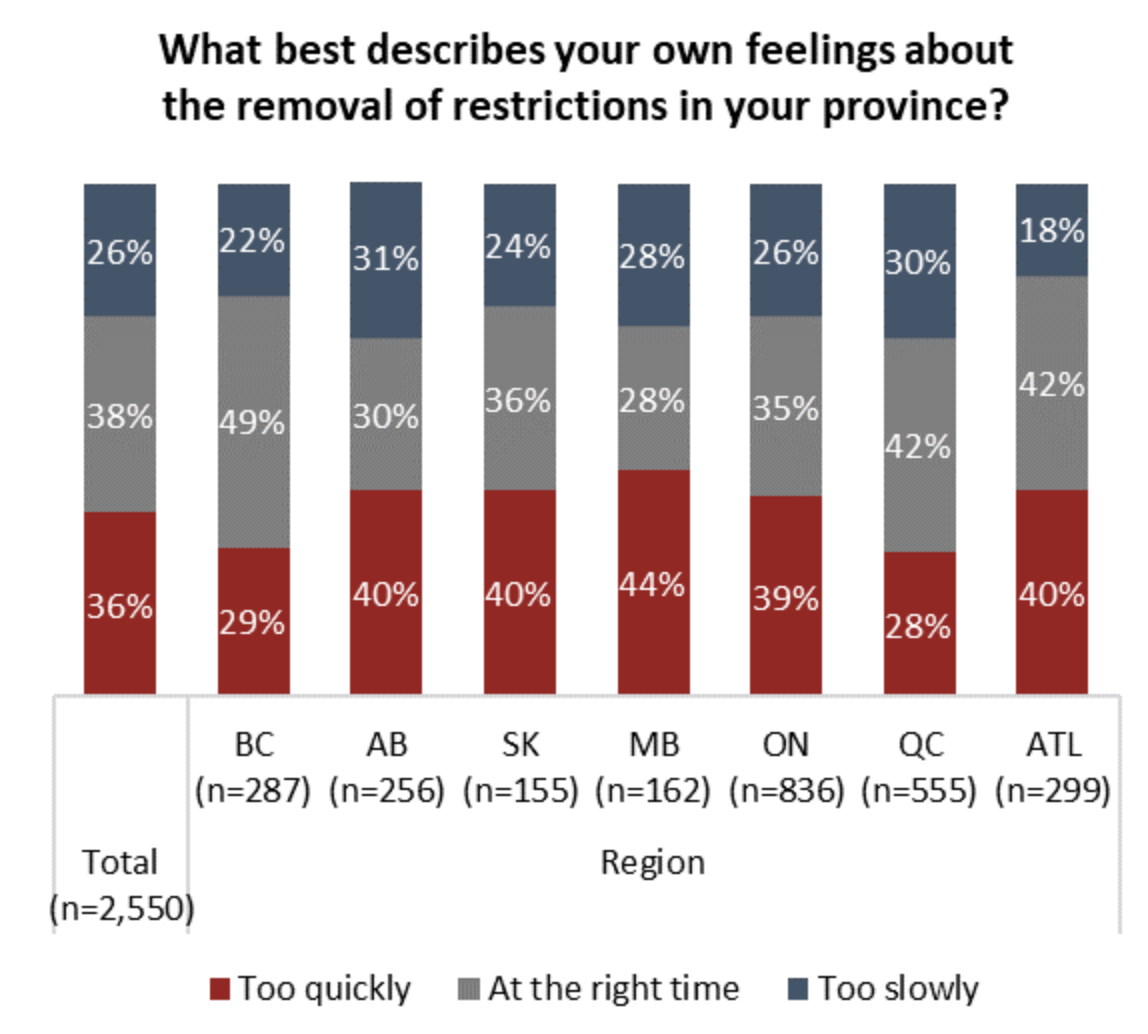 It's clear that Canadians have learned to take health measures seriously. Most Canadians say that even after public health restrictions are lifted, they plan to keep regularly sanitizing their hands, in addition to washing them (63 per cent), distance from people when possible (60 per cent), and avoid large groups (53 per cent). Half of respondents will continue to wear a mask inside when they're among strangers, 34 per cent won't be shaking hands or hugging, and 31 per cent said they will refrain from traveling abroad.
Pandemic conflict
The poll also found these opinions impacted our relationships. More than half of respondents (56 per cent) said they experienced conflict with friends and family about COVID vaccination. Almost as many (45 per cent) said they refused invitations because they were intent on following restrictions. More people in Alberta and Saskatchewan reported having these kinds of conflicts than people in any other provinces.
The survey was conducted online from March 1 to 4, and includes the opinions of a randomized sample of 2,550 Canadian adults.
Maija Kappler is a reporter and editor at Healthing. You can reach her at mkappler@postmedia.com
Thank you for your support. If you liked this story, please send it to a friend. Every share counts.