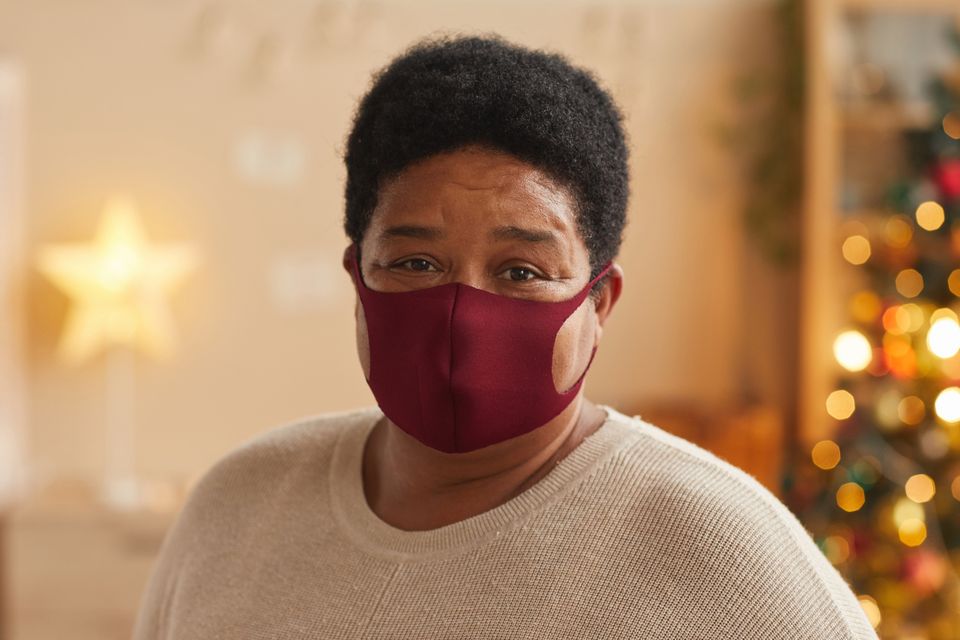 Canada's COVID-19 case counts are going up, meaning it's crucial to protect yourself whenever you leave the house.
Heading into the holiday season, you may find yourself running more errands, including trips to the grocery store or post office. We know that physical distancing and handwashing are important when it comes to reducing the transmission of the novel coronavirus, and so is wearing the right mask.
A new study by the American Institute of Physics analyzed existing research on face masks and summarized their findings on which designs best filter or block out infectious coronavirus particles. Here's what they found.
Only certain masks block aerosol droplets
Not all masks are created equal, even though wearing a mask is much better than not wearing one at all. Masks range from homemade cloth ones, blue surgical masks, N95 respirators and store-bought three-layer woven designs. Experts advise Canadians wear three-layer masks.
If you're going out into a crowded mall or grocery store, you want to sport a mask that offers both you and others as much protection as possible. How effective a mask is at blocking out infectious coronavirus particles depends on two things: the size of the particle and the design of the mask.
If someone who has the coronavirus talks, sneezes, coughs or even breathes, they expel infectious droplets that can spread the virus to other people. Large droplets are the most common, the study reported, but smaller droplets can become aerosolized and remain suspended in the air.
Non-medical cloth masks can reduce droplet spread, as they protect both the wearers and those around them. Only N95s block aerosols, the researchers wrote, because the masks filter out 95 per cent of particles.
Surgical masks, on the other hand, are fluid-resistant, and are designed to catch large respiratory droplets that are released when someone coughs or sneezes. These blue masks should cover the nose and mouth properly, but there is a chance of leakage around the mask's edges during the inhaling and exhaling processes, the study reported.
"Such a dynamic leakage allows the direct contact of fluid droplets from the outside air to the wearer and vice versa," researchers wrote, adding that surgical masks may not provide great protection against extremely fine aerosols or droplets.
Face mask breathability and fabric
How comfortable a mask is depends on its fabric and design. Everyone knows how uncomfortable it can be to wear a mask made of scratchy fabric.
Researchers analyzed fabrics for their breathability. They found that masks made of hybrid polymer materials "could filter particles at high efficiency while simultaneously cooling the face."
Furthermore, researchers looked at face mask fabric studies and found that materials including natural silk, chiffon weave (made of 90 per cent polyester and 10 per cent Spandex), and flannel provided "good electrostatic filtering of particles."
Fabric with tighter weaves and low porosity, like cotton with a high thread count, offer better filtration. Bandanas and neck fleeces were not found to be very effective and "offered little protection against infection," researchers wrote, based on their materials and designs. Because of the nature of fleece, it tends to break up larger particles into many little ones, according to previous research previous research out of Duke University in North Carolina.
Masks' role in squashing the pandemic
In case this needs to be hammered home again: masks help curb the spread of COVID-19. Health experts across Canada have continually stressed the importance of masks in public, indoor spaces and whenever physical distancing cannot be kept outside.
The American Institute of Physics researchers reviewed epidemiological studies that looked at whether face masks reduce the effective reproduction number (the transmission potential) of COVID-19. They used COVID-19 data from New York state and found that if the reproduction number drops below one, the pandemic stops spreading.
"The results suggest that the consistent use of efficient face masks, such as surgical masks, could lead to the eradication of the pandemic if at least 70 per cent of the residents use such masks in public consistently," Sanjay Kumar, one of the study's authors said in a statement.
"Even less efficient cloth masks could also slow the spread if worn consistently."
Laura Hensley is a writer with Healthing.ca.
Don't miss the latest on COVID-19, reopening and life. Subscribe to Healthing's daily newsletter COVID Life.
Related Tags