Originally a German concept, the mechanized restaurants spread around the world in the early 20th century. While in the U.S., once popular automats had faded into sepia-tinted nostalgia by the 1970s, usurped by fast food, versions of automated restaurants live on in countries including Japan — where they're known as shokkenki — and the Netherlands.
Contrary to what the name implies — though they were considered high-tech during their heyday — the original automats were far from automatic. Behind the scenes, many hands filled, emptied and cleaned the revolving compartments. But notably for pandemic applications, this all took place without any need for face-to-face interactions.
When Mohamad Fakih — founder and CEO of Paramount Fine Foods — began working on Box'd roughly a year ago, he had no idea how applicable the digital takeout and delivery model would end up being during the current health crisis. In fact, it was the lack of interactions that initially bothered him about automated restaurants.
"I wanted to keep that human touch. That's why people love restaurants, and that's why I got into the restaurant industry," says Fakih. "People are at the centre of everything I do."
At Box'd, all but the food preparation is automated. Behind the wall of 18 cubbies ("that's 18 orders every three to four minutes"), which customers open by scanning a QR code on their smartphones to collect their food, there are three to four chefs at work, depending on the time of day. Setting Box'd apart from its faceless automat inspiration, he wanted to show the "real hard-working people" behind the food.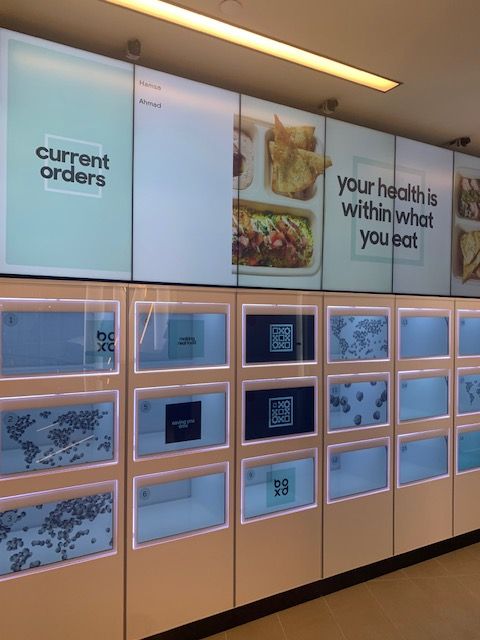 "I designed the place with two glass windows on the side," says Fakih. "When you come to pick up your order, you can take a peek and see the chefs working. So the food is not robotic."
In addition to a quality control/expediter responsible for ensuring each order is complete, sealed with a sticker bearing the chef's name and placed in a sterilized cubby for pickup, Fakih created a concierge role. "Someone that greets you, makes you feel welcome, explains the system and how it works, and receives feedback from the customer. So the hospitality is there," he says. During COVID-19, the concierge is also responsible for sanitizing all public-facing areas, including three kiosks and the cubbies.
Unlike some other modern automats — such as FEBO in the Netherlands, which specializes in fries, hamburgers and krokets — Fakih wanted to steer clear of fast food mainstays with Box'd. "The way they're used in Europe is as vending machines. They line hamburgers on top of each other, you swipe your card and pick up a burger. But that's not what I wanted. I modified it to be fresh, high-quality food."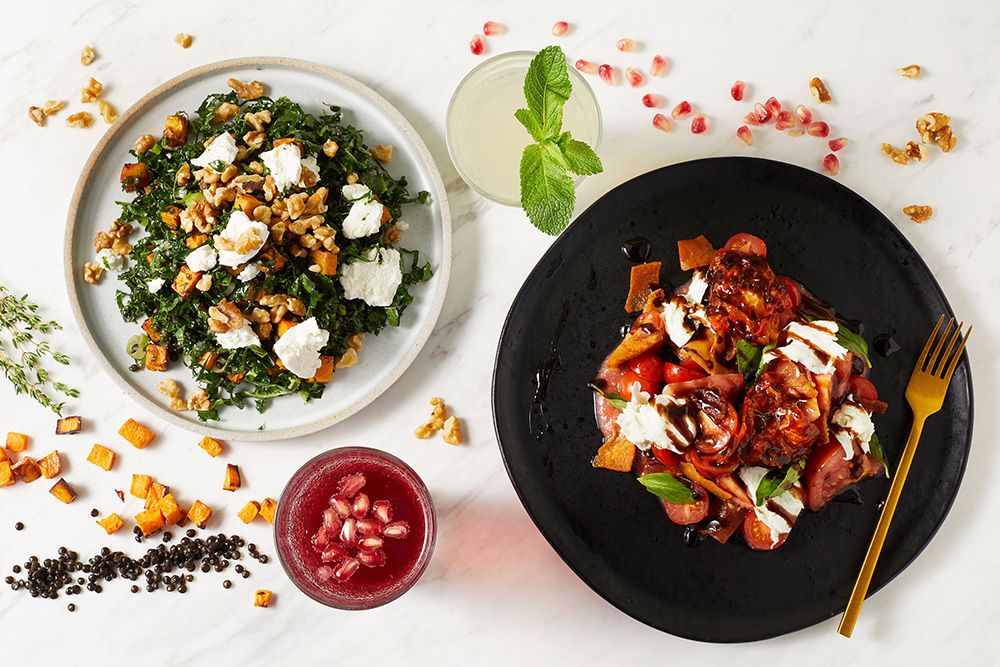 The menu — which chef Tomer Markovitz, formerly of Toronto's Parallel, consulted on — features bases like freekeh, orzo and couscous. Tabbouleh is served on labneh, and mujadara is scented with truffle. "I thought of this as an opportunity to introduce more Middle Eastern food and spices on the menu," says Fakih.
Conceived pre-COVID-19, and tweaked to fit the new requirements of running a restaurant, Box'd just so happened to be well-suited to pandemic realities. Initially drawn to automation as a way to eliminate bottlenecks — primarily the long restaurant wait times eating up downtown workers' lunch breaks — Fakih's updated automat concept unexpectedly took on new meaning.
Enabling people to order from afar, pick up their food and leave with minimal or no interaction is even more of a benefit than it was before. As a result, he expects other restaurateurs to start exploring similar automated systems. With the restaurant industry struggling, it's a challenging time to embark on a new business, Fakih admits, but says it was important for him to push forward as planned.
"I think we need to be very innovative. Entrepreneurs are gutsy, sometimes we are even crazy. We need to move fast, especially in this time of difficulty," he says. "I wanted to be one of the first people to send a message of hope. We'll build our country again after COVID and we will build businesses. We will open them and we will hire more people again."
Don't miss the latest on COVID-19, reopening and life. Subscribe to Healthing's daily newsletter Coming Out of COVID.