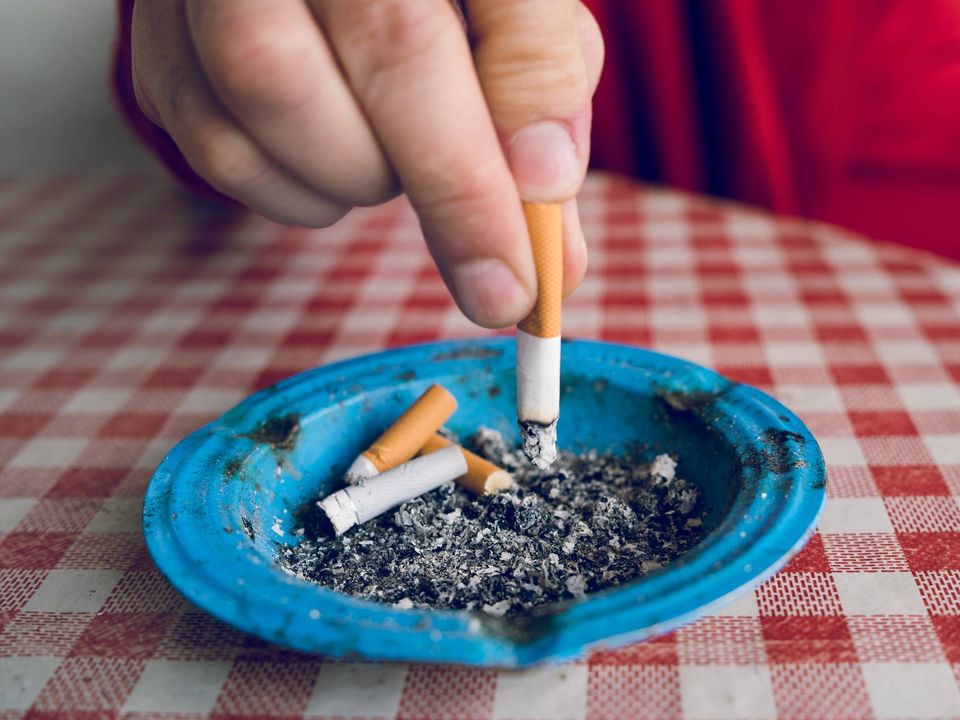 People who quit smoking after being diagnosed with lung cancer live almost two years longer than those who don't, according to a new study that shows it's never too late to kick the habit.
The research, published in the Annals of Internal Medicine, found that patients who tossed the tobacco away lived an average of 6.6 years after diagnosis compared to just 4.8 years for stubborn smokers.
"It is a huge effect," said Mahdi Sheikh, the doctor who led the study for the World Health Organization at its cancer research agency in Lyon, France, according to The Columbian. "Doctors at every visit should encourage their lung cancer patients to quit smoking."
While many smokers become despondent after diagnosis and fear it's too late to give up the habit, when it comes to lung cancer, Sheikh said quitting is "as necessary as the treatments."
In addition to living longer, the study — which followed 517 non-small cell lung cancer patients in Russia for seven years — found that quitting was associated with a higher five-year survival rate (60.6 per cent versus 48.6 per cent) and a lower chance of all-cause mortality and death from cancer than continuing the habit. Survival benefits among quitters were present across all patient groups, even among heavy smokers or those with late-stage tumours.
"At the time of lung cancer diagnosis, patients may feel discouraged to quit smoking as they might think it is too late and there is no point in quitting smoking because they have already been diagnosed with cancer," said Paul Brennan, principal investigator of the study and part of the International Agency for Research on Cancer. "These new results strongly suggest that patients with lung cancer who smoke should be encouraged to stop smoking at any time and at each visit after diagnosis, regardless of their tumour stage, treatment status or smoking intensity."
Lung cancer is the most commonly diagnosed cancer in Canada and the leading cause of cancer-related death among men and women in the country, according to the Canadian Cancer Society. Just under 30,000 Canadians were diagnosed in 2020 with over 21,000 succumbing to the disease last year. Around 81 Canadians, on average, are diagnosed with lung cancer — with another 58 dying — each and every day.
For some patients, a diagnosis is all the motivation they need to make serious changes, no matter how hard they may be. "It's the biggest reason I've ever had in my life to quit," said Preston Browning, a 20-year-old electrician in Ridgetop, Tenn., who finally kicked the habit while recovering from cancer surgery last month — with help from a smoking-cessation drug. Browning, who had been addicted to cigarettes since the age of 14, also received a big assist from tobacco treatment specialists who taught him a few useful strategies, such as eating breakfast instead of lighting up in the morning and reaching for a toothpick instead of tobacco after lunch.
"If it wasn't for (my nurse) Lesa, I think it would have been harder," he said.
Even after undergoing treatment for lung cancer, some patients still struggle to make the changes they know are needed. Mike Fulton, a retired 71-year-old who smoked a pack a day for decades, said he was ashamed to admit he still snuck cigarettes after a combination of chemotherapy and radiation eradicated his cancer. "This is crazy," he said. "The cancer's cured, but I know I'm hurting myself because I can feel it."
Things got easier after he received a helpful tip from a counsellor to make his cigarettes more difficult to access. "Finally, I put them on the roof in a gutter," he said. "To reach it, I needed a metal ladder, which I climbed once and had a puff from a pack that had seven cigarettes in it.
"Now they're gone."
Dave Yasvinski is a writer with Healthing.ca
Related Tags