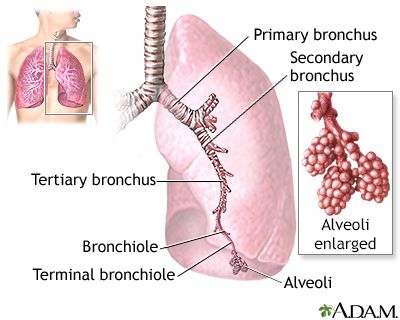 Definition
Non-small cell lung cancer is the most common type of lung cancer. It usually grows and spreads more slowly than small cell lung cancer.
There are three common types of non-small cell lung cancer (NSCLC):
Adenocarcinomas are often found in an outer area of the lung.
Squamous cell carcinomas are usually found in the center of the lung next to an air tube (bronchus).
Large cell carcinomas can occur in any part of the lung.
Alternative Names
Cancer – lung – non-small cell; Non-small cell lung cancer; NSCLC; Adenocarcinoma – lung; Squamous cell carcinoma – lung
Causes
Smoking causes most cases (around 90%) of lung cancer. The risk depends on the number of cigarettes you smoke each day and for how long you have smoked. Being around the smoke from other people (secondhand smoke) also raises your risk of lung cancer. But some people who have never smoked do develop lung cancer.
Research shows that smoking marijuana may help cancer cells grow. But there is no direct link between smoking marijuana and developing lung cancer.
Constant exposure to high levels of air pollution and drinking water that has a high level of arsenic can increase your risk of lung cancer. A history of radiation therapy to the lungs can also increase risk.
Working with or near cancer-causing chemicals or materials can also increase the risk of developing lung cancer. Such chemicals include:
Asbestos
Chemicals such as uranium, beryllium, vinyl chloride, nickel chromates, coal products, mustard gas, chloromethyl ethers, gasoline, and diesel exhaust
Certain alloys, paints, pigments, and preservatives
Products using chloride and formaldehyde
Symptoms
Symptoms may include:
Cough that does not go away
Fatigue
Early lung cancer may not cause any symptoms.
Other symptoms that may be due to NSCLC, often in the late stages:
Shoulder pain or weakness
These symptoms can be due to other, less serious conditions. It is important to talk to your health care provider if you have symptoms.
Exams and Tests
The health care provider will perform a physical exam and ask about your medical history. You will be asked if you smoke, and if so, how much you smoke and for how long you have smoked. You will also be asked about other things that may have put you at risk of lung cancer, such as exposure to certain chemicals.
Tests that may be done to diagnose lung cancer or see if it has spread include:
In most cases, a piece of tissue is removed from your lungs for examination under a microscope. This is called a biopsy. There are several ways to do this:
If the biopsy shows cancer, more imaging tests are done to find out the stage of the cancer. Stage means how big the tumor is and how far it has spread. NSCLC is divided into 5 stages:
Stage 0 — The cancer has not spread beyond the inner lining of the lung.
Stage I — The cancer is small and has not spread to the lymph nodes.
Stage II — The cancer has spread to some lymph nodes near the original tumor.
Stage III — The cancer has spread to nearby tissue or to far away lymph nodes.
Stage IV — The cancer has spread to other organs of the body, such as the other lung, brain, or liver.
Treatment
There are many different types of treatment for NSCLC. Treatment depends on the stage of the cancer.
Surgery is the common treatment for NSCLC that has not spread beyond nearby lymph nodes. The surgeon may remove:
One of the lobes of the lung (lobectomy)
Only a small part of the lung (wedge or segment removal)
The entire lung (pneumonectomy)
Some people need chemotherapy. Chemotherapy uses drugs to kill cancer cells and stop new cells from growing. Treatment may be done in the following ways:
Chemotherapy alone is often used when the cancer has spread outside the lung (stage IV).
It may also be given before surgery or radiation to make those treatments more effective. This is called neoadjuvant therapy.
It may be given after surgery to kill any remaining cancer. This is called adjuvant therapy.
Chemotherapy is usually given through a vein (by IV). Or, it may be given by pills.
Controlling symptoms and preventing complications during and after chemotherapy is an important part of care.
Targeted therapy may be used to treat NSCLC. Targeted therapy uses drugs zero in on specific targets (molecules) in or on cancer cells. These targets play a role in how cancer cells grow and survive. Using these targets, the drug disables the cancer cells so they cannot spread.
Radiation therapy can be used with chemotherapy if surgery is not possible. Radiation therapy uses powerful x-rays or other forms of radiation to kill cancer cells. Radiation may be used to:
Treat the cancer, along with chemotherapy, if surgery is not possible
Help relieve symptoms caused by the cancer, such as breathing problems and swelling
Help relieve cancer pain when the cancer has spread to the bones
Controlling symptoms during and after radiation to the chest is an important part of care.
The following treatments are mostly used to relieve symptoms caused by NSCLC:
Laser therapy — A small beam of light burns and kills cancer cells.
Photodynamic therapy — Uses a light to activate a drug in the body, which kills cancer cells.
Support Groups
You can ease the stress of illness by joining a cancer support group. Sharing with others who have common experiences and problems can help you not feel alone.
Outlook (Prognosis)
The outlook varies. Most often, NSCLC grows slowly. In some cases, it can grow and spread quickly and cause rapid death. The cancer may spread to other parts of the body, including the bone, liver, small intestine, and brain.
Chemotherapy has been shown to prolong life and improve the quality of life in some people with stage IV NSCLC.
Cure rates are related to the stage of disease and whether you are able to have surgery.
Stage I and II cancers have the highest survival and cure rates.
Stage III cancer can be cured in some cases.
Stage IV cancer that has returned is almost never cured. The goals of therapy are to extend and improve quality of life.
When to Contact a Medical Professional
Call your provider if you have symptoms of lung cancer, particularly if you smoke.
Prevention
If you smoke, now is the time to quit. If you are having trouble quitting, talk with your provider. There are many methods to help you quit, from support groups to prescription medicines. Also, try to avoid secondhand smoke.
If you smoke or used to smoke, talk with your provider about getting screened for lung cancer. To get screened, you need to have a CT scan of the chest.
References
Araujo LH, Horn L, Merritt RE, et al. Cancer of the lung: non-small cell lung cancer and small cell lung cancer. In: Niederhuber JE, Armitage JO, Kastan MB, Doroshow JH, Tepper JE, eds. Abeloff's Clinical Oncology. 6th ed. Philadelphia, PA: Elsevier; 2020:chap 69.
Moyer VA; US Preventive Services Task Force. Screening for lung cancer: US Preventive Services Task Force recommendation statement. Ann Intern Med. 2014;160(5):330-338. PMID: 24378917 www.ncbi.nlm.nih.gov/pubmed/24378917.
National Cancer Institute website. Non-small cell lung cancer treatment (PDQ) – health professional version. www.cancer.gov/types/lung/hp/non-small-cell-lung-treatment-pdq. Updated June 13,2019. Accessed June 18, 2019.
National Comprehensive Cancer Network website. NCCN clinical practice guidelines in oncology (NCCN guidelines): non-small cell lung cancer. Version 1.2020. www.nccn.org/professionals/physician_gls/pdf/nscl.pdf. Updated November 6, 2019. Accessed November 8, 2019.
Silvestri GA, Pastis NJ, Tanner NT, Jett JR. Clinical aspects of lung cancer. In: Broaddus VC, Mason RJ, Ernst JD, et al, eds. Murray and Nadel's Textbook of Respiratory Medicine. 6th ed. Philadelphia, PA: Elsevier Saunders; 2016:chap 53.
DISCLAIMER
The information provided herein should not be used during any medical emergency or for the diagnosis or treatment of any medical condition. A licensed physician should be consulted for diagnosis and treatment of any and all medical conditions. Links to other sites are provided for information only -- they do not constitute endorsements of any other sites. Content provided by A.D.A.M and is prepared for the United States of America. Recommended treatments may not be applicable, available, or permissible in Canada or other jurisdictions. A.D.A.M. is accredited by URAC, also known as the American Accreditation HealthCare Commission (www.urac.org). URAC's accreditation program is an independent audit to verify that A.D.A.M. follows rigorous standards of quality and accountability. A.D.A.M. is also a founding member of Hi-Ethics and subscribes to the principles of the Health on the Net Foundation (
www.hon.ch
).