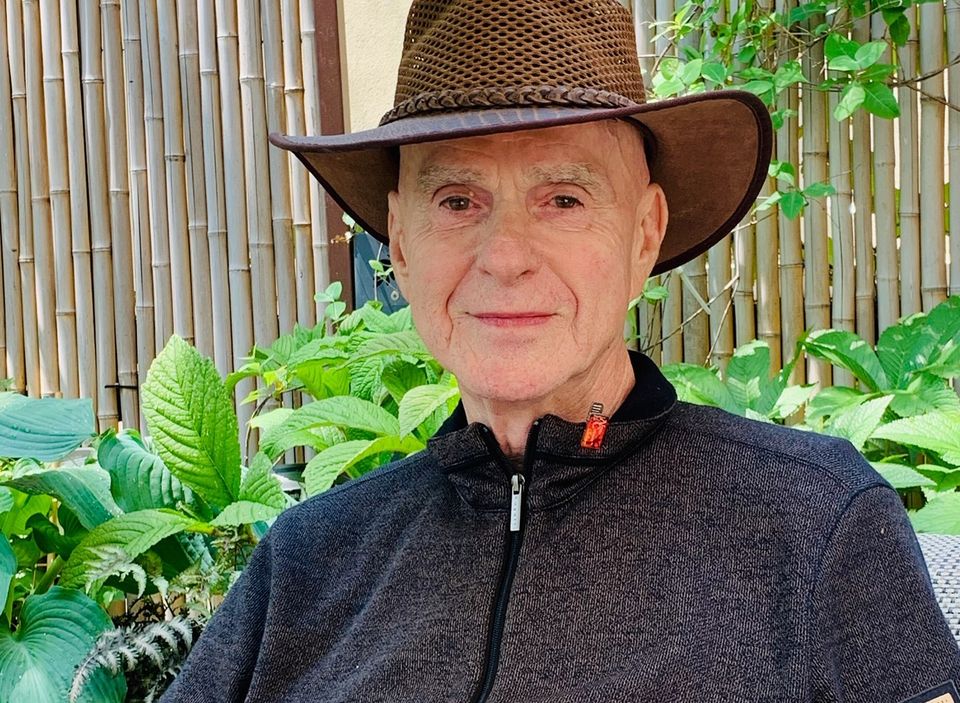 When Dwight Daigneault was diagnosed with lung cancer, he was healthy, physically active and at the gym five days a week. His blood pressure was in the ideal range and he was not taking any medication. He was 82 years old when a health assessment revealed a fuzzy shadow on his right lung that was so small, it required a molecular examination — the most definitive test for a malignancy.
"When you've had 82 years of problem-free existence, you've had a good career, you've had a good marriage, your kids are healthy, and then something as serious as cancer hits you, you start looking for reasons," says Daigneault. "I never smoked in my life and still, I got lung cancer."
In 2019, Daigneault underwent surgery for the cancer and recovered quickly. Then earlier this year, he developed a deep-seated cough around the same time COVID-19 began to take hold in cities across the country. The COVID test came back negative, but a CT scan showed that the cancer was back. Additional tests also revealed that it had spread to one area of his brain. Daigneault was treated with 15 seconds of radiation and is now taking daily medication — a form of chemotherapy that targets the type of cancer he has — non-small cell carcinoma. Daigneault experienced numerous side effects that impacted his mobility, which for the most part, have since resolved.
He never smoked a day in his life, but part of his childhood was spent in Asbestos — a small town in southeastern Quebec that was once home to the world's largest asbestos mine and recently renamed Val-des-Sources. As studies began to link exposure to asbestos fibres to cancer and other diseases, the demand for the mineral plummeted, forcing the Quebec mine to suspend its operations in 2011. Before relocating to Toronto, Daigneault also lived in Sherbrooke — where a 2014 Health Canada study found that roughly 24 per cent of homes have high radon levels. Radon — a radioactive gas that occurs when uranium in soil and rock breaks down is the leading cause of lung cancer in non-smokers, according to the Canadian Cancer Society.
Caregivers need care too
Lynn Daigneault — Dwight's wife of 40 years — says that what made her husband's lung cancer recurrence more challenging was being isolated from anyone who could offer in-person relief, but that at the peak of a global pandemic, family, friends and neighbours showed up for them in unexpected ways. "I try to do a good deed every day because I'm trying to pay back all the kindness that's come our way," she says.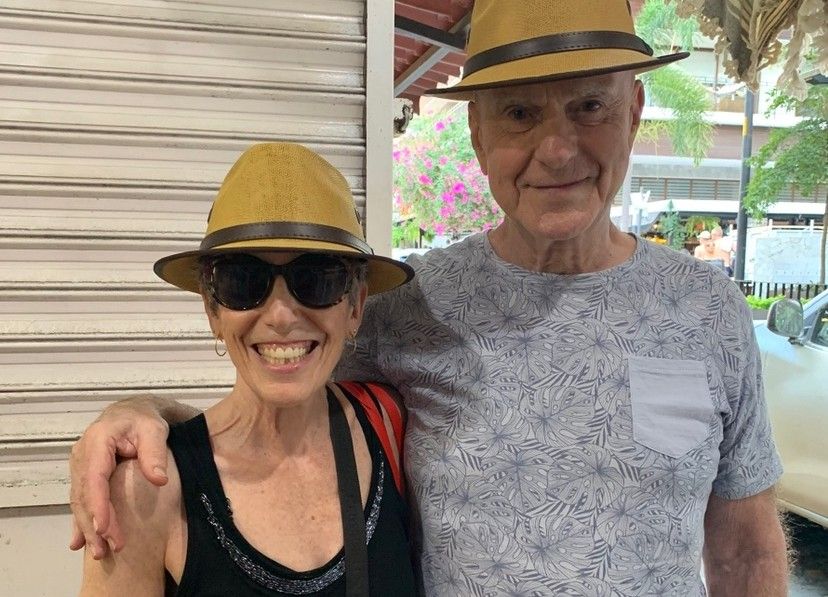 Lynn — a former personal trainer — turned to fitness to help cope with her husband's lung cancer recurrence and the COVID-19 lockdown. She says that being physically active is what helped her get through the tough times and she is urging other caregivers to look after their mental, emotional and physical health. "Rather than lose your sanity, you have to do something that is yours and yours only," she says. "Now is not the time to stop exercising, now is the time to ensure you do find the things you like to do and make sure you're do them because if you're not healthy, you're not strong, you will be totally incapable of looking after someone else, and it will build resentment."
Each year, more than 29,000 Canadians are diagnosed with lung cancer. It represents a significant number of all cancer cases in Canada — 13 per cent, according to the Canadian Cancer Society. Often thought of as the smoker's disease, organizations like Lung Cancer Canada and Lung Health Foundation are changing the conversation away from the blame and shame that surrounds the disease and steering it in the direction of compassion, care and support. Roughly, 72 per cent of all lung cancer cases in Canada are caused by tobacco, but other risk factors include family history, second-hand smoke, outdoor pollution, and exposure to radon and asbestos.
As many as 55 per cent of those diagnosed go through cancer alone "out of fear of judgment and feeling less worthy of help
Still, people diagnosed with lung cancer can experience stigma "from their communities, healthcare providers, employers, and even friends and family," according to a report by the Lung Health Foundation and Lung Cancer Canada that identifies and addresses the social, economic and mental health issues faced by people diagnosed with lung cancer. The two organizations are currently collaborating on Stop Asking the Wrong Question campaign to help raise awareness and end the stigma that lurks in the shadows of a lung cancer diagnosis. According to the campaign report, those living with lung cancer can experience high levels of anxiety of depression, and that as many as 55 per cent of those diagnosed go through cancer alone "out of fear of judgment and feeling less worthy of help."
"Lung cancer is occurring in smokers, ex-smokers and never smokers," says Dr. Paul Wheatley-Price president of Lung Cancer Canada and medical oncologist at the Ottawa Hospital Cancer Centre. Currently, there is no formal lung cancer screening program in place in Canada, but a pilot program is underway in Ontario and a lung screening trial is available in British Columbia. For now, it targets high-risk individuals aged 55 to 80 who are smokers or have quit smoking in the last 15 years. According to Lung Cancer Canada, if lung cancer is caught early — prior to the onset of symptoms — curative treatment is possible for 75 per cent of patients.
Family history
Lorne Cochrane was 52 years old when he diagnosed with lung cancer in 2012. He had a strong family history for the disease – his mother, grandfather and two of his aunts passed away from lung cancer, but it was his twin brother's lung cancer diagnosis that prompted Cochrane to get screened. The test results confirmed stage IV lung cancer and 26 additional tumors that were scattered throughout his body. Cochrane said it was a jaw-dropping moment when he learned of the diagnosis – he had no symptoms for the disease.
Lung cancer is occurring in smokers, ex-smokers and never smokers
He began chemotherapy, but soon after completing the treatment, he learned that the tumours were growing again. He was told by his oncologist to get his affairs in order and prepare for end of life care. But Cochrane's wife Mary wasn't ready to give up on her husband, and she learned online that there was a global clinical trial underway — a promising new treatment that puts an individual's own immune system at the forefront of cancer care. Cochrane expressed an interest in the trial to his oncologist, and two weeks later, a spot in that same study became available. Cochrane was admitted as a participant and selected to receive the treatment. After 15 weeks of immunotherapy, a CT scan showed that all tumours had disappeared. That was four years ago. Cochrane is now enjoying his health and no longer requires any type of treatment. He credits his positive attitude and support from loved ones for his recovery. He and his wife are urging Canadians affected by the disease to reach out to organizations like Lung Cancer Canada for information and support.
"Knowledge is power," says Mary, Cochrane's wife. "Once you know what your disease is, you learn what the treatments options are, you can see your path and deal with it."
Cochrane is now a peer support volunteer with Lung Cancer Canada, a speaker and advocate for early lung cancer screening and new treatments. "The way I spell hope is research and clinical trials," says Cochrane.
If I had to do this on my own, I'd be gone
In recent years, there have been significant improvements in lung cancer treatment. Up until a few years ago, chemotherapy was the only treatment option available for the disease. Today, for people who are diagnosed with early stage lung cancer, surgery is usually the standard of care, but there is also radiotherapy — a form of radiation that destroys cancer cells without damaging the surrounding healthy tissues. For more advanced cancer or if it has spread to one part of the body or if it has spread widely, drug therapy is used to target cancer cells.
The promise of treatments
Compared to other types of cancer, lung cancer receives the least funding for research, but in spite of this, new treatment options like immunotherapy and targeted therapy are available to those affected. Immunotherapy uses an individual's own immune system to control or eliminate the cancer, and now there are diagnostics in place to help oncologists determine which lung cancer patient might benefit from this type of treatment. And while it continues to show promising results, immunotherapy may not work for everyone and some patients may experience side effects.
Targeted therapy is another new treatment that is personalized to each patient on the basis of the molecular signature of the cancer.
"With molecular testing and precision medicine, we can get a genetic fingerprint of the cancer," explains Wheatley-Price. "There are increasingly very defined subtypes of lung cancer that have their own treatment, which is targeted specifically to the mutation or the abnormality that we find." He says that every year, scientists discover a new molecular subtype of lung cancer that may benefit from this type of treatment. Targeted therapy is offered in pill form and patients typically experience fewer side effects.
Wheatley-Price says that the challenge with new treatments is that they are not available in every province and not every hospital is equipped with molecular laboratories that can identify all of the subtypes of lung cancer in a timely manner. He believes that early screening and equitable access to testing and treatment, along with raising awareness and tackling stigma, can help minimize stress, improve outcomes and save more lives.
"It would be the biggest step forward," says Wheatley-Price. He is urging patients and caregivers to get involved and help shape public policies that impact people affected by lung cancer and their families.
Daigneault says that when he was diagnosed with lung cancer, he never got angry. He keeps a positive attitude and is grateful for the support of those closest to him. "The biggest reason I'm still here is my wife," says Daigneault. "If I had to do this on my own, I'd be gone. In June, getting to October was the goal and we made it. I'm now working on my next six months."
If you or someone you care about is living with lung cancer, connecting with a support network can help to not only learn ways to better manage their health, but also share experiences with others. Some Canadian resources include the Lung Health Association, Lung Cancer Canada, Wellspring, and Cancer Connect at the Canadian Cancer Society. 
Maja Begovic is a writer with Healthing.ca.
Don't miss the latest on COVID-19, reopening and life. Subscribe to Healthing's daily newsletter COVID Life.
Related Tags