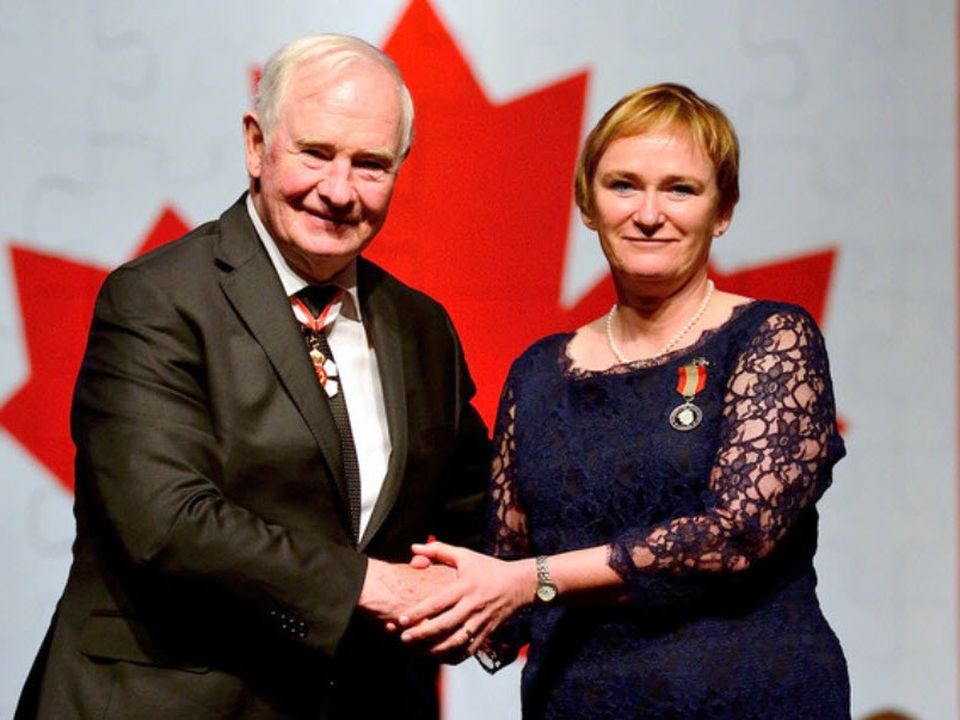 Robin McGee's pleas for help were repeatedly dismissed by three Nova Scotia physicians and one general surgeon. The healthcare providers seemed unalarmed when McGee, a clinical psychologist, reported rectal bleeding, bloody stools, passing coin-sized sheets of skin, and persistent pain — she was under 50 and not at risk for colorectal cancer, according to the doctors. In spite of worsening symptoms, she waited 18 months for a colonoscopy.
Two years of medical mismanagement led McGee to a stage IV colorectal cancer diagnosis — chemotherapy, radiation and multiple surgeries ensued. Then, in 2017, seven years into remission, a radiologist failed to identify a two centimetre growth in her pelvis that had expanded five times its size when it was finally detected six months later.
McGee underwent chemo and major surgery that revealed cancer cells deep in the pelvic wall. As she came to terms with this new, inoperable condition, McGee was re-diagnosed with colorectal cancer last March. At the start of the pandemic, it took three months to meet with a specialist and three months to access chemotherapy for the cancer recurrence.
Colorectal cancer is the third most common type of cancer in Canada. When diagnosed in the early stages, the disease has a 92 per cent five-year survival rate, according to data by the Canadian Cancer Society, but more than half of all those with colorectal cancer are first misdiagnosed with other conditions, including anemia, hemorrhoids, irritable bowel syndrome and gluten allergy, according to Colorectal Alliance Canada's website.
Genetic predisposition, smoking, heavy alcohol consumption, obesity, and poor diet — particularly if it consists of red or processed meats and foods high in sugar — may contribute to colorectal cancer. Most people are diagnosed at age 50 and older, but the number of younger Canadians with the disease appears to be growing, according to the Never Too Young awareness campaign by Colorectal Cancer Canada. There is evidence that suggests that sedentary habits may be to blame for the early onset of the disease.
"What we're worried about and what we're seeing statistically, is that the number of patients with colon cancer under the age of 40 is significantly increasing," says Dr. Sami Chadi, general surgeon at Princess Margaret Cancer Centre in Toronto.
Chadi reveals that there is no formal early screening program in place for people under the age of 50 in Canada, but that younger patients present at an advanced disease stage — usually because they are either embarrassed to seek help for their symptoms or because they have been previously misdiagnosed with another condition. Advocacy efforts that focus on bringing awareness to the significant rise in the number of younger patients who are diagnosed with colon cancer, and investigating the symptoms of those who do seek help more aggressively, can help improve outcomes, according to Chadi.
In 1995, Barry Stein, learned that his colon cancer had spread first to his liver and then to his lungs. At the time of diagnosis, at age 40, he had a young family, and was told that he had a 15 per cent chance of surviving the disease.
After gruelling treatments and multiple surgeries, Stein underwent two life-saving liver operations at a New York City hospital, but Quebec's health insurance board declined to compensate him for the cost of treatments that were not available in his home province.
That decision was upheld by a provincial health tribunal, but in 1999, the Superior Court of Quebec ruled in Stein's favour. His case set the precedent for other patients receiving life-saving treatment in the United States and elsewhere in the world.
"It's hard to believe that in 1995, there was one drug for colorectal cancer that had been used for over 40 years without much efficacy," says Stein. "I was lucky enough to have the type of cancer that was chaseable – meaning, that it moved slowly enough from one organ to another that we were able to do something about it."
Related Tags
Stein, now president of Colorectal Cancer Canada, wants patients who are diagnosed with colon cancer to get educated on their unique situation and the treatment options that are available. He is urging those newly diagnosed to be proactive, ask questions, and seek support from patient organizations. And those who are experiencing symptoms, should utilize screening programs to help catch the cancer early, when it's at its most curable stage.
According to Stein, these days, Canadians are reluctant to seek medical attention for their symptoms out of fear of contracting COVID-19 in a healthcare setting – he says that the pandemic has caused a backlog of missed and cancelled appointments as some cancer screening programs were temporarily suspended due COVID-19 outbreak.
New national research data shows an alarming projection for colorectal cancer – a "six-month suspension of primary screening could increase cancer incidence by 2,200 cases with 960 more cancer deaths over the lifetime." In 2020, more than 26,000 Canadians were diagnosed with colon cancer, according to Colorectal Cancer Canada's website.
Stein believes that access to timely screening, diagnostics and treatment, including immunotherapy, clinical trials, and personalized medicine for those with metastatic colorectal cancer, can help reduce the incidence of the disease and save more lives.
The Canadian Patient Safety Institute estimates that 28,000 Canadians die every year from preventable errors made by healthcare providers. The Canadian Medical Protective Association (CMPA) — a $5 billion organization that supports and defends doctors in medical error or malpractice legal proceedings uses what McGee calls "an outrageously adversarial approach" to discredit patients and their families.
The number of Canadians entangled in court battles with healthcare providers is unclear, but in one report, a former CMPA lawyer revealed that "75 per cent of Canadians lost at trial going up against the CMPA."
McGee pursued legal action against those whose conduct led to her advanced disease – the litigation dragged on for seven years before it was settled out of court at the request of the CMPA. The four doctors who were involved in her care were disciplined by the College of Physicians and Surgeons of Nova Scotia after an investigation separate from the lawsuit. McGee shared the story in her book, The Cancer Olympics which won seven literary awards.
"Even the CMPA had to concede that the care I received was indefensible," she says. "In seven years of litigation, they couldn't find one expert who was able to defend the standard of care I received."
McGee, who works with Patients for Patients Safety Canada says that she and other representatives of the organization met with health ministers across the country to present solutions that shift away from the existing deny-and-defend culture to a more "restorative approach" — one that includes patients in investigations, and where patients and healthcare providers partner together in patient safety improvement initiatives.
Of course, that was before COVID.
McGee says that in a pandemic, "there is no bandwidth for governments to pay attention to this issue, when people are potentially dying of COVID."
A previous version of this article indicated that Robin McGee was diagnosed with stage III colorectal cancer when it was stage IV. Healthing regrets the error.
Maja Begovic is a writer with Healthing.ca.