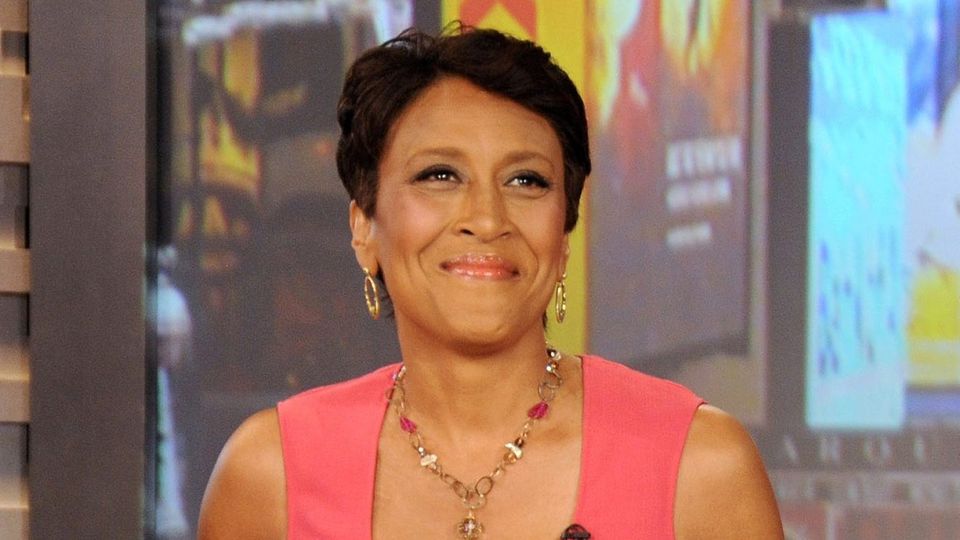 In some ways, watching her partner go through cancer treatments is worse than having cancer herself, 'Good Morning America' anchor Robin Roberts told Ellen DeGeneres on Monday. But she hopes their experience will encourage other people to get regular medical exams: "It can save your life," Roberts said.
The veteran news anchor had breast cancer in 2007, and in 2012, was diagnosed with myelodysplastic syndrome (MDS), a rare blood and bone marrow cancer. She documented her MDS journey on the show, culminating in her receiving a life-saving bone marrow transplant. She won a prestigious Peabody Award for her coverage.
In late 2021, Roberts' partner Amber Laign, a massage therapist, was diagnosed with breast cancer. Laign had surgery in January and started chemotherapy in February, Roberts revealed on social media earlier this year.
"She and I have been together almost 17 years, and have helped each other through our challenges, like my journey with cancer," she said at the time. "It's my turn now to be there for her as she was for me."
On an episode of The Ellen DeGeneres Show that aired Monday, Roberts opened up about how it feels to have reversed roles with her partner after so many of her own daunting health challenges.
Laign "is doing well, which is great," Roberts told DeGeneres, tearing up slightly. "I haven't talked about it much, but with you, I will."
During her own experiences with cancer, "I barely shed a tear," Roberts continued. "I'm a puddle every time I think about what Amber's going through. But she's being so courageous and is handling it extremely well. I'm able to kind of give her a little bit of a road map, because I've gone through it. But she's also given me a road map on how to be a caregiver."
She has a new appreciation for how much Laign did for her while she was sick, she said. "I didn't realize how much I had blocked out during my journey, and it was because of sweet Amber. Because she protected me, and she navigated for me. So I'm doing the same thing for her."
Providing emotional support for a partner with cancer can be very demanding: it can take take years, and is often very painful, according to the Canadian Cancer Society. It not only involves taking on new responsibilities that you didn't expect and haven't prepared for, there's often the difficult and frustrating experience of navigating treatments, medical bureaucracy and insurance policies. But many caretakers also talk about how meaningful it can be to know you're helping a person you love deal with something so massive and painful.
It's time to take the tests you put on hold before the pandemic
Roberts hopes people who hear about Laign's experience will follow her lead and start getting regular physicals, as well as any recommended other routine tests. (Women aged 40 and above should get regular mammograms, for instance, and pap smears are recommended for adult women every three years. Most people should start getting colonoscopies in their 50s, especially men, and people with a family history of colon or rectal cancer.)
"Like many people, [Laign] had put off going to the doctor during the pandemic," Roberts told DeGeneres. "At the end of last year, she followed through with a regular exam, and [the breast cancer] was discovered. And so the message is: get those regular exams. It can save your life."
Roberts and Laign have been together since meeting on a blind date in 2005. They kept their relationship a secret for several years because Roberts, who's been a public figure for decades, wasn't out as a lesbian until 2013. They generally keep a fairly low profile: "not everybody wants to be in the spotlight," Roberts told DeGeneres in a 2014 interview.
But they made the choice to share their experiences with cancer as a way to connect with people.
"Someone once said that when you share so much of yourself, it's really universal, that people really could relate — it helps them so much," Roberts told People Magazine in 2016. "I didn't plan on doing this, I didn't plan on sharing as much as I have. But I kept finding there was a way."
Maija Kappler is a reporter and editor at Healthing. You can reach her at mkappler@postmedia.com
Thank you for your support. If you liked this story, please send it to a friend. Every share counts.
Related Tags