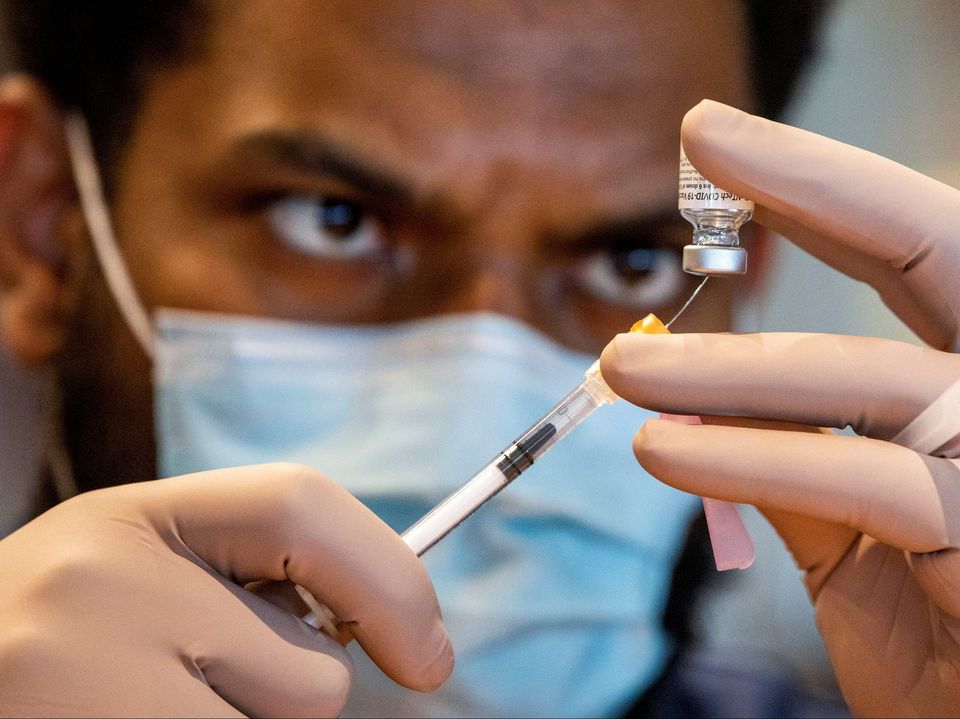 One in four patients currently fighting cancers of the blood, bone marrow or lymph nodes did not produce antibodies after a double dose of one of the mRNA COVID-19 vaccines, according to a new study.
The research, conducted by the Leukemia & Lymphoma Society and published in the journal Cancer Cell, found that patients with non-Hodgkin lymphoma were the least likely to exhibit the presence of antibodies following inoculation. Multiple myeloma patients were at the other end of the spectrum, generating the most antibodies in the wake of two shots of the Pfizer or Moderna vaccines.
"Patients who fail to make antibodies in response to the SARS-CoV-2 vaccines may be vulnerable to COVID-19 breakthrough infections and need to continue taking precautions to avoid exposure to COVID-19," said Lee S. Greenberger, chief scientific officer at The Leukemia & Lymphoma Society (LLS), according to Healio. "LLS encourages (patients with blood cancer) to get vaccinated but act unvaccinated by maintaining recommended preventive measures like wearing a mask, social distancing, handwashing and avoiding crowds and poorly ventilated indoor spaces, even after vaccination."
At least 138,000 Canadians are living with — or are in remission from — a form of blood cancer, according to LLS. There were over 22,000 new diagnoses, in patients of all ages, in 2016, with lymphoma, leukemia, myeloma and myelodysplastic syndrome constituting the bulk of cases. The number of Canadians in remission or presently fighting a form of blood cancer rose 25 per cent between 2014-2106.
The study found the seronegative rate — or percentage of patients with no detectable antibodies following vaccination — was a "surprisingly high" 25 per cent among the 1,445 participants evaluated between March 12 and May 5 of this year. Patients included in the study ranged in age from 16 to 100 (with a median of 66), were 95.2 per cent white, 60.1 per cent female and had been diagnosed with lymphoma, leukemia or myeloma.
Roughly 75 per cent of patients developed antibodies following vaccination. With regards to B cell malignancies, seronegativity was present in almost all non-Hodgkin lymphoma subtypes studied, including among patients with mantle cell lymphoma (56%), marginal zone lymphoma (38%), chronic lymphocytic lymphoma (36%), Waldenström's macroglobulinemia (26%), follicular lymphoma (22%) and diffuse large B cell lymphoma (21%).
The story was different among the 64 Hodgkin lymphoma patients, however, with all but one producing antibodies following inoculation. They also found encouragingly low rates of seronegativity in patients with acute lymphocytic leukemia (12%), acute myeloid leukemia (9%) and chronic myeloid leukemia (2.9%), as well as among those with multiple myeloma (5.3%) and smoldering multiple myeloma (0%).
"Patients need to consult their physicians and certainly contact their physicians should they suspect COVID-19 infections," Greenberger said. "Early treatment, especially with monoclonal antibodies to SARS-CoV-2, may reduce the chances of serious complications due to COVID-19 infections."
The team is currently exploring how T-cells react to the vaccines in an effort to better understand the immune system's full response to inoculation and prevent future infections among blood cancer patients.
"We are currently lobbying for clinical trials that will look at the benefit of booster shots in patients who fail to make sufficient antibodies."
For more information on blood cancers, support or to connect with other patients, visit Leukemia & Lymphoma Society of Canada, Canadian Cancer Society and Wellspring.
Dave Yasvinski is a writer with Healthing.ca
Related Tags