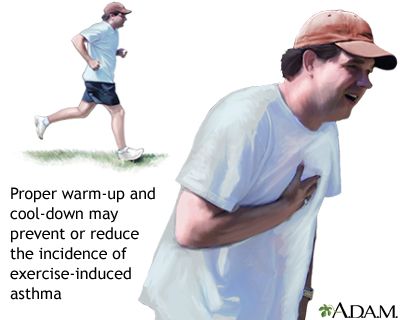 Wheezing – exercise-induced; Reactive airway disease – exercise
Sometimes exercise triggers asthma symptoms. This is called exercise-induced asthma (EIA).
The symptoms of EIA are coughing, wheezing, a feeling of tightness in your chest, or shortness of breath. Most times, these symptoms start soon after you stop exercising. Some people may have symptoms after they start exercising.
Be Careful Where and When you Exercise
Having asthma symptoms when you exercise does not mean you cannot or should not exercise. But be aware of your EIA triggers.
Cold or dry air may trigger your asthma symptoms. If you do exercise in cold or dry air:
Breathe through your nose.
Wear a scarf or mask over your mouth.
DO NOT exercise when the air is polluted. DO NOT exercise near fields or lawns that have just been mowed.
Warm up before you exercise, and cool down afterward:
To warm up, walk or do your exercise activity slowly before you speed up.
The longer you warm up, the better.
To cool down, walk or do your exercise activity slowly for several minutes.
Some kinds of exercise may be less likely to trigger asthma symptoms than others.
Swimming is a good sport for people with EIA. The warm, moist air helps keep asthma symptoms away.
Football, baseball, and other sports with periods when you do not move fast are less likely to trigger your asthma symptoms.
Activities that keep you moving fast all the time are more likely to trigger asthma symptoms, such as running, basketball, or soccer.
Use Your Asthma Medicine Before you Exercise
Take your short-acting, or quick-relief, inhaled medicines before you exercise.
Take them 10 to 15 minutes before exercise.
They can help for up to 4 hours.
Long-acting, inhaled medicines may also help.
Use them at least 30 minutes before exercise.
They can help for up to 12 hours. Children can take this medicine before school, and it will help for the whole day.
Be aware that using this kind of medicine every day before exercise will make it less effective over time.
Follow your doctor's advice on which medicines to use and when.
References
Lugogo N, Que LG, Gilstrap DL, Kraft M. Asthma: clinical diagnosis and management. In: Broaddus VC, Mason RJ, Ernst JD, et al, eds. Murray and Nadel's Textbook of Respiratory Medicine. 6th ed. Philadelphia, PA: Elsevier Saunders; 2016:chap 42.
Weiler JM, Brannan JD, Randolph CC, et al. Exercise-induced bronchoconstriction update – 2016. J Allergy Clin Immunol. 2016;138(5):1292-1295.e36. PMID: 27665489 www.ncbi.nlm.nih.gov/pubmed/27665489.
DISCLAIMER
The information provided herein should not be used during any medical emergency or for the diagnosis or treatment of any medical condition. A licensed physician should be consulted for diagnosis and treatment of any and all medical conditions. Links to other sites are provided for information only -- they do not constitute endorsements of any other sites. Content provided by A.D.A.M and is prepared for the United States of America. Recommended treatments may not be applicable, available, or permissible in Canada or other jurisdictions. A.D.A.M. is accredited by URAC, also known as the American Accreditation HealthCare Commission (www.urac.org). URAC's accreditation program is an independent audit to verify that A.D.A.M. follows rigorous standards of quality and accountability. A.D.A.M. is also a founding member of Hi-Ethics and subscribes to the principles of the Health on the Net Foundation (
www.hon.ch
).