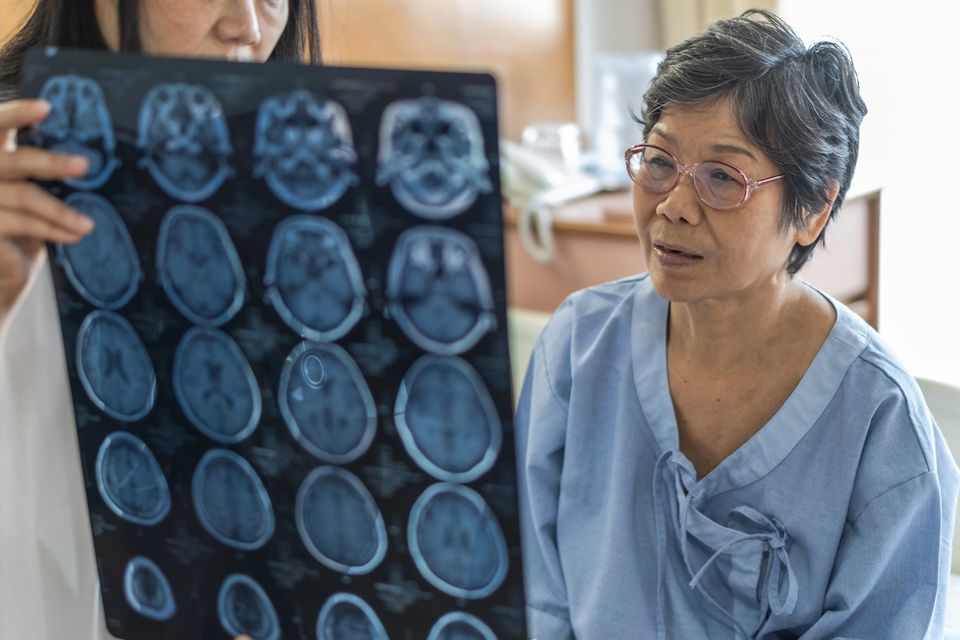 Phyllis Fehr was a registered nurse in an intensive cardiac care unit when she was diagnosed with dementia at the age of 53. Prior to the diagnosis, she began to misplace items, miss appointments and struggle with patient records.
"My biggest problem was my charting," says Fehr. "I thought to myself, 'Why am I having such a hard time putting what's in my brain on paper?'"
When Fehr was diagnosed, the gerontologist didn't suggest any medications. She instead ignored her and instructed her husband to make an appointment when Fehr could no longer perform tasks that require basic motor skills. The experience left her feeling shocked, defeated and invisible.
"It affected me as a person, it affected my self-confidence," says Fehr. "It took me down."
Fehr is just one of the more than 500,000 Canadians living with dementia, a number that is steadily increasing: by 2031, close to one million people will be affected.
Alzheimer's and dementia are not the same
Although the terms dementia and Alzheimer's tend to be used interchangeably, they are not the same.
Alzheimer's is a chronic neurodegenerative disease that accounts for up to 80 per cent of all diagnoses. The disease changes a person's brain and affects the way they think, behave and live. Alzheimer's disease can last for a decade as it progresses through five different stages.
Dementia, however, is not a specific disease, but rather, a term used to refer to a group of symptoms that are caused by several disorders affecting the brain — it's usually stigmatized as an "old person's disease", but people in their 40s and 50s can also develop dementia. Early symptoms can include memory problems, increased confusion and reduced concentration. There is no cure, and the disease is fatal.
And while Canada's 2019 budget put $50 million aside to fund Canada's first national dementia strategy, health experts say it's not enough.
"We have not had a treatment breakthrough for well over ten years," says Dr. Sivananthan, an internationally recognized expert on dementia, and Chief Research and Knowledge Translation Officer at the Alzheimer Society of Canada. "Part of that has to do with not enough investment in dementia research to fund the pipeline for more drugs. The lack of investment has meant fewer treatment options, fewer clinical trials, and there have been a lot of failures."
The Canadian government is far behind in terms of the level of funding they should be at, according to Sivananthan, who has also previously served as a seniors' strategy and policy advisor for the World Health Organization (WHO). She says that each year, on average, the federal agency invests about $40 million in dementia research projects whereas cancer research and cardiovascular disease may receive significantly more than that amount.
"At this point, dementia has a higher impact on the health system than cancer and cardiovascular disease combined," she says.
Sivananthan is also concerned about how the pandemic disproportionately impacts those living with dementia, especially those from marginalized communities.
"Two-thirds of people who live in long-term care homes have dementia," she says. "We're just now starting to understand how dementia impacts a wide variety of people from diverse communities and ethnic backgrounds."
To find out more, the Alzheimer Society of Canada has developed a Dementia Journey Survey in partnership with the College of Family Physicians of Canada to capture the overall healthcare experience of those from diverse communities, identify systemic gaps in healthcare services and drive the development of culturally-specific resources.
The pandemic has also caused a unique set of consequences for people living with Alzheimer's, which Sivananthan hopes to get to the bottom of by studying the impact on Canadians affected by the disease, particularly those who might have had support cut off or might be putting off surgeries and ignoring other symptoms because they are afraid to access the health system.
Life goes on
Alzheimer's disease is one of the top feared diseases, along with cancer and heart disease, a diagnosis doesn't mean that someone can't continue to be productive. In fact, many people living with the disease actively engage in advocacy to improve the lives of others.
Today, Fehr runs a weekly support group for those living with dementia, is actively involved with the Alzheimer Society of Canada and its Dementia Friendly Communities initiative that aims to create an environment that is inclusive of people living with the disease. She has also contributed to the Canadian Charter of Rights for People with Dementia, a document that protects the rights of people with dementia.
She is also involved with the Dementia Alliance International, represented the organization at United Nation's Our Views, Our Voices workshop, and she regularly provides input on dementia research funding applications.
Caregivers struggle too
While this brain disease is devastating to its victims, the impact is also widely felt through families, affecting caregivers and other close relationships.
Last year, Brian Macpherson's wife Lynn Loftus was diagnosed with severe, late stage Alzheimer disease. Loftus has a family history of Alzheimer's — her father had the disease and his four sisters were all diagnosed with some form of dementia. And although a family history of Alzheimer's doesn't necessarily put an individual at increased risk for the disease, when it does, it's rare. Familial or inherited Alzheimer's, which can be identified through genetic testing, account for less than five per cent of all diagnoses.
As her primary caregiver, Macpherson calls Alzheimer's "a 24/7 disease." His advice to other caregivers is to reach out to family, friends and neighbours for help, and access community support services. While he leans on Loftus's children and grandchildren, one of the most valuable resources has been attending caregiver support groups which has helped him learn more about the disease and better care for his wife. But reaching out and asking for help is not easy for many caregivers, he says.
"When people come to the support group for the first time, every one of them will say how difficult it was to knock on the door and wlak into that first meeting," says Macpherson. "But after that, in most cases, they don't want to miss a meeting because we all get an awful lot out of those sessions."
Despite her diagnosis, Loftus, who has volunteered for the Alzheimer Society of Prince Edward Island for almost 30 years, continues to work with the organization as an advocate and a guest speaker, inspiring people living with Alzheimer's and encouraging those outside of the community to see the person behind the disease.
She is also an active member of the Alzheimer Society of Canada's National Advisory Board for Persons Living with Dementia and she, along with Macpherson, provided input on Canada's National Dementia Strategy. The first-ever national strategy identifies and addresses the unique challenges for those affected by the disease, and sets out a vision for the future that prioritizes quality of life, diversity and inclusion, autonomy and dignity for those who are diagnosed in our society, but also in the workplace.
It was a slew of missed deadlines and mistakes in his role as a manager with Alberta Health Services that led Roger Marple to a diagnosis of early onset Alzheimer's disease at the age of 56.
"What the heck is this?" his boss asked in an email after he received a spreadsheet Marple had submitted. When he re-opened the document, Marple stared at it, but couldn't make sense of the information.
Getting to the diagnosis took months, and only after other conditions, including a brain tumour, were ruled out. Marple took some time to process the news on his own terms before sharing his diagnosis with his employer.
He says that some people may choose to keep their diagnosis private out of fear they will lose their employment, their friends and be dismissed by their community. But he believes that "self-stigmatization" or internalizing fears, myths and stereotypes surrounding the disease, can make the situation worse. In fact, research shows that stress can exasperate Alzheimer's disease and lead to more rapid loss in cognitive function.
'Self-stigmatization,' or internalizing fears, myths and stereotypes surrounding the disease, can make the situation worse
Marple says that sharing his diagnosis with his boss felt "awkward," a situation that, in hindsight, may be made a bit easier by using a casual approach. Something like, "Just a heads-up, I'm living with dementia, but I'm doing ok. Did you see last night's hockey game?" would allow the person on the receiving end of the news to process the information and return to the conversation when they are ready, he suggests.
Critical support
It was important to Marple to finish his career with dignity and on his own terms, he says, "as opposed to being walked out with a security guard," a wish that his boss supported and encouraged. He not only reached out to a local Alzheimer's Society group and colleagues at Alberta Health Services for information and tools to help Marple, but they also worked together to strategies to make sure projects were completed on time, such as memory triggers that came in the form of sticky notes, alarms and phone reminders.
Marple retired in 2016, and is now actively involved in advocacy work, determined to make change for those living with the disease. But what has him most concerned these days is the impact of COVID-19 on dementia research, and those living with the disease.
"The definition of a pandemic is that it's an untreatable disease that has a worldwide reach," says Marple. "Dementia is an untreatable disease and it's all over the world."
He believes that the "two pandemics are colliding" and although actions are needed to help prevent the spread of COVID-19, he says that the need to isolate can be especially challenging for people with dementia who greatly benefit from social connections.
"I understand the need for us to prevent the spread of this disease," says Marple. "Having said that, I do look forward to the vaccines so we can get our lives back."
Don't miss the latest health news. Subscribe to Healthing's daily newsletter.