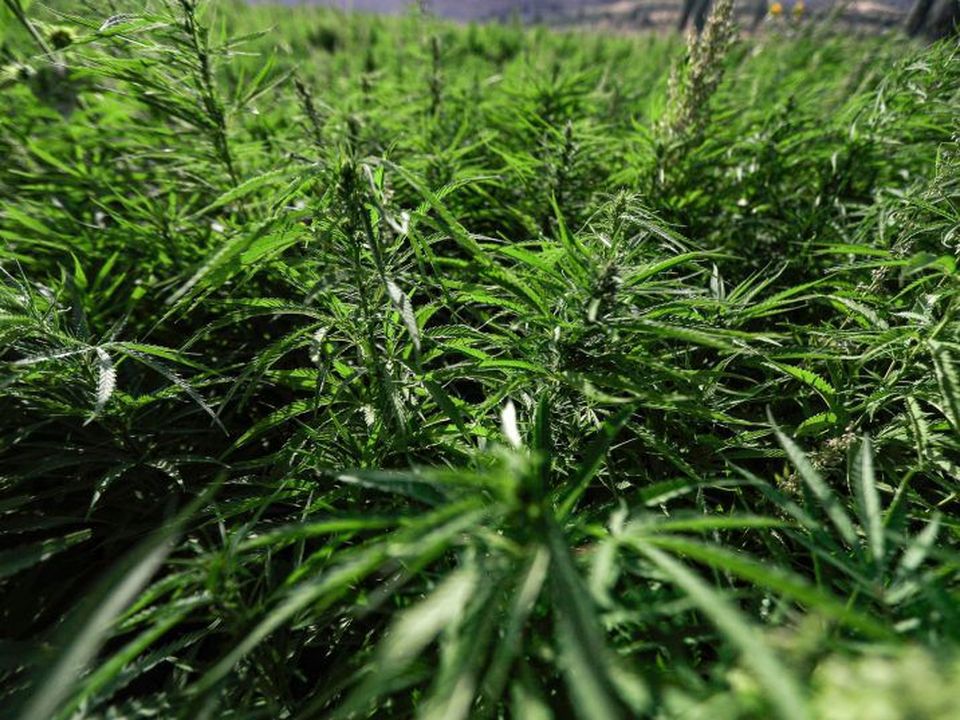 The Canada/U.S. border is traditionally a fairly busy place, but the Michigan links have proved a particular hot spot over the last couple of years when it comes to cannabis.
New figures from U.S. Customs and Border Protection (CBP) reveal that marijuana seizures skyrocketed 2,800 per cent in fiscal 2021 since fiscal 2019 at Michigan's five ports of entry, reports the CBP's field office in Detroit. The figures relate to the Ambassador Bridge, the Detroit Windsor Tunnel, the Blue Water Bridge, the International Bridge and Detroit Metropolitan Airport.
Calling the 2021 fiscal year's figures "unprecedented," CBP officers seized 14,324 pounds (6,497 kilograms) of weed.
Related Tags
Of course, cannabis was not the only thing on the confiscation menu. In fiscal 2021, 240 pounds (109 kilograms) of cocaine, 25.5 pounds (11.6 kilograms) of methamphetamine (up 1,600 per cent from one year earlier) and 2.9 pounds (1.3 kilograms) of fentanyl was seized.
And all this is occurring in the age of COVID-19, a big chunk of which was restricted to essential travel only.
"In fiscal year 2021, the men and women of CBP continued to work through some of the most adverse conditions that we have ever asked them to work through, especially here in Detroit," says Christopher Perry, director of field operations for CBP in Detroit.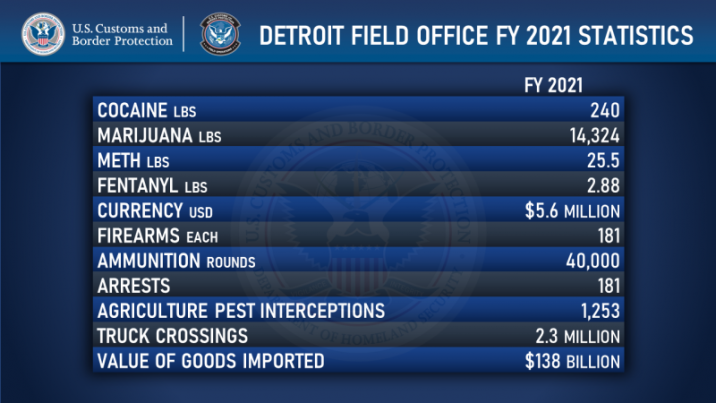 Perry calls the newly released enforcement statistics "a testament of their commitment, professionalism and promise to the American people to secure the United States of America."
Other seizures of note in fiscal 2021 include 181 firearms, as well as 40,000 rounds of ammunition, and 181 individuals being arrested for, among other issues, narcotics smuggling, human smuggling, firearms violations and fraud.
Detroit is particularly busy when it comes to commercial trucks — processing nine per cent more in fiscal 2021 than it did in fiscal 2020 — and represents "the second busiest truck crossing in the entire U.S. and continues to process approximately 20 per cent of all commercial trucks entering the U.S. annually."
Figures noted in a Twitter post make clear that 2022 is off to a very busy start as well. Only three months in, the Detroit Field Office is already up 2,000 per cent in meth seizures and 30 per cent for cocaine over the entire fiscal year of 2021.
Both medicinal and recreational cannabis is now legal in Michigan. Indeed, an individual must possess more than five ounces (142 grams), for a first offence, for the infraction to be treated as a misdemeanour carrying a maximum US$500 fine, according to the National Organization for the Reform of Marijuana Laws.
It is a different matter when it comes to the sale or distribution of weed, with the sale of fewer than five kilograms treated as a felony punishable by prison time and a fine, with higher amounts of cannabis potentially resulting in significantly more serious sentences.
Per Marijuana Moment, the Michigan Marijuana Regulatory Agency reported earlier this month that at more than US$135 million ($169 million), December had set a new state sales record for adult-use cannabis.
Subscribe to Weekend Dispensary, a new weekly newsletter from The GrowthOp.